Lady of Megginch Rose
Last winter I allowed myself to buy some new David Austin roses. The name 'Lady of Megginch' leapt out of the catalogue. I immediately put her on my list, imagining a lady most mysterious, magical, mediaeval... But no.
Lady of Megginch Rose
This 'Lady' is the late Baroness Strange, whose family home was Megginch Castle, in Scotland. 'A good rose for a good woman' says one of my local David Austin rose suppliers, down to earth, putting it rather nicely. And, after all, it's the rose herself that matters.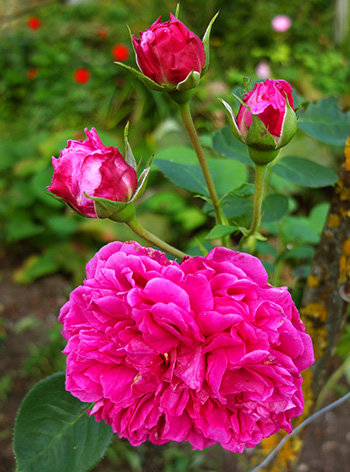 Lady of Megginch Rose
Deep Rich Pink
Lady of Megginch is a big, slightly floppy bloomer with fully cupped rosettes of a deep, rich, pink. For me her flowering time is later in the season, which is rather lovely. I'm writing this in mid-autumn, and there she is blooming merrily. Well, trying to - recent heavy rains have spoilt some of her buds.
So far in my garden she's behaved beautifully. She's a strong, well-bred rose who appreciates her place by the compost heap, showing just a hint of the spirited eccentricity of her namesake. She's rather tall, too. David Austin roses can often grow quite tall in New Zealand gardens.
Her Ladyship's Pinkness
Her Ladyship's pinkness changes with the seasons - in the summer sunshine she's a sparkling girlie pink, then in the more mellow autumn light she's an embarrassed shade of raspberry. Her David Austin rose notes mention a hint of orange in the early blooms, too.
And the pink on her rose label makes her look muddied and wine-stained. This will not do! She's definitely a most interesting rose for the pink purists.