Chelsea Garden Bench Marks
Sitting Down on the Job
Our visit to Chelsea lasted only five hours and in that time we did not sit down once. Five hours simply isn't enough time to do the Chelsea Flower Show justice.
Five hours is a long time to be on your feet, snaking through the crowds, finding the best garden-paparazzi vantage points, and getting up close to tree ferns and dahlias.
Five hours is an especially long time to be photographing and filming beautiful garden seats and benches without being allowed to sit on them.
The array of garden seating on show was impressive with all sorts of different types and materials used. We saw giant swinging pumpkin chairs that you sat inside, urban roof terrace seating that seemed to defy gravity, and solid curved seats of thick grainy wood. All of the benches, seats and chairs shared one thing in common - they all made you want to sit in them and enjoy the views they offered.
Here are a selection of the places we wanted to sit down at the 2004 Chelsea Flower Show.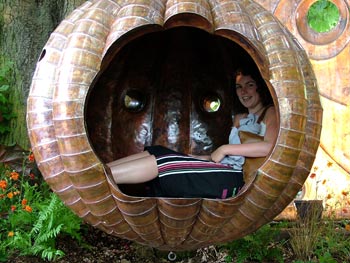 Swinging Garden Seat
Giant Swinging Pumpkin Chairs
You wouldn't find our first garden chair at Moosey's local gardening centre - this giant custom-built swinging pumpkin chair was unusual and a fun sit-in garden sculpture.
The company who makes these chairs, Fletcher and Myburgh Designs had a dark area to fill, and had several hanging chairs in front of large rectangular coppery screens with water running over them. Their display featured a front-lit statuette with a large screen dripping water and simple effective plantings.
I like it when people who are selling you things make an effort. The dark shade, water and glowing metal were a good looking combination. The giant pumpkin seat even comes with a built-in light to aid garden magazine-reading.
Curved Garden Bench
Function, Form and Cost
The next seat was found in a quiet corner of the Show Garden 'Australian Inspiration'. I liked its simplicity and the effect the curved seat had on the surrounding straight lines.
The chair's position suggests a gardener relaxing apres-barbecue with room on the chair for plate and a glass of Australian Chardonnay (as recommended by the garden's designer).
I also appreciated seeing a piece of garden furniture in a show garden that I might have a chance of being able to afford. Some of the other chairs and seats on display are very pricey.
My Favourite Seat of the Day
Sculpted Wooden Seats
This natural wood garden seat caught my eye and was one of the most inviting seats I saw all day. It helped scribe the spiralling arc of the 'Arc Courtyard Garden'. The garden and seat were designed by Alison Crowther, a sculptor from Keighley in West Yorkshire. Alison's trademark is beautiful wooden seats and benches made in English Live Oak.
The sculptor's story is an interesting one : Alison's use of wood began after the 1987 storm created a lot of surplus wood in the South-East of England. A few hundred trees were being given away and Alison, then a student at the London School of Arts, had no money. She took a chain-sawing course, honed her woodworking skills, and now works exclusively in English Oak.
She has had several recent exhibitions in London including the at the Contemporary Applied Arts gallery in January 2004. The Chelsea seat is small by her standards - her other seats feature long curves and full spirals. If you think her oak seats look great now then wait until they've aged 10 years!
The average gardener won't be able to afford Alison's work but her sweeping natural curves are all you need in a garden seat. If you're looking for ideas You can see more examples of her sculpture and some more information and pictures of her work at the CAA.
Stylish Garden Bench
Modern Garden Seat Design
We reserved a place on our Chelsea Flower Show Seat and Bench List for a modern rooftop seat, and found this gravity-defying sprung bench in Middle Ranelagh next to some stunning water features.
I appreciate garden furniture that use engineering and design flair, and this bench fills that niche. This sprung garden bench would suit an inner city roof terrace garden. It has a diving board appeal and could also be used to hold a couple of planters off the ground if space is extra tight.
Stone Bench
Our last garden bench is found in the center of the Cancer Research UK 'Life' Show Garden and demonstrates the importance or location. Rising out of one of the most densely planted show gardens is a single curved carved piece of white granite that reminds me of a giant white snooker table cushion.
The white stone garden bench was made by Pomery Natural Stone. The bench is surrounded by a curling pebble mosaic path by Maggy Howarth : the UK's top pebble mosaic artist has a comprehensive website and several books devoted to the subject.
We loved the garden bench's subtle curves, the shelter that the white canopy offered from the elements, and the explosion of colour in the surrounding garden.
The subtle bench let the rainbow of flowers take centre stage
It's such a pity that we didn't get to sit down in these gardens. I think you'd have to get close up and rub a hand along the stone to appreciate this curved stone garden bench properly.