Recent Garden News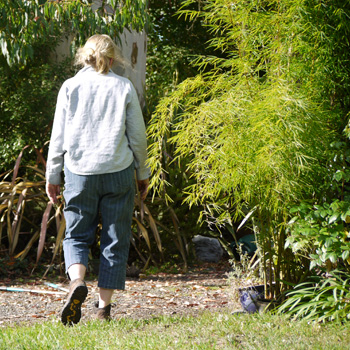 Head Gardener
The Recent Garden News page displays the fifteen most recent additions to Mooseys Country Garden. This should help visitors keep up with what's going on in my garden.
Gardens are always growing and changing - there's always something new to see. And, as I love writing about my garden almost as much as being in it, there'll always be some new Moosey ramblings to read, or new pictures to look at. Perhaps the garden activities of my summer will warm up a northern hemisphere gardener's winter days. I know how much I enjoy my mid-winter garden visits to summery places.
Two weeks can be a long time in the life of a garden. There's inevitably some repetition, so please be understanding if I'm saying the same things over and over again. I hope you'll enjoy seeing what I've been working on recently...
I think the equinoctial (odd spelling, but checked it) gales might have started. The wind roared noisily all night, not easy to sleep well through. Forecast to last all week, and unpleasant to be outside gardening in, which I am soon to find out!
Weeds and seeds are on the agenda for this week. And a plan to be more morning-focussed. Am slowly emerging from winter, where no gardening is pleasant or possible before about 11am. So I end up drinking multiple cups of tea, staring out windows, and generally mooching around... Well, not any more!
I'm off to walk my dogs and take photographs while it's still cloudy, before our visitors arrive. Yeay! It's the last of my Birthday Week treats - a Dogs' Day Out and a Family Brunch. With four dogs and two birthday cakes. It's been a while since big brown Escher and Frida the spotty GSP have been here...
Have just popped into a fancy-pants garden nursery, to tease myself. What could I buy - five of those pretty little Lavender shrubs? Alas, too dear for me. And then something odd happened - brushed my hand against a pretty pink Argyranthemum daisy, and a couple of heel cuttings somehow managed to become detached. Well, I had to pop them in my bag, didn't I?
Weeding. It's very hand-tiring and finger-consuming, the way I do it. The fun part comes after the weeding's done - the mulching, the planting, the admiring - that is if one still has any energy left to mulch, plant, and admire! I'm back from a heavy-duty session weeding my friend's garden - different soil, different weeds, quite tough going...
My first weeks of spring, 2020, have been just gorgeous! Cafe treats and gardening glories - a trailer load of garden mix, a new (i.e. charity shop) blue gardening shirt, seeds germinating, resolutions to clean out the glass-house... My cats and dogs providing great garden company. New hope!
Good birthday morning. Today I am going to be a connected gardener, from the vegetation in my hair and earth in my fingernails to the splodges of horse manure (rotted, thankfully) caught in the tread of my garden boots. Yeay! A totally connected gardener.
My mind is refreshed and rejuvenated by spring. Yes! Spring gardening is funny. Tasks that I've put off, thinking they'll take ages, now seem to be easily finished. Wow! Just like that. It's mental, that's what it is. It's all to do with attitude.
Ha! Have worked out what I want for my birthday, which is quite soon. Some balance. Not the non-wobbly kind when I do my Silver Swans ballet class (thought that would be rather nice). I want balance between out-going energy and inner peace. And a trailer load of garden mix for my new potato patch (this might be easier to achieve).
There's a slight chill in the air, and the wind is rather fresh. But hey! Hello, spring : blossom on the trees, spring bulbs flowering, and my September birthday in six days time, yippee! It's spring, which always refreshes and rejuvenates and inspires much thoughtful gardening...
Yippee! My seed order has arrived, a reward for several days of extremely good gardening. Wonder what I've ordered? Sent it off about five days ago, can't remember anything on my list except for blue Cornflowers. So I laid out all the packets like playing cards on my kitchen table and puzzled at my choices.
Hee hee. A bit of old-fashioned recording in a real notebook! I'm copying this from my journal. Here goes : 'Lunchtime, the old school charm of a gardening notebook and a scribbly pencil. Dogs and cats watching the birds eating their banana and pasta (dogs hoping for spillage, cats checking for any bird who loses critical altitude). Me puzzling about avalanches...'
A thoughtful early morning. One of those shrug-your-shoulders mornings. The world outside seems to be in a bit of a mess. My garden is in a mess of it's own, but this is something I am happy to embrace - and do something about! Right?
OK, so the beginning of my week might have been slow, gardenwise, but by Friday nothing was happening at all. Zero gardening. Walking the dogs and picking spring flowers cannot be counted. Excuses - oh yes. A bit of drizzle (just a bit, one day only), a slightly sore back (the word 'slightly' is the key word here)...
Good morning to a fair frost. Silvery white grass stalks - very pretty! Super-shiny sun, blue sky, yellow daffodils. Have just walked slowly (have a slightly injured leg) down to the gate and back with the dogs.