Recent Garden News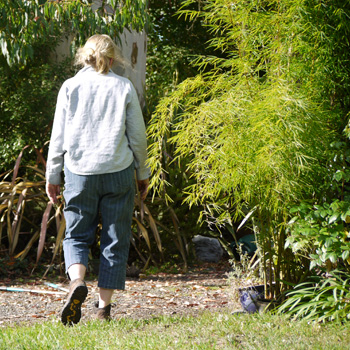 Head Gardener
The Recent Garden News page displays the fifteen most recent additions to Mooseys Country Garden. This should help visitors keep up with what's going on in my garden.
Gardens are always growing and changing - there's always something new to see. And, as I love writing about my garden almost as much as being in it, there'll always be some new Moosey ramblings to read, or new pictures to look at. Perhaps the garden activities of my summer will warm up a northern hemisphere gardener's winter days. I know how much I enjoy my mid-winter garden visits to summery places.
Two weeks can be a long time in the life of a garden. There's inevitably some repetition, so please be understanding if I'm saying the same things over and over again. I hope you'll enjoy seeing what I've been working on recently...
It's the day after the 'big rain', when just over 30mm (over 1 inch) fell gently, carefully, and very, very vertically. The garden is soooo grateful - I can sense this. Well, maybe I'm sensing the gratefulness of the gardener...
Rain, rain. Don't go away. Don't come again another day. Come here right now, settle, and stay! Pretty please. Today would be nice... But rain or no rain, there's still so much to do in the spring garden. And there's also so much to look at and enjoy...
Nothing like a wander with the camera to discover my next gardening location. Went to photograph the Tasmanian tree daisies, in a deeply thoughtful and expansive mood. What a mess! Some deeply thoughtful trundling and expansive bonfiring needs to happen...
October is a wonderful month. But W also stands for 'watering' and 'weeding'. And 'wishing' that I had ten times the energy, and twenty times the stamina, and a host of well-behaved under-gardeners with initiative and garden common-sense...
Still September, only just. And today has been a simply beautiful day. I am sorry to say that I ran out of puff quite early in the afternoon. Mulch shovelling was my problem. The spade just wouldn't slide in properly. Awwwww!
My 'stuffy choir' (not sure I should call it this) sings a song called Spring Idyll, which always makes me think of 'Spring Idle'. Aha! There can be no such thing for a half-decent gardener. We are all busy as - Beavers? Bees?
I Love My Spring Garden - Series 24. Episode 2. This is my twenty-fourth spring here in the Moosey Garden. Wow. That's plenty of time to learn how to garden sensibly, properly, harmoniously, and naturally... Yes? So what have I learnt?
Warm spring temperatures (today is twenty-one degrees Celsius) have put me in a rosy mood. I am going to plant my potted-up roses - some in the patio garden, some in the Hump. And maybe buy some large country rugosas for The Hump. I'm thinking Agnes...
I'd like to welcome my spring gardening legs in their shorts. Hello, pale, freckly white knees, check out this gorgeous spring day! Sun blocked, of course. I have some new toxin-free sun block, by the way, part of my new plan to buy safer things...
I've spent a lot of time lately standing and staring in my new garden area (the Hump). The theory is that design inspiration will suddenly 'blossom' (hee hee), overwhelm me, and I'll know exactly what to do, and where to do it...
Ha! It's the eve of my birthday, and my 'poo lady' has dropped off fifteen more bags of horse manure. So I've spent ages wheeling them onto the new Hump garden, mixing them up with mulch. Four hours with very little to show for it, except two well-used shoulders, and slightly sore upper arms...
Inside every good gardener lurks a placid, slow-paced, well-behaved weeder. One who is happy to kneel (or sit) in the mud for hours, teasing out tiddly weeds with their fingertips...
I've been walking in the rain in my gumboots. And singing rain songs (including that obvious one, hee hee), while collecting floppy wet daffodils for the house. Aargh! My legs get wetter and wetter...
September - month of spring stirrings, and my birthday (divisible by three). Hopefully a month of good sense and stamina. One where I stick to my plans, and maybe - just maybe - get everything done that needs doing. Oh yes? Well, I will jolly well try.
In early spring my slowly greening garden is filled with discrete, delightful splashes of colour, everything co-operating rather than competing. Nothing outperforms its neighbour, there's no shouting, or bullying...