Recent Garden News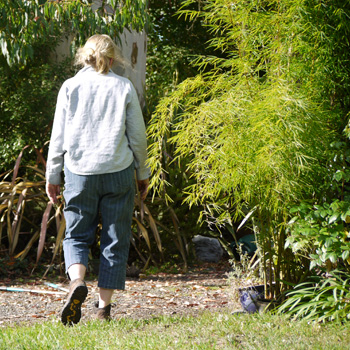 Head Gardener
The Recent Garden News page displays the fifteen most recent additions to Mooseys Country Garden. This should help visitors keep up with what's going on in my garden.
Gardens are always growing and changing - there's always something new to see. And, as I love writing about my garden almost as much as being in it, there'll always be some new Moosey ramblings to read, or new pictures to look at. Perhaps the garden activities of my summer will warm up a northern hemisphere gardener's winter days. I know how much I enjoy my mid-winter garden visits to summery places.
Two weeks can be a long time in the life of a garden. There's inevitably some repetition, so please be understanding if I'm saying the same things over and over again. I hope you'll enjoy seeing what I've been working on recently...
Losing the plot? I have 'rescued' a home-knitted teddy bear from the Charity Shop. As one does. This morning we all sat on the dog-couch together - Pebbles, Buster the cat, Ted, and me. Aww...
This morning at swimming my university lecturer friend taught me a new phrase : 'elaborative interrogation'. It will now be applied to the following statement. 'This morning I have been barrowing'.
Wow. Today I had an amazingly productive day. Why? Because I decided to let time go all blurry. I didn't count the hours. I just kept an eye on where the sun was. Natural solar gardening, hee hee.
Decided I needed a change from winter garden maintenance, so I've been flicking through my new garden library garden books. Interesting - the first author doesn't want me to remove any weed roots, because this causes 'disturbance'...
OK. So far this morning I've washed the bay windows (with the floor mop, oops). I've washed the sheets and hung them out to dry. But this is a gardening journal, right? Unfortunately, just sometimes, house chores get in the way of an early start in the garden...
A new month! Time for a new attitude - not that there's so much wrong with the old one. My idea is simple. Whatever I would have done in a day, well, I just do one more hour's work. August has thirty-one days, right? So my calculations give me five or six extra days of gardening...
Am so thankful for the little comforts of winter - firewood (lots of it, self-sawn and stacked), merino tops (lots of them, snuggly, cheap from the Charity Shop), and the grooviest house slippers. Warm feet. Looooooovely.
Good morning, frost, dogs, and sun, peeping shyly over the hedge. What a nonsense! It's me doing the shy peeping, waiting for a stream of golden light to flood through the house windows. This is a new experience...
Yeay! It is Non-Gardening Partner's birthday today. He is divisible by three. His birthday chores : trimming Hazelnut tree suckers, picking up more horse manure, fixing Middle Bridge, throwing sticks for the dogs. Nothing too strenuous.
My winter clean-up continues : ferns to trim, roses to prune, the water race edges to weed. And yes, there are gnomes to paint. Yikes! It's 10am. I'm ready for action, but my garden isn't. It's still only two degrees Celsius outside, a bit nippy for me.
I've finally started my Great Winter Random Garden Clean-Up, which involves wandering around with the dogs, the wheelbarrow optimistically full of tools. I stop when I see something that needs cleaning up. I then clean it up. Pretty simple, really...
My goodness! A whole week of winter has chugged past, and not one gardening journal entry. How odd. Time for 'Last week in the garden I did the following', that sort of thing. So what exactly did I do this week past? Oops. The memory has suddenly gone off-line.
My morning garden journal writing ranges from boasting overloads about yesterday's achievements to whimsical non-gardening trivia. And all the meaningful and/or meaningless things that I've done to pass the time in between, hee hee. But mornings are a great time for a dollop of self-discipline...
Here is the Moosey Family and Pets 2018 Football World Cup Draw. Each entrant gets two teams. Big brown Escher is, naturally, an honorary member of the dog family. The winner's prize is a large pack of steak. I've checked - all the contestants are carnivores.
I am 'wooded' out! Another big day shifting firewood logs, and no energy (or time) left over for anything else. I so looking forward to rejoining the ranks of the pottering and tinkering low-impact gardeners. Am I? To making tiddly little decisions about rose pruning - this bud? Or that one?