Recent Garden News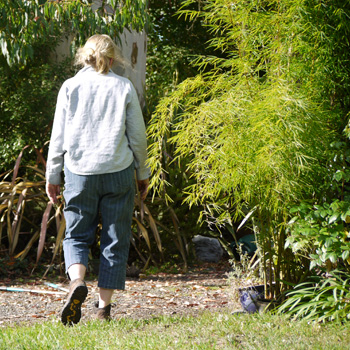 Head Gardener
The Recent Garden News page displays the fifteen most recent additions to Mooseys Country Garden. This should help visitors keep up with what's going on in my garden.
Gardens are always growing and changing - there's always something new to see. And, as I love writing about my garden almost as much as being in it, there'll always be some new Moosey ramblings to read, or new pictures to look at. Perhaps the garden activities of my summer will warm up a northern hemisphere gardener's winter days. I know how much I enjoy my mid-winter garden visits to summery places.
Two weeks can be a long time in the life of a garden. There's inevitably some repetition, so please be understanding if I'm saying the same things over and over again. I hope you'll enjoy seeing what I've been working on recently...
What's the nicest garden activity to do first thing in the morning? Wander around picking flowers for the house. So many to choose from, though (alas) some of the mid-summer lovelies (like the Shasta daisies) are a bit stinky.
What did I do yesterday? I picked pieces of gum tree bark off the gardens and lawns. What should I be doing today? Picking up pieces of gum tree bark, And tomorrow? Etc. Etc. Etc.
As well as rambling paths, over-grown borders, and floppy dahlias, I have some interesting features in my garden : stone retaining walls, bridges, a Koru styled brick courtyard, a brick Herb Spiral, an ornamental pond and so on. I need to make features of these lovely features!
Love my cats. Love looking after my cats. I'd like to think that they love me in return. Surely this is not too much to ask when I provide lovely food and good company?
I love being a Facebook gardener, so to speak. A friend in Florida liked my brick Herb Spiral, and asked questions about its dimensions and plan (oops - I didn't really have one). She also asked me for tips - aha! The surest way to a gardener's heart - ask for advice!
My garden looks beautiful. Things in the borders are getting bigger (Phormiums) and even bigger (trees). And when the space between them and me is a beautifully mown paddock-lawn, big is definitely beautiful.
Have spent many of these last days listening to test match cricket commentaries on the radio - Australia playing South Africa in my daytime, then New Zealand playing Pakistan into the evening. Summer cricket! Yeay!
This summer holiday gardening lark is so easy. One puts on a long sleeved cotton shirt, grabs a sunhat, slops on sunscreen, and does two gardening sessions : first thing in the morning and last thing in the afternoon. Easy as. In between times, one plays the piano, works on the summer jigsaw, does some web-gardening, and re-reads Harry Potter...
Happy New Year for 2023. Please be a good year! Last year I gave up on the rose I'd planted (years ago) for world peace. It looked dead, so I chopped all the canes down. Today, a tiny ray of sunshine - one short new stem with one flower. Yeay! When escaping into the garden one must never give up hope.
Welcome, 2023, to my garden and my life in general. Please let your surprises be good ones. Please be full of good gardening, kindness, and moderation - not too much growth from all my lovely leafy trees, not too many extreme weather events, and so on. Here's hoping for lots of great gardening energy, and a garden journal that's positive, lively, and not too boring!
My gardening journal has rather become the focus of my garden writing. Last year any ideas I had for articles were promptly popped into my journal. Maybe in 2023 I'll be able to write witty, interesting articles again. If I do so, they will arrive, gift-wrapped with a huge bow, in this directory! We'll see...
OK. Let's get them over with - my New Years Resolutions for 2023. Firstly, to remember the new year date. Hee hee - that's a mature person's problem, yes? Where 'What day is it?' transforms into 'What year is it?'
The days between Christmas and New Years have wandered past in a bit of a blur. For example, what day is it today? Thursday? Friday? Gardening, reading books, playing some new piano music (a Debussy violin sonata)... And I've certainly been gardening, even yesterday when the temperature outside was just over thirty degrees Celsius...
For the Best of the Year Awards, the gardener usually picks one rose, one shrub, one perennial, one cat, one dog... But then the garden gets a bit noisy. What about me? And me? Why don't I get the prize? Aww. That's not fair. Just because I flop over in the rain. You never pick meeeeee...
Good morning to my lovely house cats, who all reappeared soon after yesterday's visiting dogs went home. And good morning to my equally lovely house dogs, who are both singing in the kitchen. Good morning especially to Winnie, who didn't do any silly running at the Dog Picnic, and thus did not re-injure her limpy front leg.