Recent Garden News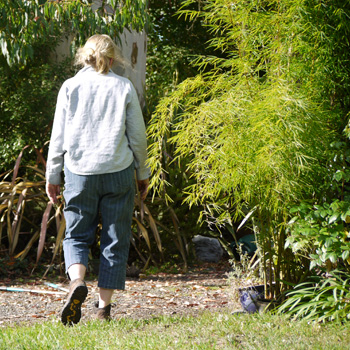 Head Gardener
The Recent Garden News page displays the fifteen most recent additions to Mooseys Country Garden. This should help visitors keep up with what's going on in my garden.
Gardens are always growing and changing - there's always something new to see. And, as I love writing about my garden almost as much as being in it, there'll always be some new Moosey ramblings to read, or new pictures to look at. Perhaps the garden activities of my summer will warm up a northern hemisphere gardener's winter days. I know how much I enjoy my mid-winter garden visits to summery places.
Two weeks can be a long time in the life of a garden. There's inevitably some repetition, so please be understanding if I'm saying the same things over and over again. I hope you'll enjoy seeing what I've been working on recently...
This concept of the autumn clean-up (singular) just doesn't ring true for me in my garden. At the moment, after four early-autumn clean-ups I am enjoying the third of my mid-autumn ones, to be followed by at least a couple of late autumn ones. And then - yippee! The first of the early winter clean-ups, I think we get the point. Clean-ups plural. I am always cleaning up.
I gave in. Driving past the big Easter Nursery Sale after swimming this morning, I just couldn't resist popping in. Just to satisfy myself that the nursery's sale prices would still be far too dear for me, you understand.
Ouch! But you want to hear about the garden, right? Patches of clover weeds in the garden alongside the water race. Aargh! When did these weeds get so fat and healthy? That blasted trailer load of top-soil has a lot to answer for!
When is a water feature not a water 'feature'? When the water isn't flowing and the surrounding gardens are uber-messy. Ha! My wriggling little stream in the Wattle Woods is getting a major autumn clean up.
The weekend. There we were, Non-gardening Partner and I, discussing his trimming of the fastigate Oaks, which he hadn't finished properly. When does that Miscanthus finish? he asked, pointing to a large ornamental grass shining in the sun. NGP, correctly identifying a Miscanthus? And interested in it? Evasion tactics, for sure!
Rain, more rain. Blobby rain with serious intentions. Puddles in the driveway! I have had to reinstate my gumboots, and the dogs and I go for wet walks around the gardens and orchard. I think deep thoughts about the concept of shelter, and how annoying wet shoulders and wet feet can be. The dogs don't care about wet necks and feet at all...
Some pink roses puff out their fluffy chests and push themselves into centre stage. 'Just look at me!' they shout, these pink prima donnas. The Gerbe rose is a pink climber (actually a Wichurana rambler) whose performance is rather more restrained. As a consequence, in my garden it is hardly noticed...
Here are yet more photographs of deep pink roses for you to enjoy. All these roses live and flower in my garden. Some are sturdy, while others can misbehave and sulk. But the flower colours are always magnificent.
Eek. April has sneaked into my life and my garden. There's no fool like an old fool? I sailed (well, 'gardened' might be the better word) through the 1st of April, April Fools' Day, without even knowing. Perhaps I was tricked ten times and didn't have the wits to notice?
In my younger, impressionable years I read a gardening book called Colour by Design. Therein I met an exciting foliage plant called red Orach, Atriplex hortensis. It was said to be a super-stylish cattle-fodder. I loved the look of it in the book's garden borders.
Hee hee. It's the 2017 TV season of New Zealand's 'The Bachelor'. Perfect timing! For Beau Ram, our handsome (and intact) merino bloke, has just been 'introduced' to some lovely ewes. Beau was last seen being chased around the paddock by the girls...
I'm back from a wonderful day hike in the Korowai Tussocklands. My day walks in the mountains are such good value - I re-live each small journey for days afterwards. The big views obviously inspire big thoughts, but the simplicity of walking in the outdoors, just to get somewhere else, is the key. The sense of time versus distance is so delightfully different..
Right. The bonfire beckons. Well, maybe not the word. The thought of a sentient bonfire yelling - 'Yoo hoo! Over here!' is rather bizarre. But we are still in a relationship, good autumn friends, me and my bonfire.
It's a drizzly weekend and Mister Brown is back! Escher the brown dog (e-dog is his new nickname) is staying for a few days. He's been running madly around the garden with Winnie, while old man Rusty plods along by my heels.
Most years I'll declare : 'March is marching on'. But this year March is dancing the softest of soft-shoe shuffles, with the slightest hint of autumn colour, the lightest touch of chill in the mornings. Lightly, spritely, so delightfully...