Recent Garden News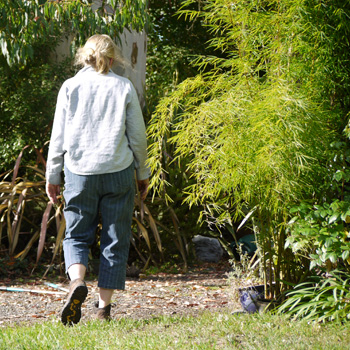 Head Gardener
The Recent Garden News page displays the fifteen most recent additions to Mooseys Country Garden. This should help visitors keep up with what's going on in my garden.
Gardens are always growing and changing - there's always something new to see. And, as I love writing about my garden almost as much as being in it, there'll always be some new Moosey ramblings to read, or new pictures to look at. Perhaps the garden activities of my summer will warm up a northern hemisphere gardener's winter days. I know how much I enjoy my mid-winter garden visits to summery places.
Two weeks can be a long time in the life of a garden. There's inevitably some repetition, so please be understanding if I'm saying the same things over and over again. I hope you'll enjoy seeing what I've been working on recently...
Aha! My edible gardening daughter requires me to have a pumpkin patch. Do I have anywhere suitable in my garden? Instant action - I cleared a large sunny area in the Hump Garden. Have only ever grown pumpkins by accident before (out of the compost)...
Sitting on Pond Cottage's verandah early this morning with Minimus the cat, reminding her she is spoilt for beautiful things to look at. To the right the pond, busy with bright red-hatted gnomes. To the left, forget-me-nots edging the grass, leading to the beautiful lilac rhododendron and two large lemon yellow roses...
Hello, spring. How are you feeling? Not too battered by the wind, I hope. So, what's new? The Dogwoods! How wonderful. You're moving into your Cornus phase? I love Dogwoods just as much as I love my dogs.
Am in a slight garden pickle. There are a lot of weeds. And there are lots of very beautiful spring things, flowers and foliage, to enjoy. Wandering around the garden I would much rather look at the beautiful things than the weeds. Hmm...
Sneaky October! I've been a bit distracted writing music and going to rehearsals (it's the start of the silly singing season). Today I got out properly in the garden to work hard all day. And discovered it was already Day Three of October. Oops.
This last week of September has been very itsy bitsy. No long days spent in the garden, no major overhauls, not even one path shifted. Just lots of walking around with the dogs, checking out what's newly in flower...
What a superb spring month September is - on the days when the wind stops blowing, that is. Blossom, Camellias, Rhododendrons, and the first rose Canary Bird getting ready to flower. Lots of new beautiful plants and flowers...
Yeay! No wind and a leg that sort of works. So here's the idea. I never, ever take 'no wind' for granted. I give thanks for every single wind-free moment. And I give thanks for every step I take where my legs work properly. A continuous stream of thanks...
I should take notice of the weather forecast for wind today? In the calm of early morning I am invincible (I am gardener, hee hee). That wind isn't going to stop me! Not me. Ha! I will laugh at the wind. Then I will ignore it.
I think the equinoctial (odd spelling, but checked it) gales might have started. The wind roared noisily all night, not easy to sleep well through. Forecast to last all week, and unpleasant to be outside gardening in, which I am soon to find out!
Weeds and seeds are on the agenda for this week. And a plan to be more morning-focussed. Am slowly emerging from winter, where no gardening is pleasant or possible before about 11am. So I end up drinking multiple cups of tea, staring out windows, and generally mooching around... Well, not any more!
I'm off to walk my dogs and take photographs while it's still cloudy, before our visitors arrive. Yeay! It's the last of my Birthday Week treats - a Dogs' Day Out and a Family Brunch. With four dogs and two birthday cakes. It's been a while since big brown Escher and Frida the spotty GSP have been here...
Have just popped into a fancy-pants garden nursery, to tease myself. What could I buy - five of those pretty little Lavender shrubs? Alas, too dear for me. And then something odd happened - brushed my hand against a pretty pink Argyranthemum daisy, and a couple of heel cuttings somehow managed to become detached. Well, I had to pop them in my bag, didn't I?
Weeding. It's very hand-tiring and finger-consuming, the way I do it. The fun part comes after the weeding's done - the mulching, the planting, the admiring - that is if one still has any energy left to mulch, plant, and admire! I'm back from a heavy-duty session weeding my friend's garden - different soil, different weeds, quite tough going...
My first weeks of spring, 2020, have been just gorgeous! Cafe treats and gardening glories - a trailer load of garden mix, a new (i.e. charity shop) blue gardening shirt, seeds germinating, resolutions to clean out the glass-house... My cats and dogs providing great garden company. New hope!