Recent Garden News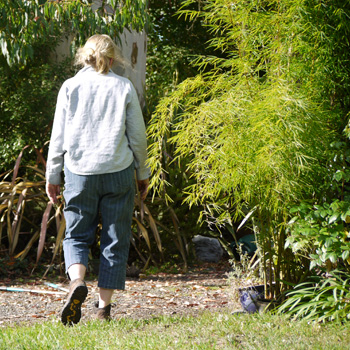 Head Gardener
The Recent Garden News page displays the fifteen most recent additions to Mooseys Country Garden. This should help visitors keep up with what's going on in my garden.
Gardens are always growing and changing - there's always something new to see. And, as I love writing about my garden almost as much as being in it, there'll always be some new Moosey ramblings to read, or new pictures to look at. Perhaps the garden activities of my summer will warm up a northern hemisphere gardener's winter days. I know how much I enjoy my mid-winter garden visits to summery places.
Two weeks can be a long time in the life of a garden. There's inevitably some repetition, so please be understanding if I'm saying the same things over and over again. I hope you'll enjoy seeing what I've been working on recently...
It's me, back in the garden after some days of distractions, followed by a couple of days of rain. The garden is suddenly weedy and unkempt, though it's been nicely watered. Many rose flowers are drenched, and foxgloves and lupins have flopped over.
OK, so Speckles is the daftest name for a cat. But some cats just name themselves. And so the caramel speckled tabby stray cat I'm feeding at night outside Pond Cottage is called Speckles. His body language shows he's not tame, but he's a talker. Miaow!
So many roses are flowering now - it's time for a dedicated rose page. Is it possible that I have too many roses in my garden? Hope not. Don't think so. No way!
Have been thinking about the irises in the Allotment Garden. I know they need sun, and their rhizomes need to be almost on the surface. Have just looked them up. Blast! 'Bearded irises must not be shaded out by other plants; many do best in a special bed on their own.'
The early summer garden is simply beautiful. I'm so thankful. And just a little proud that some of it is of my own making. Like all those beautiful trees and big roses I planted years ago.
Pulling out Alkanet provides the perfect mental backdrop for thinking deep and meaningful thoughts. I can recommend it. Grow some stimulating, thought-provoking Alkanet - the new, therapeutic strategy for the world-weary! Aargh! This is a gardening joke, right? Right!
I've been having so much fun trying to get the garden ready for the visitors. It's great fun tidying things up that I've left messy for months. Silly me!
It's been raining this morning, and all the greenery in the garden is soaking wet. But the garden looks nicely refreshed, and the garden visit is getting closer. Am trying to make things look - nice? cared for? interesting? all of the above? - for my visitors.
Visitors are coming early next week to have a first-time look around the garden. I've worked out what I can and cannot get away with. A cleared path gets a tick and a glowing cherry red heart. Cleavers (such a naughty weed) gets a black skull and cross bones.
Still basking in the glory of yesterday's seven hour gardening clean-up. Seven hours! Gardening is brilliant for one's mental wellness. Feeling low? Try out some of that good old gardening high. Oh, ignore the sore knee, and the achy hands...
Lost : fifty country roses - Rugosas, Hybrid Teas, David Austins, Noack Flower Carpets. Assorted colours. Last seen in the Hump Garden, all pruned, and sprouting. Reward.
Right. Have just tried to walk around the rose garden in the Hump. So where were the paths? And where were the new peonies? Hidden underneath large fleshy clumps of Campion and Alkanet, and bulky Honesty stalks going to seed.
Enjoying my early cup of tea at the table by the pond. Busy writing my diary while Minimus my cottage cat sat on my lap and played 'Attack the Moving Pencil'. Ouch! Noticed that the forget-me-nots (many of which are in the lawn, oops) are ready to be pulled out. So that's why everything looked so super-fluffy...
Right. My Plan for Personal Contentment. A lot of gloomy stuff is swirling around out there. Time to strengthen my world, fill my days with positive, loving, creative and imaginative things, always allowing time for the things I love doing.
Dearest garden, I will not see so much of you today...