Recent Garden News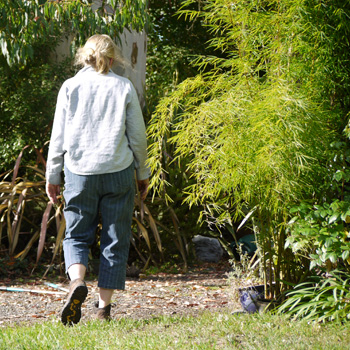 Head Gardener
The Recent Garden News page displays the fifteen most recent additions to Mooseys Country Garden. This should help visitors keep up with what's going on in my garden.
Gardens are always growing and changing - there's always something new to see. And, as I love writing about my garden almost as much as being in it, there'll always be some new Moosey ramblings to read, or new pictures to look at. Perhaps the garden activities of my summer will warm up a northern hemisphere gardener's winter days. I know how much I enjoy my mid-winter garden visits to summery places.
Two weeks can be a long time in the life of a garden. There's inevitably some repetition, so please be understanding if I'm saying the same things over and over again. I hope you'll enjoy seeing what I've been working on recently...
Nice news - my Weeping Maiden Camellia is flowering now, her blooms not frost damaged. She must appreciate her winter location. Not so nice - alas, I am a sniffing maiden. I have a head cold. I always get a head cold sometime during winter. Perhaps I hug too many other people with colds? Whatever.
Yet another oops. I remembered, after two days of light drizzle, that I'd left my camera outside. Half an hour after shamefully retrieving it, the rain started pelting down. And - yeay! My camera, though a bit confused (different screens keep flashing on and off), still works. Lucky me. Great timing...
I've been asked to give a talk at a local garden club in September. Wow! Little me! The topic is 'Things I need to do in the garden in different months'. So I have been chattering inanely to my bonfire. And my dogs. And so far I've sounded REALLY boring.
Yeay! It's Barking Friday! Nothing to do with dogs, everything to do with playing Bach's chamber music. And a special treat this morning - Non-Gardening Partner joined me and my flute friend to play Bach Trio Sonatas. He plays the violin, I play the piano (which I sometimes misspell as 'paino', hee hee).
Might have been a little too warm in my recent welcoming words to winter. I'm sorry, but a top temperature of four degrees Celsius on a clear winter's day is just too cold for my digital dexterity - a requirement of good gardening. Eight or above, please. Nothing less.
I'm not happy. It's my temporary dog-fence (about one hundred meters long), which deters my dogs from going next-door. The one that took me three days to build from old wire netting and broken posts, feeling rather 'hard done by' because nobody else seemed to think it necessary. You get the picture...
A large area in The Hump was cleared last winter, in 2018. Trees were felled and chainsawed, pieces carted away to dry out for next year's firewood. Yippee! A brand new garden area for me, expansive, sunny, and free of plants and shrubs. Here was my big chance to prove myself...
Hello, winter! My garden tells me that you have arrived. Most of my deciduous trees are winter-bare, with just a few lingering flashes of red from Berberis and Maples. The dahlias have succumbed to frost. The cats have noticed you. The dogs? They are far too furry to notice.
Planting versus burning? Planting wins, hands down! Though planting thing properly is a very slow process, taking almost as long as a day of bonfiring. But so much more rewarding, environmentally speaking. Giving new life to the land, creating new joys and expectations, keeping the air clean, those sorts of things...
Huge thanks to the hedge trimmer, who wiggled and jiggled his machine past my garden borders and around my ornamental trees (planted rather too close to the shelter hedge). Nothing trashed, damage pretty much zero (a couple of squashed Renga Renga and one small Oak tree branch don't count).
What to choose to do in the garden? Yesterday I chose to have a slow, gentle, all-day bonfire - a barrowful of this, a barrowful of that, no need to rush. I would rake up the driveway leaves, and clean up underneath some of Cordylines...
How lucky am I? I share my life with two lovely dogs (except they've just had a scary dog-fight, spilling over onto my chair). And five lovely cats (except mean Minimus the cottage cat chases the Freds up trees, and Tiger has been pee-ing behind the TV).
Regrets? I have a few?... Not me. The tiddly ones don't count - for example, wishing that I'd staked the dahlias. I'm talking about those deeply heart-felt regrets, which would have changed and enriched my life. Got none. Or so I thought. ..
Aargh! I've been blog-busted? Lots of online ads for seniors' socks are suddenly popping up, offering me relief. Compression socks to get me back on my feet. Whatever! I must have blog-moaned (once) about an aching toe... My gardening feet do the business very well, thanks.
Oops. I'm getting way behind, May-wise. Even 'May the Force' has passed me by - with very little Jedi gardening being done. But I have done some scribbling. That must count for something? AT least I've been thinking about my garden. Here's how May began...