Recent Garden News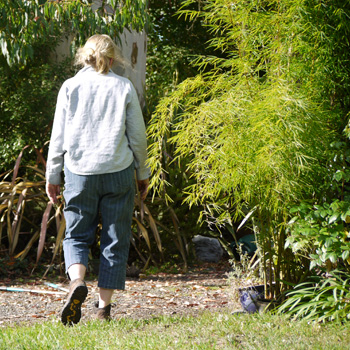 Head Gardener
The Recent Garden News page displays the fifteen most recent additions to Mooseys Country Garden. This should help visitors keep up with what's going on in my garden.
Gardens are always growing and changing - there's always something new to see. And, as I love writing about my garden almost as much as being in it, there'll always be some new Moosey ramblings to read, or new pictures to look at. Perhaps the garden activities of my summer will warm up a northern hemisphere gardener's winter days. I know how much I enjoy my mid-winter garden visits to summery places.
Two weeks can be a long time in the life of a garden. There's inevitably some repetition, so please be understanding if I'm saying the same things over and over again. I hope you'll enjoy seeing what I've been working on recently...
Oh boy. What a day I'm having. I am weeding. Cue violins, fortissimo, and let me say that again. I AM WEEDING. In the Hump. Parachute weed seeds keep punching me in the nose, sticky Cleavers slips through my hands, grass clumps have been giving my shoulders a great workout.
Here are some more spring photographs from my garden for you to enjoy. Flowers, shrubs, and some beautiful leaves - every colour you'd want to see. There's such variety of style, too. Blousy multi-petalled bloomers and sweet little stars, Droopers and uprights, clusters and solitaires...
No lists of spring things that desperately need doing today, or should have been done yesterday. Forget all that! Just two pages of beautiful photographs, to celebrate the colours of spring.
I love my lawns! Not that they are proper lawns - they're just mowed sheep paddocks, awfully weedy, and in some places smothered in blue annual forget-me-nots. I love them most of all in spring when they're very green and the weeds blend in, hee hee...
Things are afoot in my garden. Paths are afoot! I'm clearing the paths around the back of the pond, where all my garden gnomes live. A friend is visiting the garden later this week. She will enjoy wandering around my pond...
Dear October, Well hello there, my old spring friend. It's me. The gardener. Yes, I am still here. I've been loving your new batches of blossom and your spring shrubs. I've been adoring your pinks and whites. And your other flowers, of course...
Farewell, September, you darling spring month. So many beautiful things have happened in my garden this month. I've tried my very best to work hard at everything. As well as stop, look around, marvel, and enjoy. And pull out a few more Shepherd's Needle weeds...
Gardening near the water race is very musical - water burbling and bees buzzing like squeaky cellos and violins, birds chirping flute melodies as they build their nests in the trees above (well, I think that's what they're doing). And, if I'm lucky, no barking trumpets (i.e. dogs).
Ha ha, nasty wind and rain, you can't catch me out! Snow to 100 meters? I don't think so! Not in spring. And definitely not in my garden, thank you very much. Funny how people become so indignant when the forecasters get it wrong. I'd much rather have a weather warning that comes to nothing.
Have been working hard in my spring garden. And thinking hard, too, about the things that I look forward to at the end of a good gardening day. Having clean hair - that's OK, I reckon. Food - that's either sensible, or greedy, depending on the quality and quantity...
Phew! Have done lots of great garden work these last few days. Dear garden, I promise I will always look after you, as we age gracefully (or disgracefully) together. Important to keep one's promises, it is. Even if one makes them one day and delivers the next?
I need to spread horse manure around the Camellias. Right time? Don't care. Seems an appropriate way to thank them for flowering so beautifully. Some are going brown now, and that's perfectly acceptable. The later ones are flowering beautifully.
Spring weeding can be quite lazy - it's small-scale, slow weeding. I kneel down, get totally muddy knees, grubby fingernails, and a few hand scratches (weeding e.g. underneath the rugosa hedge). I crawl carefully to the next weeding position. No need to rush...
So it's rained for a couple of days. And the spring garden looks so happy after rain. But surely it's me, the gardener, who is happy? The garden, as always, passively accepts the weather thrown down upon it. Happiness is a human concept, right?
Today's trekking circuit in the garden. I clear paths in the Hump, tip the soft weeds under the hedge, pick up the nearby non-compostable mess, wheel it over to my bonfire, then return to the path via the mulch pile. The wheelbarrow goes round and round - empty, full, empty, full...