Recent Garden News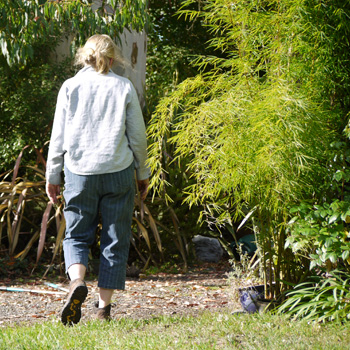 Head Gardener
The Recent Garden News page displays the fifteen most recent additions to Mooseys Country Garden. This should help visitors keep up with what's going on in my garden.
Gardens are always growing and changing - there's always something new to see. And, as I love writing about my garden almost as much as being in it, there'll always be some new Moosey ramblings to read, or new pictures to look at. Perhaps the garden activities of my summer will warm up a northern hemisphere gardener's winter days. I know how much I enjoy my mid-winter garden visits to summery places.
Two weeks can be a long time in the life of a garden. There's inevitably some repetition, so please be understanding if I'm saying the same things over and over again. I hope you'll enjoy seeing what I've been working on recently...
I love it when I have a properly positive spring gardening day - no dramas or sad things, no dog misbehaviour, not too much wind, no rain or unpleasant weather events, no interruptions...
Aargh! Sixty millimetres of rain in the last two days - this would normally fall in one month. A wet winter, followed by a wet spring. But today - yeay! No rain! And so the dogs and I can get back outside and have a nice, fun, normal day doing normal gardening. Yeay!
Like spring, my skills as a handler of a nervous new dog are improving. And spring is getting sweeter by the day - more Camellias flowering, rhododendrons too, the fancy-pants daffodils...
Pebbles, our new dog, has been with us for four days now. When she feels secure and safe she is the sweetest dog. Same as people, really! We've been out in the car, and this afternoon we are going to try the forest walk. Her relationship with the house cats is still - shall we say - a work in progress? Early days. OK. I am prepared for weeks of early days...
Until last year Pieris have been treated rather rudely in my garden. To improve their standard of living I released one from dry, substandard soil in a confining pot, and shifted another out of a sun-baked border. Grows best in partial shade? Yes, definitely. And not in a pot. Sorry about that.
Pebbles our new dog has arrived. She is lovely, but seriously nervous. Just now she plucked up the courage to peep around the kitchen door. Aargh! The sight of Tiger the lolling tortoiseshell, her four short little striped legs in the air, was too much. Oh dear. Cats and dogs. I am reminded of their relationships...
Spring! My birthday week. Spreading rotten horse manure, checking spring lambs, pruning the last roses, trimming ferns... Plus many happy, happy hours of 'woosie' weeding. Or should that be 'wussy' weeding? 'Woosy'? 'Wussie'? I think I've made the point!
Exactly how weatherproof an I feeling? I have already welcomed the arrival of spring - New Zealand gardeners are impatient, and don't bother waiting for the equinox. But the weather has not obliged, sending down a heady mixture of rain, drizzle, and coldish wind.
Yeay! It's nearly spring - nearly spring! And how do I know it's nearly spring? Spring weeds! The first morning walk with Winnie the dog takes us ages. I keep lunging into the dirt to remove pretty parachute weeds, while she waits patiently for her ball to be thrown. She understands!
More rain, followed by gentle spring-like daytime temperatures, and guess what? Weeds! Pretty green things, some starting to flower. I need to get real. Become a gardener of gravitas who solemnly weeds and mulches with dignity. Sounds rather serious...
I have dispatched Non-Gardening Partner to pick up lots of bags of local horse manure for me. It is the wormiest, rottenest, sweetest-smelling horse manure I've ever had, and let's hope it also turns out to be the least weediest!
A stunning revelation. Slightly longer daylight hours, sun a little higher in sky, warmer, fuller light = a more radiant, warmer gardening mood. Yeay! There are good reasons for renewed hope. A spring garden lurks amidst the garden maintenance, the trudging of barrow loads back and forth, the pruning and trimming...
Humph. My garden is soggy and winter-messy. Wadges of wet brown leaves cover little green things (like patches of daffodils). The original wooden sheep fences, around which the house gardens are 'built', are coming to bits. What to do?
I'd like to welcome (not) my first head-cold of the year. Such a nuisance - so minor in the scale of health and happiness, yet so annoying. So the weekend's gardening has been rather sniffy...
August - I am here, ready for you, full of new resolve. Forget my unproductive behaviour over July - that was totally out of character! A new month, a new leaf, a new me, getting the garden ready for spring.