Recent Garden News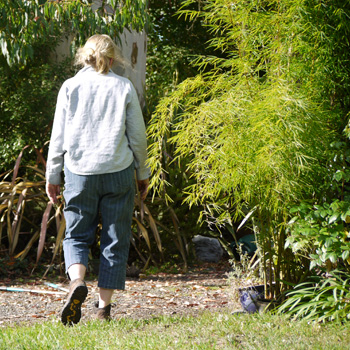 Head Gardener
The Recent Garden News page displays the fifteen most recent additions to Mooseys Country Garden. This should help visitors keep up with what's going on in my garden.
Gardens are always growing and changing - there's always something new to see. And, as I love writing about my garden almost as much as being in it, there'll always be some new Moosey ramblings to read, or new pictures to look at. Perhaps the garden activities of my summer will warm up a northern hemisphere gardener's winter days. I know how much I enjoy my mid-winter garden visits to summery places.
Two weeks can be a long time in the life of a garden. There's inevitably some repetition, so please be understanding if I'm saying the same things over and over again. I hope you'll enjoy seeing what I've been working on recently...
Some days I'm bit garden lazy. I stop working after one or two hours and mooch off. And I'm not very impressed with myself. I need to do better! I tell myself off. And where are all these 'me' sentences leading? A carthartic 'me' moment, I'm afraid!
Two deep gardening questions : 1. What's more boring than spreading ten wheelbarrowfuls of mulch? Answer : Raking up ten bags of autumn leaves. 2. What's more boring than raking up ten bags of autumn leaves? Answer : Spreading ten wheelbarrowfuls of mulch.
Scary Buster, black as midnight cat! The household is (understandably) feeling a little sensitive about its animals at the moment. Buster is missing for breakfast. This is awful. She's in trouble? She's lost? No - she's just out hunting in next-door's weedy paddock
I'm ready for pre-winter apres-gardening. Good kindling, bags of pine cones, dry firewood for the log-burner. Merino layers, fluffy mohair jersey, and my Ugg boots - wonderful slippers. A super-comfy dog couch to share with the cats (oops) in front of the fire. And yet another library book about Queen Elizabeth 1st... Content
Today is a sad day. Rusty our old red Border Collie dog has been lovingly laid to rest in the Ram Paddock. He was nearly thirteen years old. He has been a huge part of my country life. Gardening days, bicycle rides, walks, trips in the car to forests, the river, the dog park...
Some roses are so praiseworthy that a gardener just has to have one. Some are too famous to ignore. Some have sentimental reputations. Some just get grabbed, thoughtlessly, in a rose sale. Welcome to my garden, Archduke Joseph, often spelt Archiduc Joseph.
Two nights ago we had the first almost-frost, desperately close to the magic zero (Celsius). It was nose-nippy walking the dogs, and I tried to imagine long-distance running across Siberia in winter. I'm reading one of my extreme travel books - it's a seasonal thing, hee hee.
I blame it on the Garden Club, and the first (and only) garden tour I went on with them. An old cane chair, painted white, in a secluded outdoor nook, complete with nonchalant pot of pelargoniums. This was THE look! So during the next months I collected various cane chairs from the Charity shops, and placed them in my own garden, just so...
Autumn races along. Last week - wow! Look at the scarlet oak trees, beautifully red against the blue sky. This week - oh dear. Much crunching underfoot. Time to bag up the fallen leaves. And I love it. I love autumn doing its own thing, at its own pace. I love every moment, every day, every week...
The autumn leaves are now starting to fall. Their choice - they've decided that it's time. So lovely to be patted gently on the head by red-brown oak leaves. And so much nicer than snow. There's no reason to be grumpy (not that I am, you understand) in autumn.
As a budget collector of cute old things, I've often come home with cheap cane tables and chairs squashed into my car. Attempting to produce 'quaint whimsy' in my garden I've installed them underneath pine trees, in the middle of borders, beside woodland paths, and so on.
Self gardening discipline is a sheepish thing. Sometimes, on the most perfect of autumn days, it escapes out the gate, and blunders down the road, like a random ewe in search of - what exactly? A paddock with no fences? The perfect ram? The meaning of life? I don't think sheep worry that much about the meaning of life. And nor should gardeners...
This concept of the autumn clean-up (singular) just doesn't ring true for me in my garden. At the moment, after four early-autumn clean-ups I am enjoying the third of my mid-autumn ones, to be followed by at least a couple of late autumn ones. And then - yippee! The first of the early winter clean-ups, I think we get the point. Clean-ups plural. I am always cleaning up.
I gave in. Driving past the big Easter Nursery Sale after swimming this morning, I just couldn't resist popping in. Just to satisfy myself that the nursery's sale prices would still be far too dear for me, you understand.
I'm back from a wonderful day hike in the Korowai Tussocklands. My day walks in the mountains are such good value - I re-live each small journey for days afterwards. The big views obviously inspire big thoughts, but the simplicity of walking in the outdoors, just to get somewhere else, is the key. The sense of time versus distance is so delightfully different..