Recent Garden News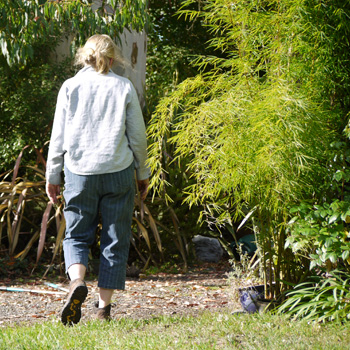 Head Gardener
The Recent Garden News page displays the fifteen most recent additions to Mooseys Country Garden. This should help visitors keep up with what's going on in my garden.
Gardens are always growing and changing - there's always something new to see. And, as I love writing about my garden almost as much as being in it, there'll always be some new Moosey ramblings to read, or new pictures to look at. Perhaps the garden activities of my summer will warm up a northern hemisphere gardener's winter days. I know how much I enjoy my mid-winter garden visits to summery places.
Two weeks can be a long time in the life of a garden. There's inevitably some repetition, so please be understanding if I'm saying the same things over and over again. I hope you'll enjoy seeing what I've been working on recently...
I love the big 'antique' shrub rose Danae. But I've ignored her (photographically, at least) for years. She flowers for weeks on end, in lemon yellow shades which echo the fluffy rugosa Agnes, her nearest rose neighbour. And this is the reason for my visual indifference...
Sitting on the patio with my pot of breakfast tea, surrounded by Compassion roses. The dogs are doing chasing circuits around the Island Bed - a great reason to have an Island bed in one's garden design, hee hee. My garden is noisy with music - birds squeaking, a contrapuntal sheep chorus...
Yesterday I waited all afternoon for the sun to go behind a cloud, so I could get some good photographs of the magical rose Alchymist, who tricks and treats with different coloured blooms on the same stem. And did the sun oblige? Not a jot. It continued to beam down - hot, hot, hot.
A message for the big blustering wind. You are not putting me off with your noisy nonsense. Rude wind, blowing a fledgling blackbird out of its nest yesterday at dusk. In bed, Minimus presented me with the large alarmed birdling, while the parent shrieked and dive-bombed the cottage...
Good morning, dogs. So Winnie had an upset tummy overnight (floor rugs hosed down, drying on the patio table). And a scrappy dog-fight in the kitchen (she tried to pinch Pebbles' breakfast). I tipped a bucket of water over their heads - a great way to start the day, mopping the kitchen floor. Aargh!
Time to pull out more Alkanet. My garden is uber-alkanetted. It's a nuisance perennial forget-me-not, with slightly furry, prickly stems, roots that out reach underground, and seedlings for ever and ever. And the honey bees adore it. And I love my bees...
Some properties have a division of responsibilities, right? Like the gardener does the borders, and the Non-Gardening Partner does the lawns. Mowing, de-mossing, and re-sowing. I have just mentioned this to mine - some areas need a top-up of seed. Isn't this supposed to be his job?
This spring I decided not to produce any of my own flowering annual seedlings. I would save huge chunks of spring gardening time, which would be redirected to weeding. I would dominate the weeds in my garden. Oh really?
Firsts, middles, and lasts. The first peony bud (a coral show-off) has opened. The first rugosa roses are out. The middle-season Willow Tree rhododendrons, big and beautiful, are flowering, as is the last blossom tree of spring, Crab-Apple Charlotte...
So spring chugs on through October, hot days followed by cool days, a smattering of roses, the later cherry blossom just beginning to flutter down, the ferns uncurling their fresh new fronds. Soon the mid-season rhododendrons will be in full flower. There are swathes of blue forget-me-nots in all the lawns...
Written on a page in a garden journal, 'Cleavers' is just a bland noun with a silly s on the end. But in my garden, oh my goodness! It's transformed into a cartoon garden baddie, covered in scary sticky fingers, out to get me. It's menacing, sneaky and annoying, with an unpleasant personality. Blast Cleavers! Delete! Backspace! Delete!
Three days of continuous rain - splodgy one minute, drizzling the next. So good for the garden, right? Absolutely, but not good for this gardener - my garden helper (a relative) was supposed to arrive two days ago. I have been saving big muscle jobs for him...
I'm relaxing in the breakfast chairs with the first morning cup of tea. I gaze through the bay window, admire the sweeping lawns, the tough grandeur of the gum tree, the Shrubbery's cute stone wall...
Sings : 'My garden's looking gorgeous, I've got the spring garden blues... Yes my garden's looking gorgeous, I've got the spring garden blues... Blue's my favourite colour, I love my spring garden blues..
Dear, Darling Garden. Have I told you lately how much I love you? And what exactly I love about you? I love your plant growth, and your special spaces, and your overgrown paths. I don't love your dandelion flowers, though...