Recent Garden News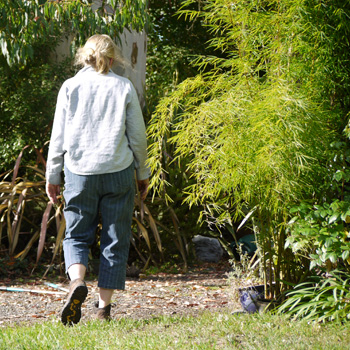 Head Gardener
The Recent Garden News page displays the fifteen most recent additions to Mooseys Country Garden. This should help visitors keep up with what's going on in my garden.
Gardens are always growing and changing - there's always something new to see. And, as I love writing about my garden almost as much as being in it, there'll always be some new Moosey ramblings to read, or new pictures to look at. Perhaps the garden activities of my summer will warm up a northern hemisphere gardener's winter days. I know how much I enjoy my mid-winter garden visits to summery places.
Two weeks can be a long time in the life of a garden. There's inevitably some repetition, so please be understanding if I'm saying the same things over and over again. I hope you'll enjoy seeing what I've been working on recently...
What to work at in wild, wet, winter weather? Weeding? Well yes, there's always weeding, and I have done a little... But all those W words are rather off-putting. Seriously, it's just been too wet.
Phew! Pouff! went the snow, with two days of half-decent winter day temperatures, and so I've got my garden back, complete with blue sky and green lawns. Now comes the supreme test. Remember all that weeding and digging I really, really wanted to do when the snow stopped me? Yes?
Now I have lots and lots of snow photographs. Ho-hum? Well, not really, for me. Snow doesn't happen very often. And it certainly isn't supposed to settle, or hand around for too long.
Snow. Snow? Snow! I slept inside the house last night, and I didn't hear a thing. But there was no wind - just snuffly, silent snow falling. Wow. Not so much snow, yet. But quite enough for me. Please feel free to stop at any time... No, honestly, just a tiny helping is quite sufficient.
I need to spread some winter weeding love around my garden. It's time to scoop up armfuls of the cute little green things which are popping up everywhere. The nice thing about weeding a large garden - one can have an instant change of scenery, if one so desires.
I need a project with which to surprise Non-Gardening Partner, who is going to Canada for a few weeks. Once before he did this, and I built a substantial stone retaining wall in his absence. When he arrived home and saw it he seemed to be a little underwhelmed. Maybe I went on and on about it a little too much...
Oops. How time flies! Hello July, another winter month, rose pruning and fern trimming month. And - aargh! There are still hedge trimmings to be shredded and burnt - the other side of the big Leyland hedge, and the Deodar hedge down the side of the Orchard. In the spirit of silliness I am taking a photograph of each day's bonfire...
To balance my gardening life I need some hands-on plant tasks, as well as burning the hedge trimmings. So it's time to write a list of plants that need shifting. Mid-winter is the perfect time, frost permitting. And everything that comes out must have a pre-planned destination. Not just shifting for shifting's sake.
I'm watching the birdies at their feeding stations. Half apples in hanging coconuts for birds who like privacy, peaches in syrup for the nectar drinkers, bird seed for the finches, and a so-called 'bird-bomb' from the butcher (pure carbohydrates) for the energy guzzlers.
The winter solstice usually marks the start of extreme morning twittering in this gardening journal. Not because I have cosmic thoughts to share, but because until 11am it's usually too cold outside. But how lucky am I that this is my typical mid-winter's gardening day! Itching to get out, and stuck inside for only three daylight hours. Dear, dear me...
The hedge trimmer man has left behind swathes of Leyland branches. Some are large enough to cut up for firewood logs, others will neatly fit in the shredder, and then there's the little scrappy stuff. That's bonfire material. And there is sooooooo much of it!
It really does pay to keep the gardening eyes open at all times. And not just to avoid tripping on Winnie the dog's abandoned tennis balls. But to notice all the little colourful things, precious little gems amidst the functional dull greens and browns of my winter garden.
Some ideas are lofty, maybe inspired by an inspiring picture in a glossy gardening book. Others are downright mundane, and small-scale. And these are often the ones with the most spectacular results. So how sensible is this latest idea of mine?
June winter gardening... Cold days (brrr), a warm house (yesssss), short days, morning frosts. The cats still hunting, bringing in mice, rats and headless rabbits (no idea which cat does this, but definitely not Tiger). Taking Winnie the dog for lots of brisk walks. The puffy jacket! Woolly gloves! Merino layers! Hood up, head down...
Aha! Welcome winter, don't be shy. Come on in, stop on by. But please don't be noisy, or rude. Winter - be a chill, cool dude! Hmm... Poetry aside, it's the first day of official winter (southern hemisphere style), and so my official Great Winter Garden Clean-Up can begin.