Recent Garden News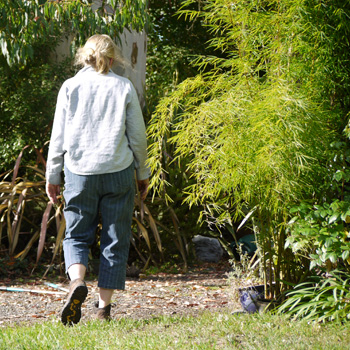 Head Gardener
The Recent Garden News page displays the fifteen most recent additions to Mooseys Country Garden. This should help visitors keep up with what's going on in my garden.
Gardens are always growing and changing - there's always something new to see. And, as I love writing about my garden almost as much as being in it, there'll always be some new Moosey ramblings to read, or new pictures to look at. Perhaps the garden activities of my summer will warm up a northern hemisphere gardener's winter days. I know how much I enjoy my mid-winter garden visits to summery places.
Two weeks can be a long time in the life of a garden. There's inevitably some repetition, so please be understanding if I'm saying the same things over and over again. I hope you'll enjoy seeing what I've been working on recently...
OK. It's Scruffy Time. Hot winds, Campion and Lychnis done and dusted, time to trim them. Falling pieces of gum bark - clean them off the lawns and the gardens. Then tomorrow do it all again...
Such bad timing. Right at the end of yesterday, with no time or energy left, I went over to Henworld - a circular garden underneath huge gum trees by the hen house. I was carrying my new metal rooster, and feeling jolly pleased with my tired and gardenworn self.The idea was to pop rooster in the Agapanthus with the others...
I rather enjoy a spot of flowery trimming! It can even be done successfully in a white apres-gardening cotton shirt and the wrong shoes. Much more relaxed tripping gaily around nipping at dead-heads than battling dandelions and clover.
Working in one garden area for days, I lose track of calendar time. I get stuck in a rut and forget that other parts of the garden are growing madly, maybe even getting out of control. Oops. I need to spread myself out more.
There's a danger in overthinking a garden development, when there's just one of you (i.e. just me). Too much thinking takes time away from the real issues, like weeding. Too much squinty visualisation and analysis pulls focus away from soil maintenance and mulching. And too much thinking makes a simple task seem difficult...
I've been thinking about the messy end of the Hump Garden, while listening to the cricket commentary on my wee radio. Very nice, very slow, very summer holidayish. But I can't decide what to do, and I've mislaid my hand digger and my spade...
What a year 2020 has been! Bad for the world, good for the garden... And I guess not so bad for a moderately unsociable gardener based safely in New Zealand, oops. So what's it to be, 2021?
Hello, 2021. Best not to think too far ahead about you. One day at a time. I promise write lots of happy journal pages (no moaning allowed) and enjoy my garden. That means relaxing and looking, as well as working hard in it!
Hopefully 2021 will be a great gardening year, full of nice surprises, and better health for the world (both people and climate). All I can do is my very best, and keep on sharing my love of my garden. Hopefully not repeat myself too much or get too boring, and have lots of sparkling new ideas, new projects, innovations...
2020 might have been a dodgy year for people, but not so for the roses in my garden. Here are my Rose Awards, and the ultimate prize : Rose of the Year.
Something a bit different to end 2020 with. The two brown dogs Escher and spotty Frida are coming to stay for New Year's Eve - another Dogs Day Out! So I'd better get started in the garden before the dog fun (well, I hope it will be fun) starts.
2020 is fast running out of days. Am suddenly remembering all those things I meant to do this year in the garden! Oops.
Great Christmas company! Non-Gardening Partner and I have had the most wonderfully peaceful Christmas day. We just pottered around together - realised I haven't spent much time with NGP for ages, I've been so busy doing Christmas singing. He's been left alone, unorganised, for nearly a month. Time to rectify this!
Merry Christmas from me and all my garden friends. And that includes my gardening boots - in the photograph they're rather clean, don't you think? Friends include the two Fred tabby cats (spot the difference), Minimus and Buster and my two lovely sister dogs Winnie and Pebbles. Non-Gardening Partner is included in spirit...
Garden gnomes have a strong culture of sociability. They cannot just be plonked here and there in a garden, willy-nilly, thoughtlessly. There's more going on beneath those red hats than you could ever imagine. Gnomes have quite specific social needs...