Recent Garden News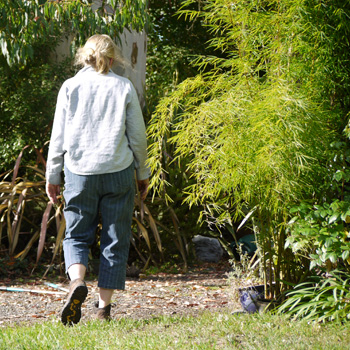 Head Gardener
The Recent Garden News page displays the fifteen most recent additions to Mooseys Country Garden. This should help visitors keep up with what's going on in my garden.
Gardens are always growing and changing - there's always something new to see. And, as I love writing about my garden almost as much as being in it, there'll always be some new Moosey ramblings to read, or new pictures to look at. Perhaps the garden activities of my summer will warm up a northern hemisphere gardener's winter days. I know how much I enjoy my mid-winter garden visits to summery places.
Two weeks can be a long time in the life of a garden. There's inevitably some repetition, so please be understanding if I'm saying the same things over and over again. I hope you'll enjoy seeing what I've been working on recently...
Most years I'll declare : 'March is marching on'. But this year March is dancing the softest of soft-shoe shuffles, with the slightest hint of autumn colour, the lightest touch of chill in the mornings. Lightly, spritely, so delightfully...
I declare the season of the autumn bonfire open! Yeay! Yeay? Some things are 'awfully' necessary, as is burning all the dry rubbish in my garden. Perennial trimmings, debris from the huge gum trees, Cordyline leaves...
Over the last days we've had nearly sixty mm of rain. It's fallen steadily and soaked into the dry ground. Phew! The garden, the orchard, and the paddocks have all needed this wonderful moisture. I've done no gardening - just some drizzle photography.
Sometimes gardening time goes all stretchy, full of elastic hours, with no definite scale or measure. Suddenly, after what feels like a gentle pottering session, insignificant time-wise, I see that it's five o'clock. Eek! I started work mid-morning...
Eek! It's already March, the third month of the year, and my garden is slowing down for autumn. But I am not slowing down - no way! It's the perfect time for planting - Aha! New shrubs! And shifting the existing ones around.
Remember my New Year's Resolution? Oops. It's nearly two months old now, and already I've forgotten all about it. I was going to be 'kinder' (obviously to all my humans, etc) - but specifically to my dogs. It's nearly two months old now, and already I've forgotten all about it.
Life is a bit sad without Tiddles the Tabby (with too many toes). My beautiful polydactyl cat has now been missing for six days. Each day the dogs and I wander around the orchard - her favourite hunting ground. But I'm calling to nothing. I don't sense her being anywhere close.
The mid-summer garden visitors (flowers, I mean) are slowly packing up their things and moving on out. This morning I said goodbye, wistfully, to the miniature Agapanthus flowers which ring Pond Cottage's wee garden and the nearby path around the pond. Well done, my pretty blues.
February is almost half-way through - things move so fast! Early mornings are noticeably darker, and the midday shadow angles look different. Aha! The sun is beginning to shift in the sky. Things are changing. Summer is slowly sneaking out.
Balance in the garden means more than staying on the bridge, not wobbling off to land in the water, or (worse) the spiky Gunnera. One needs to balance one's gardening speed. One day, work ferociously fast. Then stand for half an hour and do some hand-held watering of the roses - gardening in the slow-lane!
I am banning the word 'disheartened' from my garden journal ramblings. This word describes how I sometimes feel. It is a word to be fought off, and if possible knocked out, by lots of well-organised hard work. No garden should make its gardener feel disheartened. Not should gardening magazines and books!
My garden is overflowing with wind. So I've been partially gardening, sneaking back inside when the big trees become too noisy. But the garden still looks beautiful in its summer colours. Pink and green. Apricot and green. Anything and green, I guess!
The Wattle Woods are lovely, criss-crossed with winding paths, not deserving of gardener neglect. When an area in my garden is messy I tend not to visit it much, out of guilt. And self-preservation...
The last gardening week of my January has been groovy. Each morning I've been out exercising myself and the dogs, and in the afternoons I've done maybe three hours weeding in the garden. I have a new Personal Management Plan (must be a January thing, like joining a gym hee hee).
Need a reward for working hard all day in the garden? For me, the anticipation of a tasty evening meal works the best. OK. Here's today's deal. Work hard, then enjoy a pensioner's country pub roast tonight, with a glass of Merlot...