Recent Garden News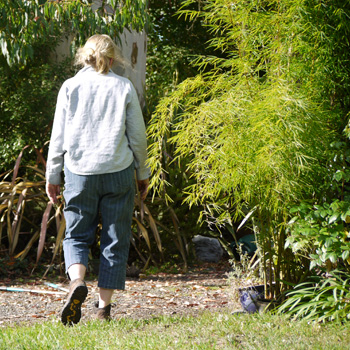 Head Gardener
The Recent Garden News page displays the fifteen most recent additions to Mooseys Country Garden. This should help visitors keep up with what's going on in my garden.
Gardens are always growing and changing - there's always something new to see. And, as I love writing about my garden almost as much as being in it, there'll always be some new Moosey ramblings to read, or new pictures to look at. Perhaps the garden activities of my summer will warm up a northern hemisphere gardener's winter days. I know how much I enjoy my mid-winter garden visits to summery places.
Two weeks can be a long time in the life of a garden. There's inevitably some repetition, so please be understanding if I'm saying the same things over and over again. I hope you'll enjoy seeing what I've been working on recently...
Life is a bit sad without Tiddles the Tabby (with too many toes). My beautiful polydactyl cat has now been missing for six days. Each day the dogs and I wander around the orchard - her favourite hunting ground. But I'm calling to nothing. I don't sense her being anywhere close.
The mid-summer garden visitors (flowers, I mean) are slowly packing up their things and moving on out. This morning I said goodbye, wistfully, to the miniature Agapanthus flowers which ring Pond Cottage's wee garden and the nearby path around the pond. Well done, my pretty blues.
February is almost half-way through - things move so fast! Early mornings are noticeably darker, and the midday shadow angles look different. Aha! The sun is beginning to shift in the sky. Things are changing. Summer is slowly sneaking out.
Balance in the garden means more than staying on the bridge, not wobbling off to land in the water, or (worse) the spiky Gunnera. One needs to balance one's gardening speed. One day, work ferociously fast. Then stand for half an hour and do some hand-held watering of the roses - gardening in the slow-lane!
I am banning the word 'disheartened' from my garden journal ramblings. This word describes how I sometimes feel. It is a word to be fought off, and if possible knocked out, by lots of well-organised hard work. No garden should make its gardener feel disheartened. Not should gardening magazines and books!
My garden is overflowing with wind. So I've been partially gardening, sneaking back inside when the big trees become too noisy. But the garden still looks beautiful in its summer colours. Pink and green. Apricot and green. Anything and green, I guess!
The Wattle Woods are lovely, criss-crossed with winding paths, not deserving of gardener neglect. When an area in my garden is messy I tend not to visit it much, out of guilt. And self-preservation...
The last gardening week of my January has been groovy. Each morning I've been out exercising myself and the dogs, and in the afternoons I've done maybe three hours weeding in the garden. I have a new Personal Management Plan (must be a January thing, like joining a gym hee hee).
Need a reward for working hard all day in the garden? For me, the anticipation of a tasty evening meal works the best. OK. Here's today's deal. Work hard, then enjoy a pensioner's country pub roast tonight, with a glass of Merlot...
Never, ever assume anything concerning a random gardener. These last days have super hot. So I've been weeding, all day. No sore hands, and I haven't become bored or grumpy. And no sneaky tricks (like the reward of the pensioner's pub roast) needed. Summer weeding. Just like that!
The Allotment Garden started off with a genuine allotment plan - vegetables! Tomatoes, beans, peas, courgettes, and potatoes would all grow happily in this newly created, sunny garden. Well, now the garden is three years old. All I can say about the vegetables is 'oops'.
It's been a lightweight gardening week - nice visitors, swimming, forest walks (with Winnie the young dog) and relaxing on garden seats reading detective stories, snacking on cherries and raspberries. Summer fruits - yum! Summer visitors - yeay! Summer days - nice and lazy!
Cricket is a ball game played by two teams - and it can go on for ages (five full days for a test match). So cricket commentaries obviously go on for ages too, and a gardener can get heaps of gardening done while listening - on a cricket radio!
The Water Race is a man-made irrigation canal, flowing right through the Moosey property behind the house. It's like a small burbling stream, but it's dead straight, with smooth river stones on the bottom. The water is used for irrigation and stock.
Cat Company is not the name of some feline business. It's the phrase I use to describe the physical presence of one or more cat companions joining in my gardening activity. Cats are expected to look interested at all times, even when it's drizzling or raining...