Recent Garden News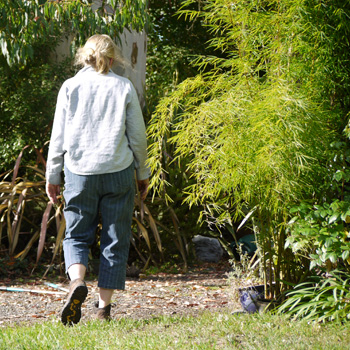 Head Gardener
The Recent Garden News page displays the fifteen most recent additions to Mooseys Country Garden. This should help visitors keep up with what's going on in my garden.
Gardens are always growing and changing - there's always something new to see. And, as I love writing about my garden almost as much as being in it, there'll always be some new Moosey ramblings to read, or new pictures to look at. Perhaps the garden activities of my summer will warm up a northern hemisphere gardener's winter days. I know how much I enjoy my mid-winter garden visits to summery places.
Two weeks can be a long time in the life of a garden. There's inevitably some repetition, so please be understanding if I'm saying the same things over and over again. I hope you'll enjoy seeing what I've been working on recently...
It's been raining constantly for the last two days, and silly me has been worrying about Speckles the stray cat. Would he have the sense to leave his wee nest in the paddock grass and seek shelter? Silly, silly me. Of course he did! He popped out from underneath the cottage this morning for breakfast, totally dry.
It's the weekend, the perfect time for doing some chain-sawing - namely, bringing down the huge Pittosporum by the Koru courtyard. Have suggested this, but Non-Gardening Partner (recovering from Covid) has just snorted at me from his chair. Not quite the response I was after. So I am off outside alone...
What to do today? Am officially allowed out of self-isolation. Aha! I know just the thing. Weeding, that perfect go-to gardening activity, with a variety of styles to complement all moods : from gentle scratching to rough and tough attacking. That's settled then.
Have just raked up three bags of nicely damp autumn leaves from the Pond Paddock. Didn't I do this yesterday? And the day before? Yes, but not before breakfast! I think my recovery from catching Covid might have kicked in...
Am sulking. Covid has ripped through one of my choirs and, alas, I have tested positive for it. Blast those pesky sopranos! No - just kidding, honestly! I thought I was being oh so careful, masking, distancing... Such a trickster virus.
No need for my gardening days to follow the same old pattern. It's quite amusing when they don't (am lucky I am not a subsistence farmer).
So how silly am I? Woke up about 4am puzzling about the network of paths in the Hump Garden. Logic hardly prevails while lying in bed in the small hours. I tried visualising alternatives. I mind-blocked a path I never use and mind-planted Phormiums to block it off...
I have discovered yet more unwanted trees in my messy garden. Namely, Pyracantha which have repsrouted from trunks cut down years ago. A confusing shrub-tree : a nasty critter with stunning red berries.
Oh, autumn, you are so beautiful. I love your trees. No - I love MY trees! They are MINE! Am so glad I planted them. The Dogwoods, Oaks, Maples, and Prunuses are beautiful. These autumn trees always surprise me - I forget how memorable their fleeting, fiery colours are. Yeay! Showtime!
Successfully negotiated : Non-Gardening Partner is going to chainsaw 'things' for me. He promises not to moan or ask the question 'Why'? It will take him all of ten minutes, with me pointing at this and that. For example, one particularly large Pittosporum is blocking sunlight from the rhododendrons in the circular Driveway Garden. It really has got too big. I hope he understands...
My silly, silly cats. Oh boy. Early morning in Pond Cottage : Speckles and Minimus had already had their respective breakfasts and cuddles. Sitting on the verandah drinking my cup of tea and having my own breakfast, I could see one of the Fred cats perched high on a nearby tree branch, keeping a discrete watch on proceedings...
Sometimes gardeners spend hours and hours making a huge mess, then leave it exactly where it is, blocking a path or scattered all over the lawn. Whenever I do this (and it happens rather too often) I sneak back into the house feeling a bit guilty. Naughty gardener! Pick up your toys before you go to bed!
Good morning to yet another gloriously golden autumn gardening week. Put it this way - you've started off being glorious, so please stay that way. Crisp, but not cold. Wonderful blue sky. Leaves changing colour, fluttering slowly down. A golden glow everywhere. Autumn loveliness all around. So inspiring.
A gently aging gardener (e.g. me) has to remember to bend and stretch more slowly. My knees are becoming quite 'talkative', and my back is having a few minor niggles. Even have to be careful when tying shoelaces or pulling on socks! Sad, this.
Have spent the last few days doing bonfire preparation. Better to condense these smoky days, rather than burn every single afternoon, I reckon. Don't enjoy it at all - but have little alternative. Hello, gum tree leaves and bark. Nice of you to drop by. Or, should I say, drop down...