Recent Garden News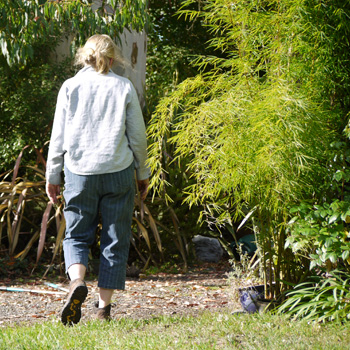 Head Gardener
The Recent Garden News page displays the fifteen most recent additions to Mooseys Country Garden. This should help visitors keep up with what's going on in my garden.
Gardens are always growing and changing - there's always something new to see. And, as I love writing about my garden almost as much as being in it, there'll always be some new Moosey ramblings to read, or new pictures to look at. Perhaps the garden activities of my summer will warm up a northern hemisphere gardener's winter days. I know how much I enjoy my mid-winter garden visits to summery places.
Two weeks can be a long time in the life of a garden. There's inevitably some repetition, so please be understanding if I'm saying the same things over and over again. I hope you'll enjoy seeing what I've been working on recently...
Recipe for giving thanks. First thing in the spring morning, put on extra layer of clothing and sit outside with breakfast. Listen to the birds, smell the fresh air (no bonfire smoke, please). Look around at the garden. Pat my old cat Lilli-Puss, smile at the dogs (please, dogs, no singing).
Good morning to my garden, to the sun, to my cats and dogs (especially Lilli-Puss), and to spring. Beautiful, blossomy, colourful spring, full of little surprises. Good morning to the buzzing honey bees covering the flowering cherry tree. And the bellbirds. Love you all.
Hmm... Am feeling really moochy. Not sure what I feel like doing in the garden. Is there any point in writing a list? Of course there is! But before I do, will change into gardening jeans and shirt. Prepare the body, and in so doing trick the mind...
Reflection is a good habit, yes? Counting your blessings. Or, trying not to be too greedy, choosing three good things that happened in the day and thinking deeply and fondly about them at bedtime. If I've had a busy day on the garden I have squillions of good things to think about...
Look - I'm going to have to be really strict with myself. I MUST SOW MY SEEDS TODAY. No matter how wet (it is) or cold (it is, a bit). And no matter how tired I feel - had a bit of a wild weather night, so slept in the house. Missed my lovely cottage and Minimus the cat.
I had the gentlest, sweetest of plans, involving seed potatoes and seed raising mix. Forward looking plans, full of promises. Perfect plans for spring. I would prepare the new potato patch in the Hump and sow my seeds...
Good morning to me, and Happy Birthday! Yes! What would I like for this year's birthday present(s)? Already, the garden has accepted, on my behalf, some very welcome birthday rain. And it's given me some beautiful spring things to enjoy. Aha! A list!
While I was busy raking the path behind the cottage...
Yesterday I took Non-Gardening Partner into the Wattle Woods to cut down some Viburnums with his chain-saw. Is this a path? he rudely asked. He did have a point - things were greatly messy. So today, some serious path action. The Wattle Woods garden needs me. And it's going to get me.
It's a beautiful spring Saturday, Day Eighteen of Lock-Down, and I have big plans for Non-Gardening Partner. Weekend chain-sawing! So he's decided to wash the floors and vacuum the carpets and rugs in the house. Clever man. This obviously puts me in a dilemma. One cannot redirect a man who is doing the housework.
Was busy clearing and weeding behind the pond, when I had a brainwave concerning the pond paths. The water-side path was really the only one I used regularly. It passed by the gnomes - reading, fishing, lounging about, sitting on toadstools, digging, contemplating daisies, and riding their snails. And other assorted gnomish activities.
Am still enjoying my lockdown gardening bubble, which at this stage still only includes Non-Gardening Partner, five cats, and two dogs. Am still enjoying the timelessness of it all, but guess things could get a bit tedious if it goes on too long. Buy for now my garden is loving it!
Having my breakfast sitting in one of the breakfast chairs, Lilli-Puss on my lap, planning my gardening day from this vantage point. It looks out to the Island Bed. What couldn't I see, but would like to see, now? What would I like to see further into spring and summer?
It's drippy and drizzly - time for some happy indoor lockdown reflection. I am gardening-happy. I feel safe in my country, and connected to my friends and family. And it's been raining on my newly planted plants. Great timing, lovely clouds, thank you.
Good morning to day eight of lockdown. Remind me - what day of the week is it? Ah - Wednesday. Would usually be going to two choir rehearsals tonight. Yippee! Can have a night at home, after another satisfying, hard-working gardening day, with no cafe lunch distractions, hee hee.