Recent Garden News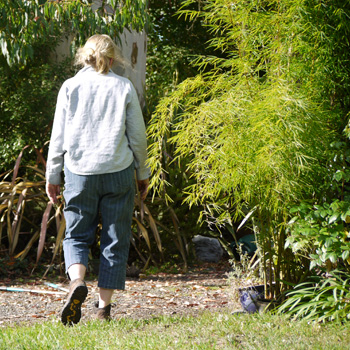 Head Gardener
The Recent Garden News page displays the fifteen most recent additions to Mooseys Country Garden. This should help visitors keep up with what's going on in my garden.
Gardens are always growing and changing - there's always something new to see. And, as I love writing about my garden almost as much as being in it, there'll always be some new Moosey ramblings to read, or new pictures to look at. Perhaps the garden activities of my summer will warm up a northern hemisphere gardener's winter days. I know how much I enjoy my mid-winter garden visits to summery places.
Two weeks can be a long time in the life of a garden. There's inevitably some repetition, so please be understanding if I'm saying the same things over and over again. I hope you'll enjoy seeing what I've been working on recently...
I must always remember that my garden is alive. It's a living, growing thing, with moods that change, whims that come and go, not to mention wind and weather and four seasons. And after each day everything has been alive for a little longer. This is why I'm always seeing new things that need doing.
I can't remember 'meeting' so many bitey mosquitoes in my garden, so far away from the pond, before. A gardening caftan would be useful? Today I am wearing my gardening shorts (which always make me feel like a 'proper' gardener). So there'd better not be any mosquitoes lurking in the greenery.
Three days of summer rain (over three inches in the gauge). So I haven't been able to make the most of Non-Gardening Partner's holiday. He's spent three days lolling on the dog couch reading flying magazines. Luckily I had no large scale plans for him... That's 'large scale', by the way.
As usual when it rains, everything in the garden needs doing immediately. And it's so visible! Funny how garden work is sooooo obvious when sitting in the house peering out a rainy window. Aargh! I should be out there. Should I? Drip drip...
I have spent the last two days cleaning up behind the cottage. This area is called the Wattle Woods, but the Wattles share the space with Eucalypts. Both these trees are gross feeders, robbing the soil of nutrients. So what will grow happily underneath? Pittosporums and Agapanthus. It's the shedding season, so gum trees have been shedding leaves and bark...
Flowers take the prettiest pictures! Here is my 2018 Moosey Flowers Calendar, colourful and bright, free for you to download.
Here is my 2018 calendar which features the Moosey cats and the dogs. You'll meet the two sister black and white Border Collies, Winnie and Pebbles, plus the current four resident cats. It's free to download, print, and enjoy.
Happy New Year! So much to do, and so much time - it's mid-summer, long days where really there's no excuse not to be in the garden. It's too sunny? Find some shade! It's too wet? Count my blessings (the garden needs rain) and clean up the glasshouse. Too windy?
Here is my 2018 Moosey Garden calendar. But this year I've chosen pictures of my favourite flowers - roses. It's free for you to download, print off, and enjoy...
Welcome to my world, 2018. Please spread yourself out comfortably in my garden, take all the time you need. Enjoy the passing hours - no need to rush anything! As long as you provide me with lots of good things to write about...
My gardening articles for 2018 are presented here. Hopefully there will be some never-before discussed topic, or an unusual and interesting slant on gardening life, maybe some quirky inspirational rambling which will be refreshing - and new!
Looking back over 2017, the year that's just past - so what were the best gardening bits? The revelations? The things I promise to do better in 2018? What did I learn about myself, about life, about gardening in 2017?
And so it's nearly the end of the year 2017. The days between Christmas and New Years are lovely - summer floats by, timeless, dayless (so what day of the week is it?), shopless (fridge and wee freezer still full of yummy food)...
Yeay! Non-Gardening Partner is being super-industrious, fixing my house fences and pergola posts, and chainsawing down dead trees. A good time to ask him gently about my river pump, maybe? After he's mowed the back lawns and fixed the water intake pipe for the pond?
It's Christmas day, mid-summer, mid-day, whooshing hot wind, garden (and gardener) looking very scruffy. My mid-summer garden always looks scruffy, no matter how hard I try to keep it tidy. 'Tis my gardening fate!