Recent Garden News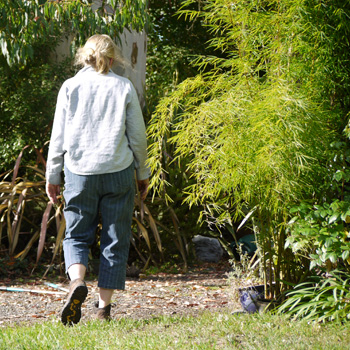 Head Gardener
The Recent Garden News page displays the fifteen most recent additions to Mooseys Country Garden. This should help visitors keep up with what's going on in my garden.
Gardens are always growing and changing - there's always something new to see. And, as I love writing about my garden almost as much as being in it, there'll always be some new Moosey ramblings to read, or new pictures to look at. Perhaps the garden activities of my summer will warm up a northern hemisphere gardener's winter days. I know how much I enjoy my mid-winter garden visits to summery places.
Two weeks can be a long time in the life of a garden. There's inevitably some repetition, so please be understanding if I'm saying the same things over and over again. I hope you'll enjoy seeing what I've been working on recently...
In the gardening world, doing 'some' is always better than doing 'none'. And I've done some - not the longest sessions, but enough to feel OK. And I've learnt something which I knew already. Hmm...
Aargh! A rather wintry storm is forecast. 'Snow lowering to' is the catch phrase here. So I should spend this afternoon (still mild) spreading horse manure and planting my pots, right? Right!
Autumn! Yeay! Thanks for covering my garden, ever so lightly, with your softer light and warm colours. I'm beaming at the fluttering leaves, feeling mellow, enjoying the autumn balance between mind (contemplating, dreaming) and body (plodding, raking)...
Another Easter has passed, and again I've exercised financial restraint, avoiding all the autumn nursery sales. My garden does not need a batch of new, scruffy bargain bin shrubs. It needs a large dose of an energised and highly motivated me.
Challenging the gardening reality that nothing can ever be finished when the garden is big and there's just one of you - I'm back in the Hump, trying hard to finish the clean up. Ah - that tantalising word 'finished'...
Ooh goodie. I am off to dig out a row of nine mature Camellias that my friend doesn't want. They've been oddly and savagely pruned back, but are sprouting leaves all over the place. A compulsive rescuer, me...
Winnie, our beloved black and white Border Collie dog, arrived as a puppy in time for Christmas, 2014. She's a lovely, gentle dog, and loves catching tennis balls, frisbees, and retrieving sticks from the pond...
Welcome to Pebbles, our newest dog. She is a black and white Border Collie, a full sister to Winnie, but a couple of years younger. Now Pebbles is a quirky dog...
A wilderness is a wild, natural area, where nature has been left to get on with what nature does best. But I'm a bit of a romantic, so I imagine a romantic place, inspiring, evocative, maybe a bit mysterious...
Wow. I am now the proud owner of two huge Lily bulbs, Cardiocrinum giganteum, Giant Himalayan Lily. My plantsman friend has popped back out of the woodwork. Thanks to his generosity over the years, I have many rather groovy, slightly odd-ball plants and trees...
Sometimes the simplest things cheer up a smoky-haired gardener (me) who is grimly plodding through the autumn burning season. Books! The magic of books. Specifically, other people's adventures, and other people's gardens. Yes! I am totally cheered up!
In the spirit of 'Older Lady Gardeners can Do Anything', I am off to conduct a serious garden experiment - weeding some raised beds at my friend's new country mansion. Her garden is alarmingly overgrown. Hello, fattest of fat hens! Greetings, not-so-mellow mallow!
I do like March - it is generously 'dayed', and the garden is giving out the tiniest hints of autumn. The variegated dogwoods are the most subtle, blushing with the lightest flushes of pink and red. Ooh goodie! I think I'm looking forward to autumn.
Another week of bonfiring beckons. Time for some silly fire quotes. So the burning question is : Will I get all fired up today? Rekindle that old flame? Hopefully I won't get my fingers burnt... Groan. In a desperate Google search for bonfire humour to lighten my gardening mood...
Good morning to the lifting of the fire restrictions, and to my bonfire which awaits, ash-less. And so, after so much clearing of scruffy dry mess (mainly debris from the Eucalyptus trees) over summer, 'tis the burning season. Hmm. Hmm again. I'm not feeling so enthusiastic about this...