Recent Garden News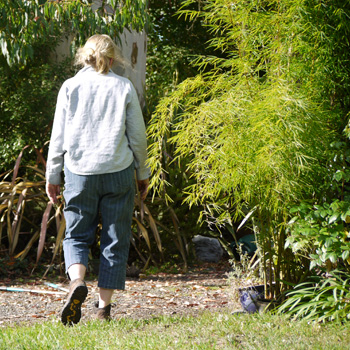 Head Gardener
The Recent Garden News page displays the fifteen most recent additions to Mooseys Country Garden. This should help visitors keep up with what's going on in my garden.
Gardens are always growing and changing - there's always something new to see. And, as I love writing about my garden almost as much as being in it, there'll always be some new Moosey ramblings to read, or new pictures to look at. Perhaps the garden activities of my summer will warm up a northern hemisphere gardener's winter days. I know how much I enjoy my mid-winter garden visits to summery places.
Two weeks can be a long time in the life of a garden. There's inevitably some repetition, so please be understanding if I'm saying the same things over and over again. I hope you'll enjoy seeing what I've been working on recently...
The Hump needs major weeding. No. Make that Brigadeer General Weeding. Brigadeer Generals oversee staff planning (me) and co-ordinate missions (weeding). Choices : One - the hand digger and pull slowly approach. Two, the hoe, potentially more vigorous...
I have a new self-affirmation plan (this tends to happen just before Christmas). It involves a wall chart, with a pretty photograph (see below), upon which I put ticks each day for being good.
My garden is looking rather lovely. No. wait! Far too modest. It's looking wonderfully, tremendously, superbly lovely. I love the shapes of the borders, and the paths, and the trees. I love the feel of everything...
Common sense : in the sticky forget-me-not seed season (i.e. now), do not wear expensive wool-blend socks in the garden. The seeds loooove to stick fast to wool-blend socks. And spending half an hour per sock painstakingly removing biddi-bids is a waste of time...
Just one more jazz choir concert, one more folk club concert, two more Christmas Carols concerts, then - yeay! Musical silence! Well, at least some peaceful choral silence - just my classical piano playing and the birds to listen to. Totally suitable for a concentrated summer gardening effort...
Yet again my lovely animals and birds (and bees, mustn't forget the bees) lift me out of introspection and into garden happiness. Not that my 'happy place' isn't inside my head as well. But the silly singing season is in full swing...
I'm so happy with my November garden. Nothing look tired, nothing is struggling. The hot dry winds have stayed away, and there'e been much more rain (gentle, warm) than usual. I'm even happy to be weeding in it...
On it goes - it's the summer of 2018, and the rose season is in full swing. My garden is overflowing - with large climbing roses, smaller fresh-faced floribundas, majestic hybrid teas... With roses old and new, pink and purple, yellow and white...
There's been a lot of lovely early summer rain. Then warm sun, and then some more rain. So everything is growing extremely well, and this will certainly include the orchard roses. Time to check on them, get some photographs (if they've started flowering), see if Madame Caroline Testout needs spraying...
So many flowers, and so many bees - it's so easy to enjoy the garden. And lovely rain to help, falling rather gently, with no wind. Annoying for car-drivers in the city, I guess, but not for gardeners. Nothing wrong with wearing gumboots to a cafe, anyway!
I've been working 'Here, There, and Everywhere' (such a beautiful Beatles song, this). It's the time when 'here, there, and everywhere' perennial Alkanet has to trimmed. And the pretty blue annual forget-me-nots are pulled out and used as mulch. And all through the garden the roses are amazing...
What to do first? Just keep on walking around the garden with black cat Buster and the dogs? Ogle at the rhododendrons, pull out more forget-me-nots, and trim the rain-sprawled Alkabet? No, no, no. What I have to do is move one of my mulch mountains. Shovel, spread, shovel, spread, shovel...
Shrubs can be sexy! Gardener seduced by shrubs. Heard sighing and sweet-talking a flowering Hebe. Seen making eyes at a deciduous orange Azalea. Flirting, bashfully, with a Berberis. Whatever next? Lusting after Lilacs?
My garden, my dogs, and my cats. Three of the very best things in my life. Not that they always behave. I am wallowing in a deeply spiritual moment on the patio, and the dogs are busy barking at nothing. Too noisy! 'There's nobody there'. 'It's a false alarm'...
Herding sheep? Herding cats would be much easier. One of us always wants to go the 'other way'. Charge! Past the super-sized humans (me and NGP, holding long sticks). A couple of us try to follow. Most of us don't know where we want to go. But where do we NOT want to go? Aha! Through that scary open gate. No way.