It's Daffodil Time - Isn't It?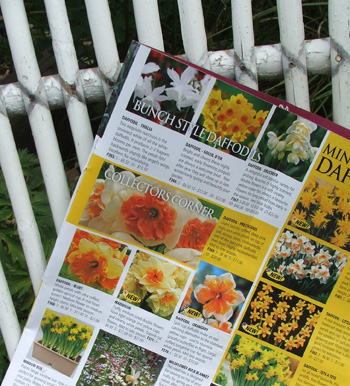 Daffodil Bulb Catalogue
My friend Daffodil Planter has organised a blogorama for the coming of spring, and the flowering of the first daffodils. Yippee! I'm invited to join in and celebrate this exciting time of the gardening year.
Oops - It's Only Autumn...
Except that right now (in March) my personal daffodil expectations are confined to a bulb catalogue. I'm busy planning how many of this split corona and that trumpet I want for my garden. Such is the lovely symmetry of the gardening world that there's half a year to wait before I'll be dazzled by the dancing yellow flowers of Tete-a-Tete. My garden is in the southern hemisphere, where March is a mixture of late summer and early autumn...
Sitting on my sunny patio surrounded by summer roses, I'm told that daffodils will 'banish the last grey days of winter'. I haven't really started trimming back for autumn, so naturally I'm having trouble visualising winter, millions of gardening hours away! But good gardeners think ahead, plan early, and are happy to redirect the housekeeping money, so I'm pouring over my bulb catalogue and making a serious list. Are there really grey days in winter? Do I really need more daffodils?
New Miniatures
I'll start with some new miniatures, to brighten the edges of my winter borders. Rip Van Winkle looks nicely messy, with a head of bright yellow bed-hair. A good gardener can celebrate 'messy' - I'll order fifty of him. Then there's an elegant ivory beauty with pinkish trumpets called Bell Song. A good gardener understands 'elegant' - fifty Bell Songs, please.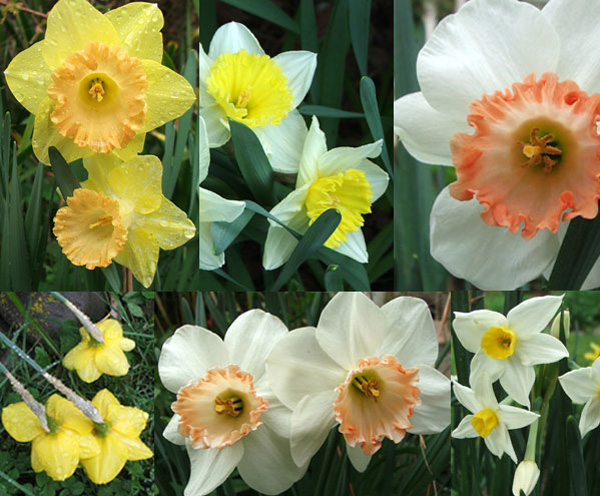 Daffodils in the Moosey Garden - 2
Ooh - here's a lemon miniature daffodil whose flowers look like charming yellow butterflies. A good gardener can't have too many butterflies, even if they're only daffodils. A cluster of three per stem, apparently - that's triple the value, so I'll take thirty...
Collector's Corner
So far I've chosen three out of the five miniatures on one page. This is serious - already I'm getting into deep budget trouble. And my gardener's ego just won't be able to resist the 'Collector's Corner' selections. Oops...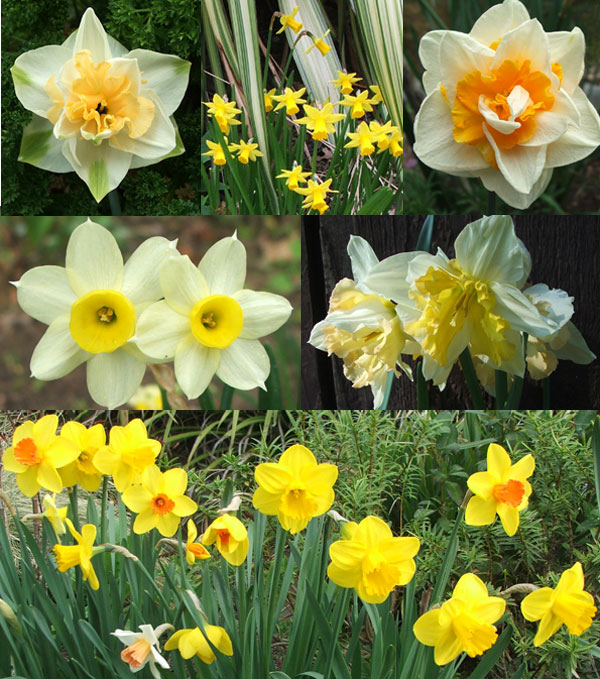 Daffodils in the Moosey Garden - 1
As well as catalogue buying, it's obviously time to visit the local Daffodil Farm. I've learnt over the years that, with a half-generous, half-gullible Non-Gardening Partner, bulb-buying in person does work. Forgetting to take the wallet is one idea. So is a bit of number confusion on arrival - 'I'm sure you said I should order one thousand mixed daffodils - didn't you?'
Meanwhile, those flowery yellow pictures look so pretty. Garden-wise, six months isn't such a long time to wait. And a good gardener cannot have too many daffodils. Let's all enjoy and celebrate these beautiful flowers - whether in the catalogues or in the garden!
Footnotes
The Moosey Garden is in the South Island of New Zealand - way down at the bottom of the world. And one year Moosey's Non-Gardening Partner did grumpily write a cheque for a thousand mixed daffodil bulbs... Hee hee...