Celebrations...
Archduke Joseph Rose
How to officially celebrate the beginning of 2017? A New Year's Resolution? Brave to suggest such a thing to a random gardener. 'I promise to be less random' would be a good start, hee hee. Then (maybe) important tasks would be finished before the need to do so becomes embarrassingly obvious.
I've just thought of one. I could promise to keep the labels on my roses, so their names don't get forgotten. But it's far too late. I ripped off and lost all the labels years ago, and now I have a garden full of anonymous no-names, rose-wise.
No luck...
Alas, I've never had much luck with my gardening resolutions. They barely last through January, and by February are long forgotten. So I'm not having any resolutions this year. I'm just going to feel my way through the gardening months, trying to do my very best. And trying not to forget anything important. Simple!
So what sort of year do I want 2017 to be? I want it to be a kind year. And I'll try and be a kind gardener. I'll choose and finish tasks with love, smile as I do my garden maintenance, enjoy being a pro-active weeder, and so on.
Spend more time...
Stone Path
And I'll spend more general time in the garden. Whether I'm on a shady seat reading, or raking furiously, it won't matter. I'll tread lightly on the garden paths. I'll listen with wonder to the running water, plant flowers for the buzzy bees, enjoy the birds singing and whistling. The dogs and I will do more garden walks than last year. We'll do the big circuit every day, including around the orchard.
This is fast turning into a list of New Year's Resolutions, hee hee! Very sneaky! So what about a New Year's Honours List?
New Year's Honours
I often have a New Year's Honours List list. I knight one or more of the cats (arise, Sir Fluff-Fluff and Dame Tiger, knighted in 2013) and give Non-Gardening Partner a Garden Order of Merit. The same awards, each year. And the same hopeful recipients, a rather small family of two dogs, five cats, and one Non-Gardening Partner.
In fairness I'm inclined to honour each and every one of them - even Minimus my cottage cat, who rarely does any gardening. What would I be without these critters in my gardening life? I'd be lonely and bored, that's what!
Dame Tiger
They have all made 'outstanding contributions', given 'valuable and voluntary service', and 'become distinguished by their eminence, talents, and other merits'. Wow! That covers the practical : lawn-mowing, chain-sawing, trailer-filling - as well as the spiritual : the providing of high quality cat and/or dog company.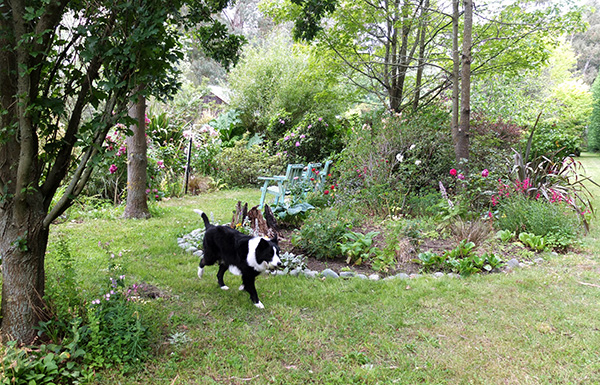 Winnie the Dog
So here's to the New Year, 2017. No resolutions, no awards. Just me, my garden, and my lovely garden companions. Yeay!