Roses in the Orchard
Phyllis Bide
Finally I have a collection of climbing roses, many of them old-fashioned, on thirteen metal archways in the middle of the Hazelnut trees. Roses look so natural in orchards.
Slowly but surely my thirteen rose archways in the Hazelnut Orchard are being covered with healthy climbing roses. In their second summer I've had a few problems, but I am a patient gardener.
Rabbits! Aargh!
A few of the roses have been misbehaving and have needed to be sprayed. Some old-fashioned rose varieties are susceptible to diseases. Others haven't grown well, and I suspect that the rabbits have been digging around their roots, causing the plants to rock in the wind.
And one rose, who shall remain nameless, is in total disgrace for having balled buds and being leafless.
Rose Roll Call
The roses include Meg, Sombrueil, Lady Hillingdon, Ueterson, Parkdirektor Riggers, Etoile de Hollande, Souvenir de la Malmaison, Gloire de Dijon, Phyllis Bide, Ghislaine de Feligonde, Madame Caroline Testout, Chevy Chase, Eastlea's Golden Rambler - it's so hard to remember them all!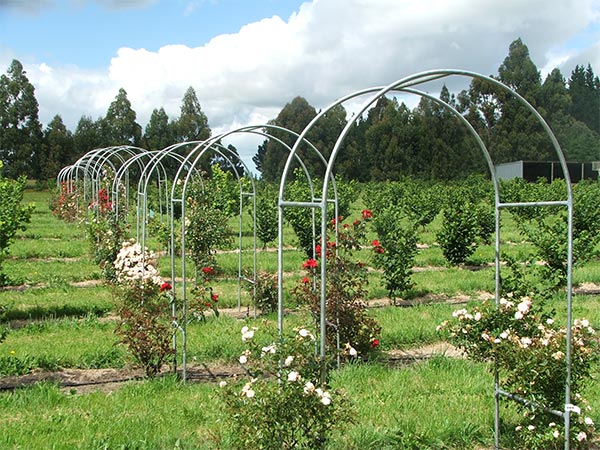 The Roses in the Orchard
I'm looking forward to more flowers later this summer - then I'll prune and tie the canes in.