Outdoor Garden Lamp
spider lamp in 2001
The lamp which sits in the corner of the garden by the car lay-by is the only outdoor light in the garden. It's never cleaned because of its resident spiders. I like to keep my garden spiders happy. Neighbouring shrubs are a conifer, a large bush rose, and a camellia.
In this original photograph you will just see tendrils of the golden green conifer underneath, and a red rose, past its best, flowering alongside. And you can imagine the happy spiders who have set up home, ready to catch those annoying blowflies!
Shrubs Grow...
But nothing stays static in a garden for long. Seasons change, styles change, shrubs grow...
In defence of what is to follow, let me say that I did not choose or plant this conifer. I'm a little suspicious of how conifers retain their shape and size. Alas - sometimes a slow-growing shrub is not quite slow enough...
spider lamp in 2004
Same Conifer, Different Spiders
This next picture was taken in the year 2004 - same conifer, different spiders. And the outdoors lamp can still function. There has been some vigorous conifer growth, though, and it's harder to see the deep pink Camellia from the house in spring.
But I atill like this conifer. In winter it creates its own little bit of garden sunshine. In late spring the yellow and red rose Masquerade flowers on the pergola, and the conifer forms the perfect backdrop to show off these rose colours.
Camellia Colour
The conifer has always had two neighbours - a deep cherry-pink camellia in spring, and later in summer a large cherry red rose. You can see this rose flowering in the 2001 and 2004 photographs. I look forward every year to the colour combinations.
I enjoy gardening with spiders. In their defence, I'd like to say that they do a great job around the outside of the house - and I try to live in harmony with them.
October, 2008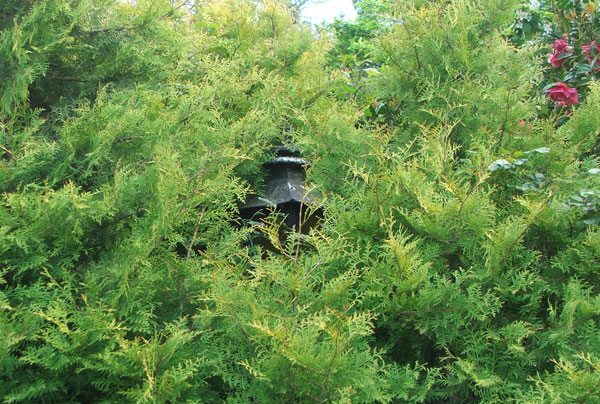 Spider Lamp in 2008
Oops. What else can I say?
August, 2011
Oh dear. Something had to be done. By now the conifer had spread itself badly out of shape, and the spring snow storm in August 2011 finished it off, in my eyes at least. Too late for any judicious trimming, down it came at ground level. Sorry about that!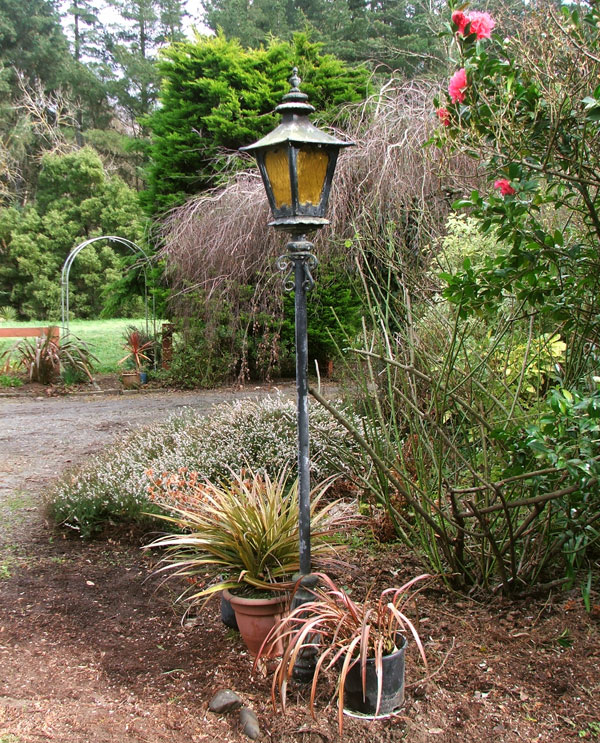 Spider Lamp in 2011
So here's the outdoors spider lamp, proudly bare, with the original light bulb still working after all those years. Welcome back!