Introducing The Island Bed
The Island Bed is a roughly circular border in the middle of the house lawn. Early days saw it planted with rough trees and a huge pampas grass - red dahlias popped up here, there, and everywhere in the gaps. Add the odd red tulip and patches of blue Muscari for spring interest, and that was about that.
The Island Bed - Late Spring
Over the years I've removed Pittosporums and re-dug the curves, filling the Island Bed with shrubs and trees that I like. I've tried to have something interesting from every vantage point on the house lawn, and particularly from the bay window in the house.
I've also thought about the seasons, and naturally I've tried to cram in some favourite roses. In the Island Bed all-comers are welcomed, and room is always made for my latest ideas. Particularly when they involve roses...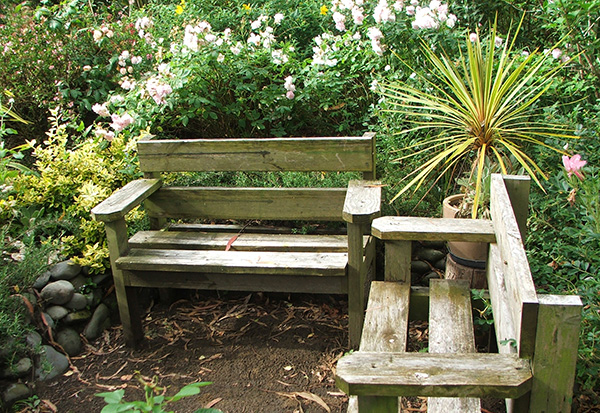 Courtyard in the Shrubbery
Other shrubs to join the interior of the Island Bed include Rhododendrons and Hydrangeas. Next to my favourite variegated Cornus you'll find my modest collection of Lilacs.
Just across the lawn from the Island Bed you'll find the Shrubbery, where foliage shrubs nestle behind a small stone wall. Of course there are more roses in here, like my much loved Madame Leonie de Viennot, who finds it very difficult to restrain herself. Oh well!
A Leafy, Peaceful Place
There are many paths to explore in the Shrubbery. Two gnomes sit on a huge old tree stump and act as guardians of this leafy, peaceful place. You might like to take your latest book into the secluded courtyard for a quiet read. It's a magical spot, where no-one will be able to find you.