Old Fashioned Rose Garden
I am the proud owner of at least twenty-six new roses - many of them the old fashioned varieties. I've even got some species varieties, and I've planted most of them together in the Shrubbery. It was a great excuse to finally expand my garden into the Ram Paddock...
Old Rose Garden - from the Ram Paddock
In order to provide suitable accommodation, the garden which I call the Shrubbery had to be just a tiny bit bigger. Hee hee. So I just dug a smallish border on the other side of the sheep-wire fence. Oops. I was gardening in the Ram Paddock, sometimes used for our merino ram. If ever he has to be in residence I've promised Non-Gardening Partner I'll put up some sort of temporary fence or cover.
So all the new old roses are planted, composted and mulched, and already I've had such wonderful surprises. Some species shrubs are flowering, quite late in summer, and every new rose bush looks healthy and happy. For my records I've left labels with the roses that came named.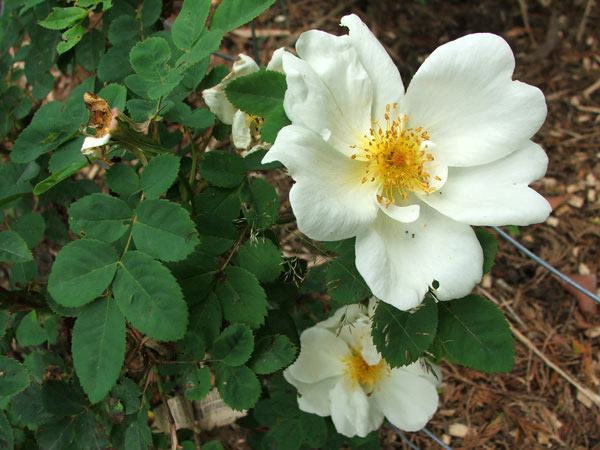 White Species Rose
The Gallicas are together, and the new Rugosas have spots in the existing Shrubbery. I can always find a gap for a rugosa rose! The rambling roses have been allocated to sturdy trees - I'm expecting great things high up in the branches from them.
Lucky Gardener!
Several roses are unknown, but I'm sure I could find their names in a specialist rose nursery catalogue - none is particularly rare. All were purchased from a lovely country gardener who was shifting into town. T was so lucky to meet her! I hope I'm offering a good enough home to all her shrubs.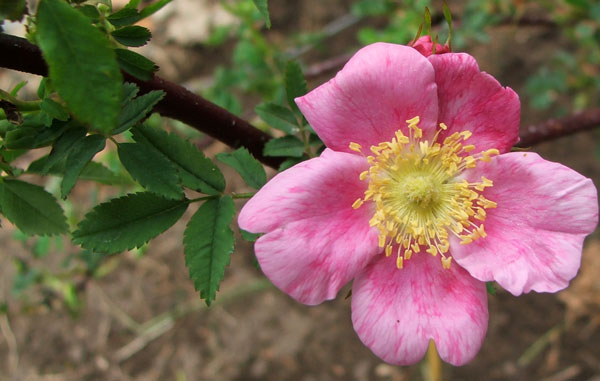 Rosa Woodsii Fendlerii
Old fashioned roses are often not chosen when gardeners are thinking rosy thoughts. The older varieties often need space, and a gardener has to allow them to be themselves - that is, to flower how and when they wish. Bloom-greedy gardeners are better off to stick to the David Austin English roses, which have the old-fashioned look along with the modern repeat flowering.
I should present an official list of my new roses. Next spring and summer I'll get the full force of their flowering, and thus be able to show off lots and lots of blooming photographs.
Footnote
That list seems to be a long time coming! In the meantime roses which were planted on the 'other' side of the fence (and whose fresh new shoots the sheep were happily nibbling) have been moved out. Three are now in the Wattle Woods and two of the big species roses are in the Hen House Garden. Better luck this time!