Introducing Middle Garden
In the year 2000 Middle Garden, one of my waterside gardens, was definitely 'Under Construction'. It had a mind of its own, and kept expanding. I'd always think I'd got it right, then it would be dug out a little more here, a bit further there...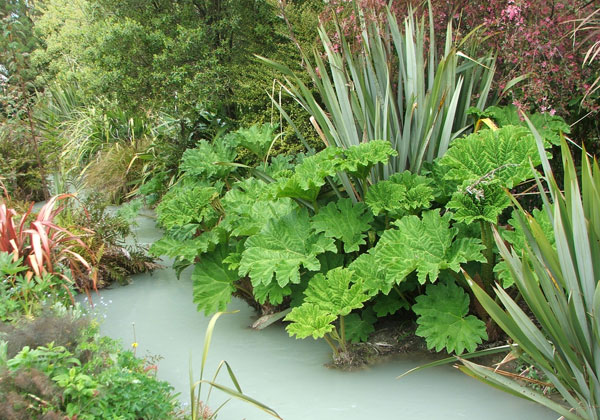 Water Race Gunnera in Middle Garden
And in went those bargain bin plants that I've always been allowed to afford, like the trailer load of Rhododendrons whose labels and lower leaves had fallen off, and the troop of tussocks bursting out of their planter bags. My cutting-grown Lavatera Barnsleys enjoyed their short lives here, packed in with the compulsory New Zealand flaxes. Some really cheap green and red Cordylines turned up, requiring further expansion...
The feeling in Middle Garden has changed a lot as trees and rhododendrons have grown bigger and created more shade. There's no more bare earth, and not enough sun for perennials and flowers (like the original Canna lilies and daylilies). Species Phormiums by the water are now huge, and the resident rhododendrons (pink, wine coloured, and blue-purple) have wonderful flowering seasons.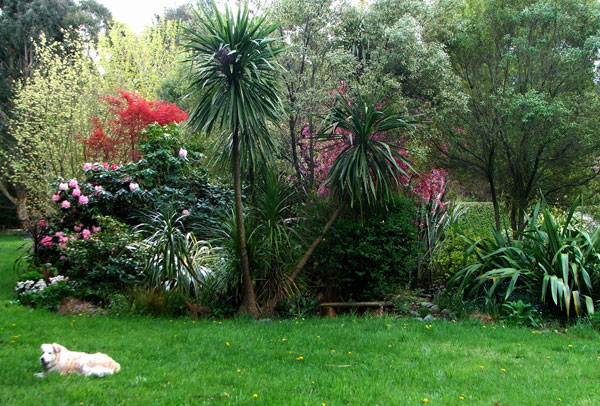 Rusty the Dog and Middle Garden
Paths through Middle Garden have been moved, widened, and moved again. Middle Garden is not the tidiest of my gardens - it's rather often left to its own devices, and I don't spend much time in here weeding. The Golden Hop continues to terrorise the interior from midsummer on, and is always severely reprimanded. Why didn't I install a tall power pole for it to climb up? Does that question really need answering?
Viburnum tinus shrubs by the Middle Garden's bridge have been trimmed to form a natural archway over the main path. This leads to the gate through to the Hazelnut Orchard. The water race rushes past, and the edge of Middle Garden has lots of giant Gunnera - the seedlings arrived thanks to an unknown gardener upstream. The water-side path is closed in the Gunnera season, due to excessive plant growth. Oops.
A Pushy Plant...
I do wish that Golden Hop had something substantial to climb up, though, rather than its poor oppressed neighbour shrubs. Such a pushy plant...