Lavender Rosemary Garden Path
Stone Path
A stone path leads from the laundry towards the Septic Tank Garden. You'll have to push past the Lavender on the right and the Rosemary on the left, often competing with buzzing bees.
River Stones in Concrete
The path includes two sets of steps, and was already here when we arrived. It's built with flat river stones set in concrete. There are plenty of little crevices in which tiny treasures can grow.
Did I say 'treasures'? Unfortunately there's some common garden mint growing nearby, and naturally this keeps popping up everywhere. Aargh! I'm not a happy chemical weed-killer, but mint is incredibly difficult to get rid of physically.
I'm writing this in late autumn, and all those stones are surrounded by lush green weeds, including some pretty sprouting pieces of mint. Oops.
They're also quite slippery - lots of autumn rain and not enough sun. Some careful hands-and-padded-knees weeding is definitely required.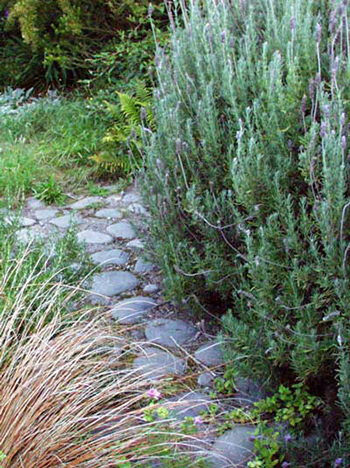 Stone Path
An Early Photograph
This second photograph was taken very early in my garden's colourful history. Interestingly there are a few weeds visible, which makes me feel a bit better. But I wonder - who actually planted the mint? Oops. I think it might have been me. I know I planted the Rosemary - I love the colour blue, and Rosemary flowers in early winter for me. Nice.
Just for the record, the first ever daylilies I purchased (Stella D'Oro) were planted in a clump at the end of the path, in amongst a variety of pink and white roses. I used to call this tiny area the Icing Sugar Border, and the yellow daylilies were an attempt to widen the colour spectrum.
But it wasn't nearly sunny enough for these plants to enjoy flowering. By 2005 the roses had made their getaway, along with the daylilies, and the Icing Sugar Border lost its name and its place in my garden.
Now the stone path forms part of a route through the garden to the Pond Paddock and Pond Cottage beyond.