Willow Garden Roses
Many reject roses have found a good country home in the airy spaces of the Willow Garden. They might be rescued from a bare root rose end-of-season sale, or dug out of a friend's garden. Unwanted and unloved, they're given a fresh start.
Blushing Pink Iceberg Roses
The Willow Garden also 'houses' my small collection of coloured Iceberg roses. A trio of standard Blushing Pink Icebergs line the path from the bridge out onto the lawn, while the more strident Burgundy and Bright Pink Icebergs grow near the water.
Of course you'll find some David Austin English roses here. Fisherman's Friend is one such - a delightfully dark coloured rose, growing near Willow Bridge. English Elegance and Jaquenetta (possibly - this is a guess) jostle for space with Gertrude Jekyll, named after a famous English lady-gardener. Gertrude started life crammed into my old vegetable garden. She's thrived since moving into the Willow Garden, which has good soil, space, and lots of sunshine.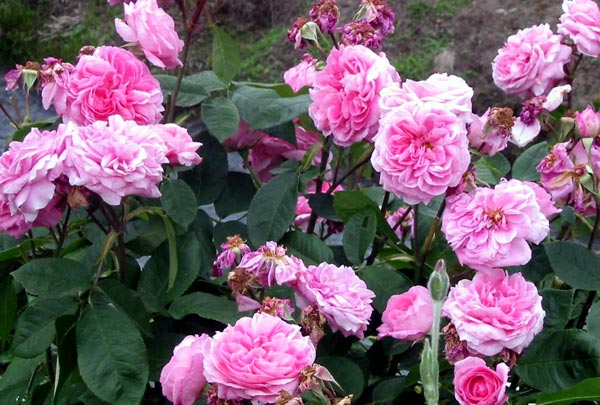 Gertrude Jekyll
Gertrude Jekyll is spindly and frail if planted in an overcrowded place, or if she is out of the sun. Of course she is bred by David Austin, and is one of his earlier English roses.
Yellow Rose
This rose a very pretty shade of soft lemon, and the flowers are medium in size. I suspect it might be the yellow Charles Austin.