Red & White Garden Fence Roses
Along the fence which encloses the Frisbee Garden Border you'll find the roses Dublin Bay and climbing Iceberg. Here they have a bright yellow iris for company, growing in a particularly dry spot near the Ginko tree.
Red and White Roses in the Frisbee Garden
These roses get the rough (and recommended, by some) pruning treatment each winter - the hedge clippers. Dublin Bay is a New Zealand bred rose, and annoyingly for me can get afflicted with rose rust.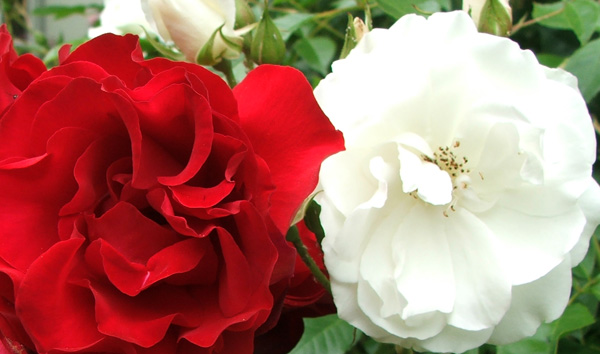 Dublin Bay and Iceberg Roses
The white climbing Iceberg rose just keeps on keeping on - it's a most satisfactory rose which is always in good health. It may not be my favourite white - that's reserved for the hybrid musk Prosperity - but it never lets me down.
What's Around the Corner?
Looking down the driveway from the house in early summer is a real treat - the roses are newly flowering, and the trees in the distance frame the gravel driveway bend. What's hidden around the corner?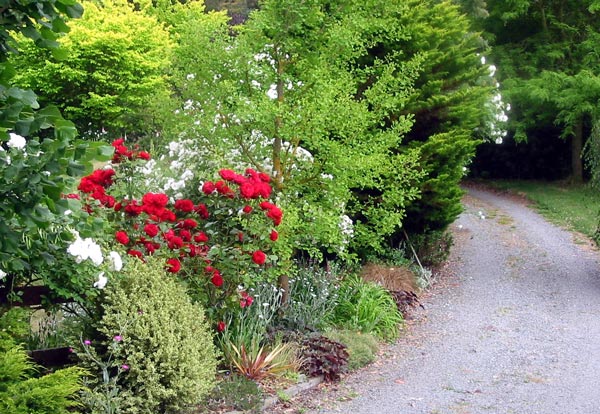 Driveway Roses
Dublin Bay and the famous white Iceberg were part of the original plantings here. And what is hidden in the garden around the corner? Could be a little red flax, and maybe some more summer roses...
Looking Over to the Frisbee Lawn
This photograph shows the view from the parking layby across the garden fence to the Stables. The tree to the right by the roses is a ginko.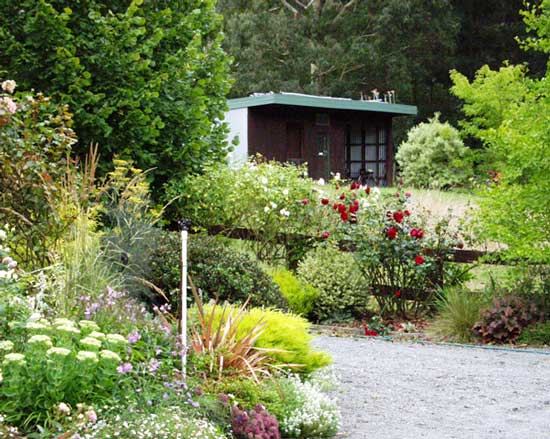 looking towards the stables - summer 2001
The plants in the small garden are small and new in this photograph, taken in the summer of the year 2001. The red flax has only recently been planted.