Driveway Rhododendrons
The Driveway Gardens are gradually getting their share of rhododendrons. Mind you, two favourite pale pink shrubs have been here a long time. But there's always room for fresh new rhododendron blood...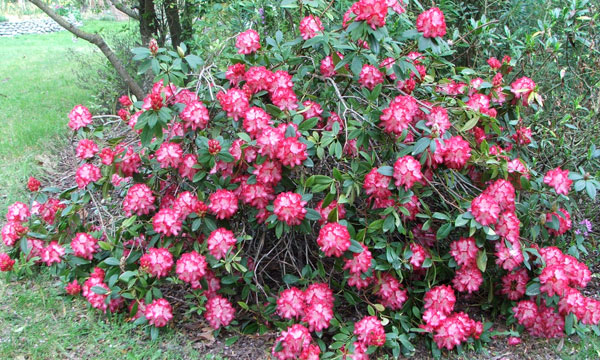 President Rhododendron
President Roosevelt enjoys a corner spot near to the big flowering cherry tree. He's lost his variegation over the years, though - I think that turns him into a no-name 'President'. Oh dear...
Pale Pink Driveway Rhododendron
Along by the drive when I first dug the border in 2001 I planted two powder pink rhododendrons, quite close together. I was greedy for growth. In 2008 I dug out a huge Cotoneaster tree which was overpowered everything in sight and concentrated on building up the soil with compost and organic matter. Since then the pale pinks have bushed out and grown quite large. And to think that there are two of them - one might have been sufficient!
Late Pink Rhododendron
Another original rhododendron planting is a darker pink, positioned rather nicely next to a purple Cotinus. But this rhododendron flowers really late in spring, and its blooms often suddenly wilt. Some of our late spring days can be hot, hot, hot...
Naturally I've popped more and more rhododendrons into the Driveway Garden as the years have gone by. Some have stayed and thrived, others have spent a couple of seasons and then have moved on. The citrus yellow Chrysomanicum, a very early bloomer, sat and sulked for a while in the curved garden by the driveway bend. It was shifted elsewhere in 2012 (and is still sulking).
Driveway Garden Rhododendron
A gorgeous pinky-creamy white bargain bin rhododendron is much happier in here - name unknown, as usual. Each year it grows a little taller, and a little broader. Groovy! This flowering is followed a few weeks later by a donated purple shrub, a memorial rhododendron to my friend's Uncle Bert, which flowers on the anniversary of his passing away. My friend's inhospitable clay garden was just too scary - Uncle Bert's rhododendron deserved a better life! He's very welcome in my Driveway Garden.