Snow!
Cat and Dog in the Snow
Good morning, snow. Welcome - but please don't think of staying too long. No offence intended, but I'm about to venture outside to knock you off my evergreens.
Monday 25th July
I've carried little Minimus (puzzled by the wet white carpet) over to the house from Pond Cottage, had breakfast, and got the log-burner going. Snow settled on the ground is the perfect trigger for remembering all the winter things I didn't get done in time - for example, those Aeoniums tucked under the eaves need to be in the glass-house. Aargh!
The sheep are sheltering in the hay barn, munching lucerne hay. The early boy merino lamb is three weeks old now, big and woolly enough to be safe. All other lambs aren't due until September (the ram broke through the fence).
Birds Feeding
Lucky Birds
The lucky little birds are fluttering and squeaking for joy around their new bird feeder - I must try and get a photograph. They all seem to be wax-eyes, and get really excited about food and life, regardless of snow.
Lilli my reclusive grey cat is squeaking at me outside the back door, hidden inside the Olearia hedge. Silly Lilli - the Stables would be warmer!
Right. I'm off with my dog to inspect the garden. Prepare for lots of white pictures. My Hebes don't like snow, nor do the Pittosporums and Phormiums. These evergreen are just not designed to cope, and they'll either break or get totally flattened if the snow stays on them. Poor things! At least we have power, so I can go cycling (on the TV couch) when I get back inside.
Later, Lunchtime...
Ha! Perhaps the snowing is over - the sun is now weakly shining and snow built up on the patio is starting to melt away. Nothing too serious, really, but I'll go back outside to knock more snow off the shrubs.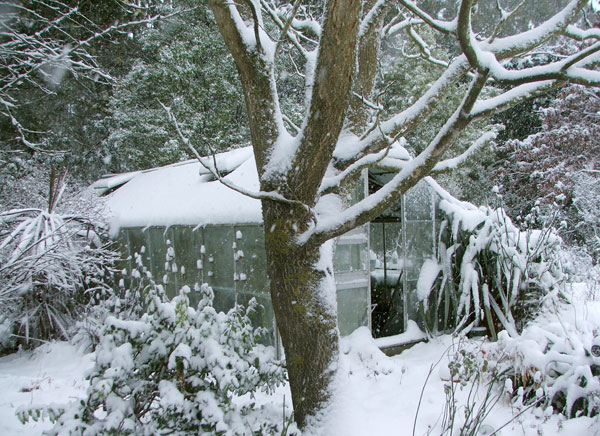 Snowy Glass-House
Mid-Afternoon...
I spoke too soon - it's snowing again. I've tried to sneak up on the little birdies partying on the bird feeder, with no success. It's just a bit cold to stand like a statue in the Island Bed with the zoom lens. The nearby crab-apple tree is full of dull black starlings feasting on fruit.
Pond Cottage in the Snow
Young Minimus is watching the snow falling, fascinated. Cancel that comment - she's actually watching those dear little birdies frolicking on their feeder.
Seven More Garden Gnomes...
So what does a gardener do when it's too snowy to work outside? Oops, times seven. This gardener has been peeping online, and has just bought four more old concrete garden gnomes (one is a rather large he-woman with folded arms). I am also bidding on three more.
Vintage Gnomes on Tree Stump
Suddenly retro gnomes are marching resolutely out of their potting sheds, with modest price tags strung around their beardy, peeling necks, and I can't resist. I never imagined there could be so many different moulds for gnomes. These latest ones are really scruffy - a gnome paintathon is needed.
Tuesday 26th July
Hmm... As soon as the day warms up and the roads become ice-free I have seven gnomes to pick up. I probably won't be doing any gardening, due to snow on the ground. Hope it disappears soon - and I'm glad I did all that rose planting and mulching. My rhododendrons should be pleased with me.
It's certainly fun crunching around the garden, but there's ice on the patio, and mature gardeners need to be careful with ice. And perhaps there's a limit to the number of interesting house-and-garden snow photographs that can be taken. Hmm...
Cats and the Snow
Big Fluff-Fluff, girls' blouse of a cat, is so scared of the snow he won't come in the house - in case it follows him inside. Percy has put himself up in the garage rafters, where he considers himself safe from this fluttering white monster. Silly ginger cats!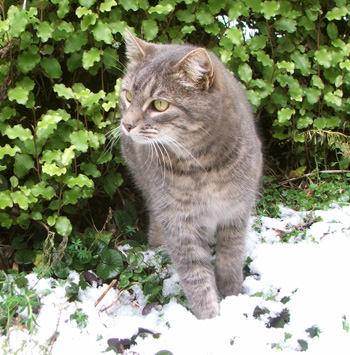 Lilli-Puss in the Olearia
No Problems...
No problems for the sisters Histeria and Lilli, who leap and dance around as if they have cold paws every day. Minimus keeps sniffing at the snow, puzzled. And Tiger? Tiger only goes outside if she's picked up in a bundle and propelled through the door. So she may not have noticed anything different.
NGP gets twenty bonus points in the Most Valuable Non-Gardening Partner Competition. He went off to Sydney on a plane, very early, and has made me a loaf of morning bread. So this man chain-saws, fixes pumps, cleans sheep's bottoms, and bakes bread. A real catch, methinks... OK, he can't make a quiche, but one can't have everything.
Later...
The snow's slowly melting but it's been a bit cold to do much. So apart from a quick swim and lunch I've been couch-cycling madly towards the Pyrenees with my crochet hook in my hand. I'm enjoying the light green forest trees en route. I've also picked up four of my new gnomes and am rather shocked, because one of them is mooning. Hmm... I'll soon put a stop to that - I'll paint him on some underpants, hee hee. Thus the appropriate garden standards will be maintained.