Love the Wisteria...
Good morning. Have just had breakfast (even made a proper pot of loose leaf tea) on the patio underneath the Wisteria. It is in flower, wonderfully fragrant, an absolutely gorgeous colour. This is why I sweep up its autumn leaves without moaning, right? Must remember that!
Wisteria from the House
Good afternoon. I'm back! It's too windy for the bonfire - yippee! So I've been weeding down the driveway, spreading horse manure, and covering it with forget-me-not mulch. It's taken ages to not get very far, if that makes sense. I've dug up a bucketful of seeded Muscari bulbs from the drive, and attempted to tie up the rambling rose which blew down from its tree.
Lilli-Puss
Lilli-Puss has been following me - she's doesn't provide very dynamic company, but it's better than nothing. The dogs are only interested in being first to barge through the door when I go outside. Once the thrilling exit is over, they lose interest. Very poor follow-up, those dogs.
So I have two more hours in which to make a difference (ha ha) and then Non-Gardening Partner and I are going swimming. Will probably spend it spreading horse manure. Have lots of bags - better for the worms to be burrowing into my garden than cooking in plastic in the hot sun. Ouch!
Later...
Just weeding makes for quite an annoying day. Pretty hard on the fingers. But it has to be done, and that's that. I've spread three more bags of horse manure, and roughly chopped up more forget-me-not plants to cover it. Don't care if they seed.
Wedding Day rose :

A once-flowering rambling rose, robust and large in growth. David Austin's website claims the flowers are fragrant. You'll probably scratch your nose trying to smell them!
I've even weeded the very end of the driveway where that ghastly Wedding Day rose lives. It's a rose which doesn't really speak to me at all. But it does scratch me when I'm weeding nearby, and its general scruffiness makes me feel elegantly neat and tidy. When the flowers finally arrive mid-summer, they're rather unmemorable, in my opinion. Sorry about that, Wedding Day rose fans.
Later again : loved going swimming after working hard. Loped up and down the lane (freestyle and backstroke) and also did some slow aqua-jogging minus the belt. One hour absolutely flew by. Felt very smiley afterwards, nicely stretched out, well balanced. Swimming is great for the gardening body.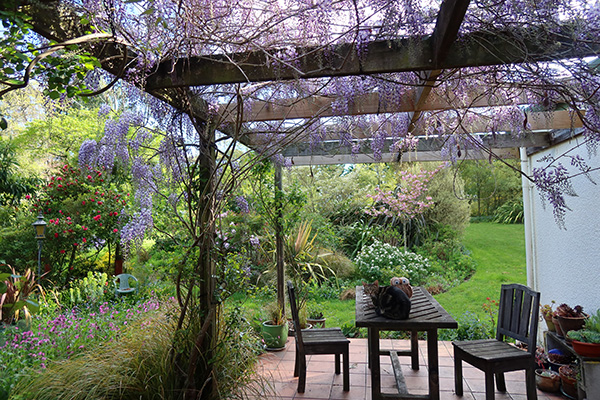 The Patio and Wisteria
Came home with fish and çhips, ate evening meal on the house patio. A strange mingling of smells - fried take-aways and sweetly perfumed Wisteria. Much prefer the latter!