Burning
This is the second in a series of serious articles on important gardening subjects. One could argue that, having done 'pruning', the next logical step in a country garden is to start the burning...
The Moosey Burning Heap
Environmentalists, take heart! I do employ a sensible, scientific sifting and selection process. Please understand that I do make mulch and compost. I fill rubbish bags with fallen Autumn leaves from my Oak trees. All kitchen scraps are thrown on the official compost heap behind the rhubarb (which is raided daily by Rusty the dieting dog).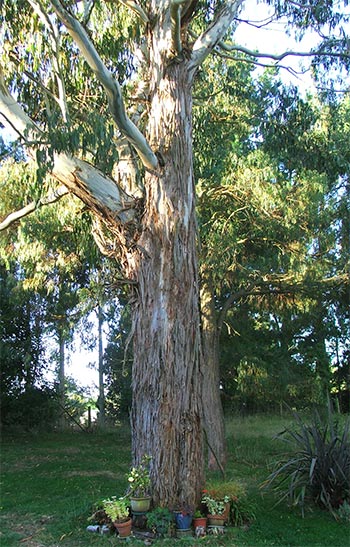 The Big Gum Tree
Three Culprits
I have no immediate neighbours to annoy with plumes of billowing smoke. My garden system simply requires that I burn, and there are three overpowering reasons why. Meet the culprits, three messy tree-shrubs which feed the Moosey flames in Autumn.
Gum Trees
Australian Eucalyptus trees, which we call gum trees, are the worst offenders. They shed bark, leaves, and tree branches throughout the year. So why? Why? Why do I still accommodate them? It's worse - I admire my gum trees. I think I even 'love' them.
I watch the Big Gum swirling and moving against the night sky, and I feel quite emotional. I could never, ever get it chopped down - though the firewood would last a decade...
A Fine Specimen
This tree, the biggest Moosey Eucalyptus, is in a ridiculous position - right in the middle of the house lawn. So a large, noisy gum tree is allowed to be a specimen tree. Hmm... And how many hours do I spend raking up debris from the surrounding grass? Hmm... And how delightfully ambient is the house lawn in a hot, roaring nor-west wind? Hmm...
Cordylines
I love New Zealand Cordylines - they occupy a strong place in my heart, and my garden. Spiky, iconic, silhouetted against a blue New Zealand sky - Cabbage trees drop their old leaves, like worn clothes. What's wrong with that? I love them unconditionally.
No matter how messy, I automatically clean up after them. It's definitely a conditioned mother-reflex, one which the bedrooms of the sons and daughter of Moosey have long experienced.
Old Flax Leaves
Flaxes
New Zealand flaxes are also horribly tough of leaf. My scientific experiments suggest that the 'break-down' of the head gardener would occur before that of flax leaf rubbish. Ask anyone who has operated a shredder or chipper what they think of flax leaves - you'll hear some colourful language!
Check with reputable mower of lawns - for example, the Moosey Lawn-Mower-Man - he'll tell you how flax fibres love to wrap themselves around mower blades. Oops!
So these are the three main reasons why the fiery colours of Autumn will be echoed in the flames leaping from my burning heap. Red of face and fragrantly smoky, I will maintain my lonely dusk rake-leaning vigil. I promise only to burn what I have to burn.
Footnote
Today I found the charred handle of my favourite hand digger in the ash pile. Oops!