Spring Blossom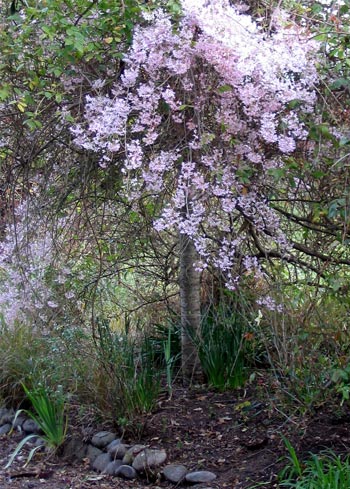 Pink Weeping Cherry Tree
I've read about the cherry blossom in Japan - the parties underneath the trees, and the wave of blossom breaking slowly up the country from south to north. Until this spring I've never really appreciated the blossom trees in my own garden, considering them far too ephemeral - blossoming briefly in spring and then being totally scruffy for the next eleven months.
Good Tree Advice...
'Choose a tree for its all-round performance' my sensible garden books would drone. 'Don't be tempted by fluffy spring flowers - trees need to offer MUCH MORE'... I used to agree - until this spring, when for the first time in the short ten-year history of the Moosey garden I've had a little more time to spend in the garden.
The Garden is Blossoming...
For the first time I've noticed the succession of blossoming around the garden. There's been blossom out somewhere now for at least six weeks - and the best, the proper blossom trees (Japanese cherry trees with proper Japanese names) in the Pond Paddock are still to come!
I've enjoyed the rough and humble plum tree blossom. The dark red-leafed prunus in the driveway has delicate pink blossom, while the Black Doris Plum in the Pond Paddock is smothered in sturdy white flowers.
First to Flower
There's a darker pink prunus tree in the Island Bed. These are my first blossom trees to flower - and I've never really noticed them until this year!
White Blossom on the Black Doris Plum Tree
Next comes the blossom from the big spreading ornamental cherry in the driveway lawn. It holds its fluffy light pink branches sideways, and looks beautiful. And when the soft flowers have floated away (I'm hoping, of course, for windless spring days) and the harsh light of summer arrives, this turns into the perfect peaceful shade tree.
Blossom Trees in the Driveway Lawn
There is more to come in the Moosey blossom wave - two smaller weeping cherries in the Driveway Garden are starting modestly to flower in shades of pink. The small Crab Apple tree further along will be next - this tree has beautiful deep pink blossom. Then October will see the real beauties in the Pond Paddock - blossom trees covered with fat hanging light pink flowers.
Cherry Blossom Close-Up
There is absolutely no blossom in the newer gardens across the water race - planted when those sensible garden books were obviously leading me astray. I am determined to make amends. Just wait until the next autumn sales - any short or tall, weeping or straight flowering cherries in the bargain bins can come home with me!