Patio Roses
As you walk around the lawn past the big bay window, the many roses in the patio borders can be appreciated. The plantings sprawl over the edge, and I've encouraged Angelica to self-seed in behind. Of course there is a compulsory small red flax shining in the frothy blue sea of catmint.
Pergola House Roses - Summer 2003
A Sentimental Rose
The rose on the nearest pergola post, a climbing Masquerade, was brought here sentimentally from my old garden. It gets badly black spotted and rusted, and so after three years of patience I ripped it out. Or so I thought - for the following spring there was a new part growing. It was reprieved, and I've learnt to enjoy its mixed up red and yellow flowers.
The picture below is from the Moosey Archives, taken in the late spring of 1998.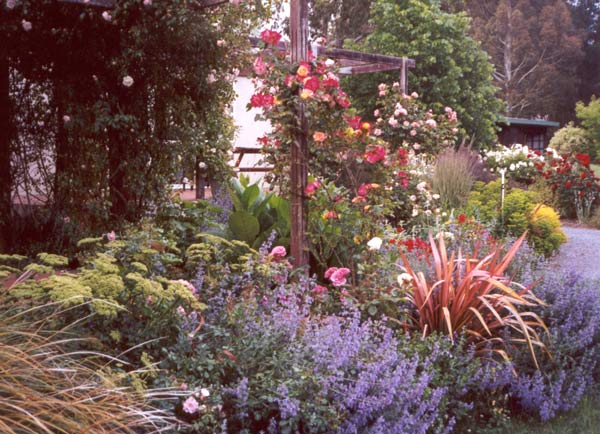 Pergola House Roses - Summer 1998
If I see these photographs in the middle of winter, when most of the garden colour is gone, I can't believe how colourful this small area of house garden is. The roses are certainly something to look forward to!