Duck Lawn Garden Bench
Duck Lawn has never had a garden bench or seat - something comfortable to stop me in my gardening tracks, and get me sitting and relaxing. Not until now, that is.
There's always been much to admire here, though ducks have been notable by their absence ever since Rusty the red Border Collie dog arrived. Ah me - in earlier gardening days I used to do a fast-speed flexible flop down onto the grass, seizing the gardening moment. Hmm... In these older, slighter stiffer days such flops take far too long - the moment is well and truly over before the legs have a chance to get horizontal. And it seems an awfully long way to get back up again, as if gravity has increased. Oh dear...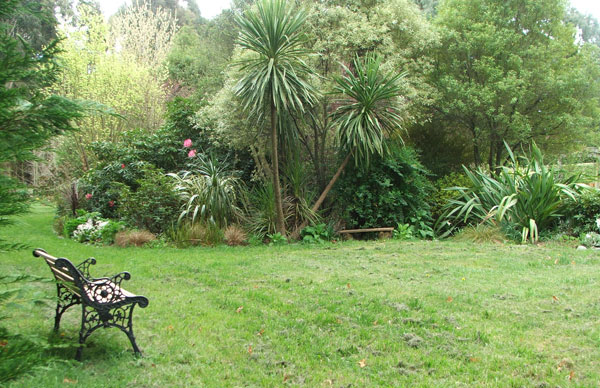 Garden Bench on Duck Lawn
For my spring birthday of 2010 Non-Gardening Partner fixed up a bargain ten dollar garden bench and helped me place it on the edge of Duck Lawn. Perfect. There's no excuse now - no standing around to stare and enjoy for five seconds, then wandering off. I like the feel of Duck Lawn's surrounding gardens with the big Cordylines and Astelias in Middle Garden. Early summer flowering roses (like Fruhlingsmorgen and Roseraie de l'Hay) are nearby too, bluebells and daffodils light up the spring, and the Oak trees colour brilliantly in autumn.
Duckless Lawn?
Pity about the mallard ducks though. But changing the name to 'Duckless Lawn' seems a bit mean spirited.