Rose Garden in Summer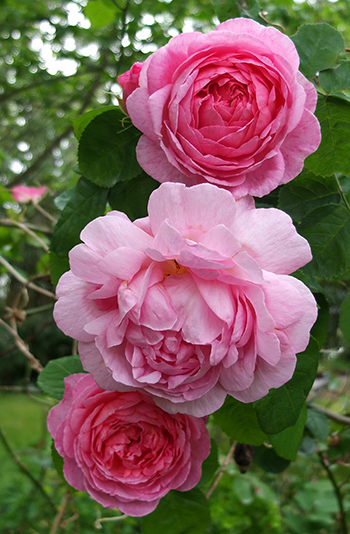 Constance Spry Roses
Roses, roses, roses - climbing over archways, growing sedately surrounded by ferns. This was my original vision for the Septic Tank Garden in all its summer glory. But for various reasons many of my rose planting have failed (this has absolutely nothing to do with the septic tank itself). My best success is one of the earliest plantings - David Austin's Constance Spry.
Meet Constance Spry...
Constance Spry is a sprawling pink rose which has pride of place in the back of the Septic Tank Garden. She may only flower once, but her blooms are beautifully pink, large, and fluffy.
Her long canes reach out along the old fence which sits in the middle of the garden. The flowery effect can get a bit lost if the shrubs in front get too big and bulky.
So this year I'm keeping the Hypericums in order, and I've actually trimmed an offending Deutzia (which has white flowers in late spring) right down to the ground. Pink wins over yellow and white in this part of the garden!
Other roses which have been tried in this garden (and which have failed) include several recycled standard Rhapsody in Blues, and some assorted old-school hybrid teas which I rescued from a friend's suburban garden. I don't really know what went wrong. Blame the gardener? Usually when roses are shifted in winter they hardly notice the difference...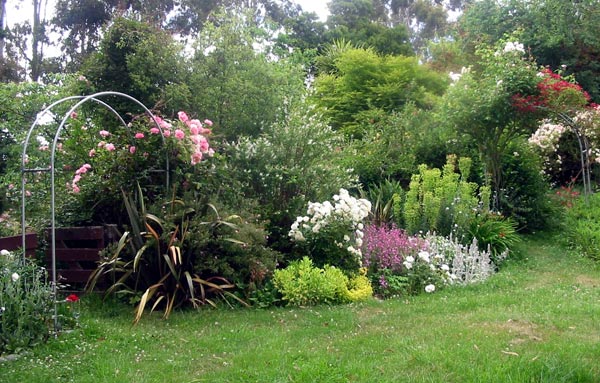 Roses roses roses
The other roses were much happier once. This early photograph features the pink Bantry Bay on the first archway. The chunky white rose bush in the side garden is the beautiful hybrid musk Prosperity. It's definitely lost weight since this picture was taken. On the near archway there's a mystery rose to the left, and the cherry red Bloomfield Courage to the right. A second archway up the back (partly obscured) supports Phyllis Bide.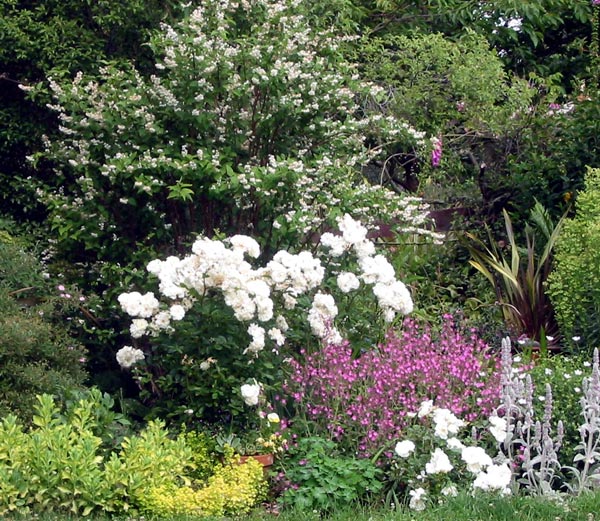 White Prosperity Roses
Prosperity roses are hybrid musks, and have two distinct flowering periods. I believe they should be grown more often - the white rose Iceberg usually gets all the votes.
An Even Older Photograph...
The path through the house-side arches gets quite interesting in late summer when the yellow Heleniums have burst into flower and flopped over everything. Below is a late summer picture from the Archives - everything looks really low to the ground!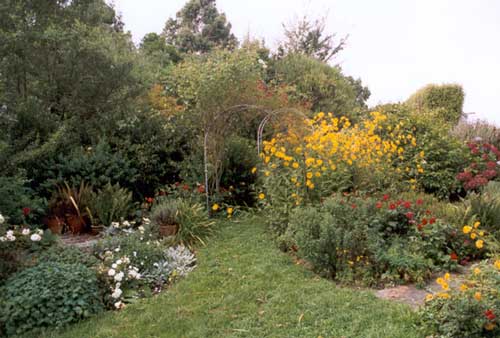 house-side garden in late summer 1999