Cats on the Pond Decking
The decking by the pond has always been popular with the Moosey cats. In the early days it was a warm sunny place for Big Sifter the tabby to stretch out and take it easy.
snoozing
You could ask Sifter and he would always tell you (after affectionately biting you on the arm). It was really hard work being a cat!
These Days...
Big Sifter is no longer with us, and these days you'll likely find young Minimus the cottage cat snoozing on the decking. When the Head Gardener brings out the camera, Minimus will wriggle from this pose to that. A picture of my tummy? Why, certainly!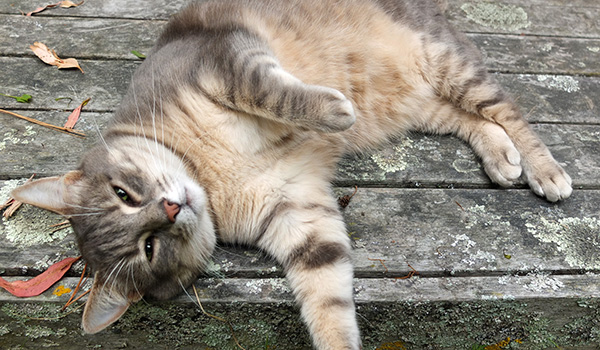 Minimus the Cottage Cat
Young Minimus - what a show-off you are!
Fishing for Frogs...
When there are frogs in the pond the Moosey cats spend quite a lot of time on the decking. Green frogs often appear from summer on, and they hide in the vegetation on the edges.
Fishing for Frogs
These two cats, B-Puss and Fluff-Fluff, did catch a frog once, and proudly brought it into the house to show me. The noise a captured frog makes is quite disturbing! I managed to get it into a container, and released it into the water race. Find a safer pond, little green frog!