Early Pond Garden Seats
I've always moved my garden seats and benches around. They stay in one place for a few years, and then they shift gardens. In the year 2008 a comfortable wooden garden bench sat at the beginning of the pond-side path. I would sit here and gaze at my lovely Pond Garden, then turn my head to the ram paddock behind me and make furtive garden expansion plans...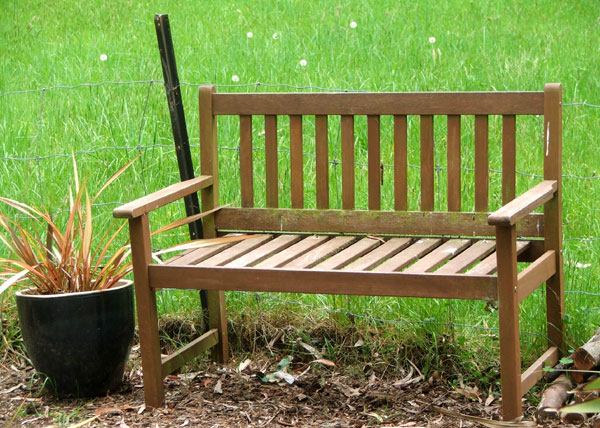 Pond Garden Bench
The Pond Paddock beyond the pond provided inspiring views all year round. Winter showed off the sculptural Phormiums, spring had the fluff of flowering cherries and rhododendrons, summer brought warmth and roses, and autumn was full of brilliant leaf colour.
The Back of the Pond
This garden bench was a very normal kit-set wooden one - maybe even a bit boring. But remember - it's not what the bench looks like from the garden - it's what the garden looks like from the bench. But - oddly - I hardly ever sat there. Maybe I was just too busy weeding and clearing the pond gardens! So it was finally moved over to the water race and painted purple.
And back in 2004...
This early garden bench was installed by the pond back in 2004.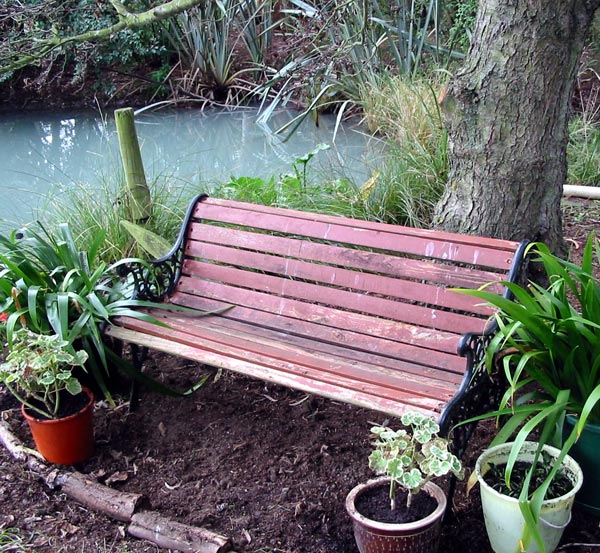 Seat by the Pond
Note the stylish placement of pots of foliage plants - variegated pelargoniums and Iris confusa, safe from winter frosts here in the shelter of the pond trees. I spent many happy rest times sitting here drinking a cup of tea, staring at the winter bones of my garden. These were the days before Pond Cottage, of course.
On the move...
In the winter of 2010 the bench had to move - just a wee way around the pond. And for good reason - I simply didn't sit on it any more!