Phormiums in the Dog-Path Garden
Cornflowers, roses, and assorted foliage plants might jostle for space in the Dog-Path Garden, but the spiky New Zealand Phormiums, or flaxes, dominate the look of the borders.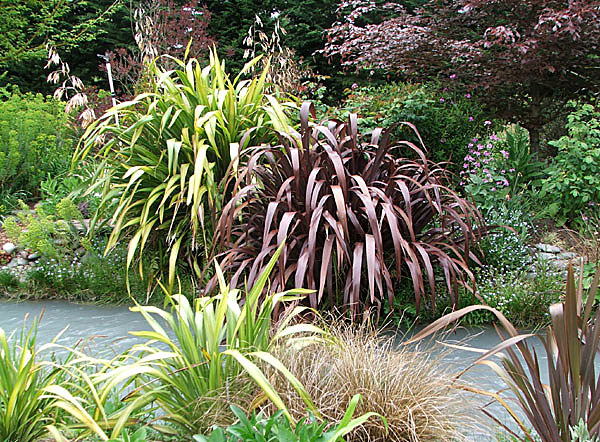 Phormiums and Water
Shrubs and trees in the Dog-Path Garden have the advantage of excellent soil, a good irrigation system, and good shelter from the cold southerly winds. Phormiums are well known for their spiky foliage, colour, and strong form. They're also one of my garden favourites.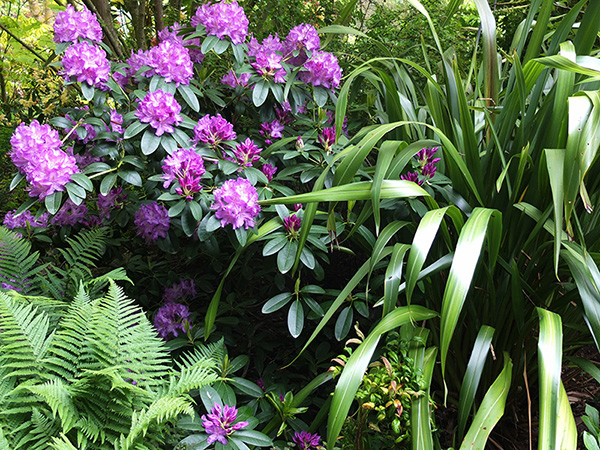 Blue Jay Rhododendron with Green Phormium
These good-looking plants are a great foil for the flowering rhododendrons in spring, and they give colour and interest in the drab months of winter.
Early Phormium Photographs
The photographs below were taken early in the Dog-Path Garden's history, when many of the shrubs and trees were quite small. The whole area used to be carpeted with purple variegated honesty in spring.
Archive Photographs of Dog-Path Garden Phormiums
Oh dear. Both the flaxes in these pictures were flattened in the winter snow of 2006 and had to be dug out. No replacements have been planted, because the other shrubs have taken up all the room.
A Survivor!
One of my Phormium plantings which still survives is this deep red fountain-shaped beauty, which I positioned right by the water. I'm writing this in the winter of 2015 and it's still there, having survived more than one snow storm. Please not this winter!
Red Flax by the Dog-Path 2003
You'll easily see below in a very early photograph how narrow this part of the Dog-Path Garden first was. The red water-side flax has just been planted. The year is 1998.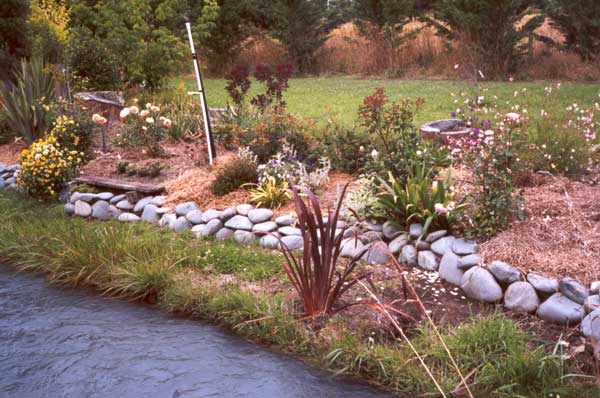 red flax by the dog-path 1998
The wet snow storm in the winter of 2006 flattened this waterside flax as well, and I trimmed it completely down. It's a survivor, though, and is back bigger and better than ever.