Recent Garden News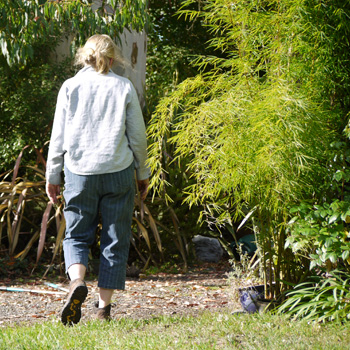 Head Gardener
The Recent Garden News page displays the fifteen most recent additions to Mooseys Country Garden. This should help visitors keep up with what's going on in my garden.
Gardens are always growing and changing - there's always something new to see. And, as I love writing about my garden almost as much as being in it, there'll always be some new Moosey ramblings to read, or new pictures to look at. Perhaps the garden activities of my summer will warm up a northern hemisphere gardener's winter days. I know how much I enjoy my mid-winter garden visits to summery places.
Two weeks can be a long time in the life of a garden. There's inevitably some repetition, so please be understanding if I'm saying the same things over and over again. I hope you'll enjoy seeing what I've been working on recently...
Gardeners cannot spent all their time barrowing mess to bonfires - it stupefies the gardening brain! Variety keeps the mind alive, and there must be some creativity in the gardening week. Right? Right!
Good morning to my garden, to my cats and dogs, and to my bonfire. Am going swimming, and when I get back we can all work on our relationships with each other. Some are inspirational, others a little unrewarding...
The local hedge trimmers have been busy - on a drive cross-country we passed lots of sharply defined shelter hedges, and quite a few smoky paddock bonfires. Alas, we've joined the party.
Oh boy. Sometimes the requirements of a country garden are super-sized, and I rather envy my urban friends, whose biggest struggle is to fit everything into their green bins. Most country gardeners I know don't have green bins. They have piles of piles...
I've been really really busy, and so has the wind. That blasted wind, busy blowing off the blossom on my flowering cherry tree. Me - singing, performing on piano, practicing my ballet moves...
Spring continues to be wonderful, and weedy. But of course one has to take the good with the not so good. In a garden, gushing for joy can easily alternate with groaning in dismay.
The beauty of spring in my garden is starting to scare me. Aargh! The big fluffy blossom tree! Eek! The Forsythia in flower. Wow! Green growth and daffodils! Oh dear! Must remember to enjoy everything. Oh no! The weeds...
It's my actual birthday day - a most gorgeously warm spring day - and Non-Gardening Partner is taking the day off work to start clearing the Oak trees. Yeay! How old am I? My element for this year is Tungsten, hee hee...
Woo hoo! The tree men are here, bright and early. They are bringing down a huge gum tree at the end of the Hump. I've shifted two Rhododendrons and three ornamental Phormiums out of their way.
Am loving my birthday week. So far it has felt very balanced. I am working hard at everything, doing my best in the garden, trying to be kind to my hands and fingers. Am enjoying playing my piano.
Yippee! A box load of seedlings I ordered online has arrived. It is one of my advance birthday presents - from me to me. Decided to outsource some of my seedlings this year to save time.
It's time for removing small-scale weeds - the innocuous little tiddlers which hide away under proper plants. This is quite hard on the fingers. But out they must come, and I'm not a hoe-happy gardener, preferring to get down quite close to the dirt.
A wonderful week full of gardening and piano playing - the perfect balance. And am I slowly making progress slowly on both fronts? Yes. And thoroughly enjoying the challenge.
Why do gardening days sometimes get blurred? Because one often does exactly the same things each day. And gardening years? Yes, they get fairly blurred, too. Time plays sneaky tricks on gardeners.
Weeding and playing the piano are two wonderful work-outs for the fingers as well as the brain. Yes, one does have to think when weeding - otherwise all the pretty little self-seeded flowers would be pulled out and the nasty grasses left behind.