Recent Garden News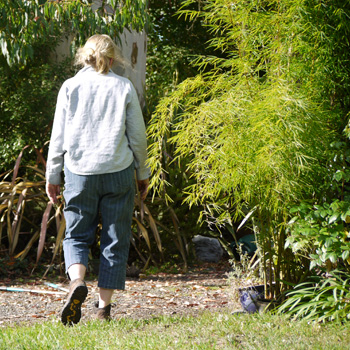 Head Gardener
The Recent Garden News page displays the fifteen most recent additions to Mooseys Country Garden. This should help visitors keep up with what's going on in my garden.
Gardens are always growing and changing - there's always something new to see. And, as I love writing about my garden almost as much as being in it, there'll always be some new Moosey ramblings to read, or new pictures to look at. Perhaps the garden activities of my summer will warm up a northern hemisphere gardener's winter days. I know how much I enjoy my mid-winter garden visits to summery places.
Two weeks can be a long time in the life of a garden. There's inevitably some repetition, so please be understanding if I'm saying the same things over and over again. I hope you'll enjoy seeing what I've been working on recently...
The Phormiums look big and beautiful. The dahlias are suddenly ready to be cut down, and the Gunnera leaves have turned brown. And my wool socks parcel has arrived!
Planting daffodils, digging out Alstroemeria, and buying merino wool socks - the story of my week! With rather talkative hips and knees joining in, oops. And winter at the gate, waiting to be let into the house and garden.
Am not impressed with this it's-nearly-winter moochy mood I'm in. So every day I must do something outdoorsy, even if it's frigidly cold or wet. Even if it's just walking the dogs. Only then I can give myself a tick for the day.
It's so easy to remember the naughty, invasive plants that arrived unannounced, or were planted deliberately, innocently. And how embarrassing one's initial welcoming response was. For example, I really liked the orange Alstroemeria at first. Pretty colour!
Hmmm... How to get rid of Alstroemeria - the orange variety, super invasive, spreading all over the place, surplus to requirements. It arrived un-noticed, attached to some rose roots, ten years ago. Here is my five-step plan :
OK. So the merry (or rather the mellow) month of May has sneaked into my garden and my life. The autumn colours are just wonderful. I love the softer mood of the garden, and the sense of relief in the plants and trees. Phew! Almost time for our winter snooze.
My goodness I love roses. They are obviously gorgeous in their main flowering season. But now, in middle to late autumn, there are isolated blooms on many of the rose shrubs. And some have saved their second flowering flush until now. So generous.
Getting ready for colder weather - collecting pine cones from the front paddock, stacking firewood by the back door. Thinking ahead for the house as well as the garden.
Twelve more new plants to plant, shouldn't take much time at all, right? Hmm. Almost certainly wrong! One minute to buy a plant, one hour to plant it properly in the garden? Sometimes it can take me this long!
A rather fun day. We are going swimming, then having brunch, then off to the house-and-garden store. I have a voucher to spend, one which I've been saving for four months. A voucher! Yippee! I can get the new plants into the ground while it's still decently autumn.
Sorry about this, but I haven't quite finished. Continuing the theme of things I am thankful for, I'm going back to my cottage which started off these gushing ramblings. Last night there was a huge thunder storm. I am so thankful that my cottage didn't leak...
Here's Part Two of my 'I Am Thankful' blitherings. More? There's always more. And then some...
Good morning. I am starting the morning by listing all the things I an thankful for. Good to do this first thing, while energy levels are high. And here's a thought - make another list in the evening and compare them, hee hee. So it all starts with my cottage (a life-long dream realised, harking back to the days when I first read The Famous Five books)...
So many wonderful autumn leaves days. Such beautiful colours. Am very, very blessed. What a beautiful autumn garden I have! Yeay for me, planting all those deciduous trees, all those years ago...
Many of us have small secrets. For example, we might watch The Bachelor on TV. I've got a small secret. I watch stray cat rescues on my Facebook feed. But that's because I've been feeding and trying to socialise a feral stray cat for nearly two years. Here's a detailed report on Speckles, a young feral mackerel tabby