Bright Yellow Daffodils
Bright yellow daffodils are a powerful symbol of sunny spring days, and the most representative of all the daffodil flower styles. Ask a child to draw a daffodil and this will be what you'll get. They're big, bright and unsubtle, and can be seen from a distance. Nice!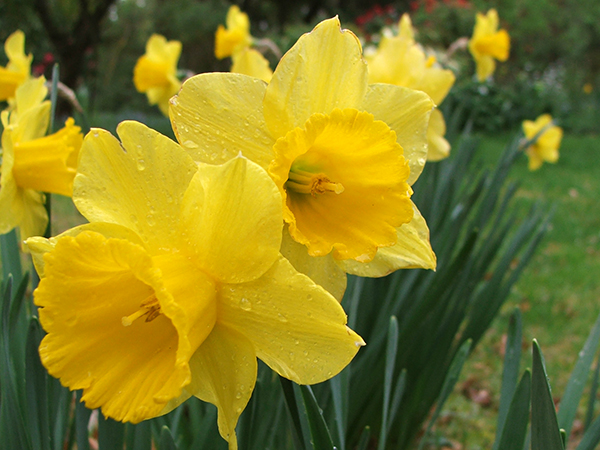 Yellow Trumpet Daffodils
When I was a very inexperienced gardener I thought this was the only type of daffodil to grow. Of course later, when I became more knowledgeable (and stylish?) I realised there was more to being a daffodil than having a bright yellow trumpet...

More Daffodils
The Moosey garden is proud to enjoy the colour bright yellow, and thus many of these beautiful and powerful bulbs can be found dotted throughout the different borders. Though when they are flattened by the wind and rain the Moosey gardener looks longingly at smaller varieties...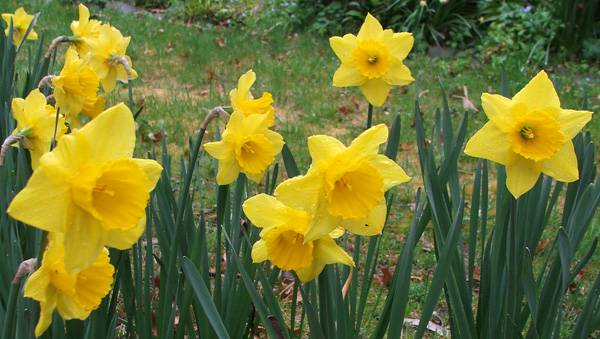 Group of Yellow Daffodils
The daffodils in these photographs do have trumpets of modest length. The ones with larger trumpets are just too floppy for me.
Cancer Charity Symbol
In New Zealand the big yellow daffodil is the symbol of the Cancer Foundation. Each year on Daffodil Day in September (which is our spring season) money is collected for this important charity.