Green Foliage
Green is such a living, connecting colour. It whispers of spring regrowth and a fruitful summer to come. It heartens gardeners like me through a less than colourful winter. Green always makes me smile - and gives me garden hope.
My garden is not remotely tropical, so there's no such thing here as too much green growth. My greens are well-behaved! I grow a lot of New Zealand native shrubs and trees, so I'm blessed with evergreen variety all the year round.
Shades of Green...
Different shades of green have different personalities that change with the seasons. Generally speaking, green is said to be a calming colour. But the blue-greens can look tired in my garden in high summer. Or maybe it's just me that's tired? And my olive green species Phormiums look drab and dull in winter. Again, that could be me...
Spring in my garden sees an outburst of lime green (mainly from the Euphorbias). And I love variegated leaves, so yellow-green pops up in many of my foliage plants. Lime green is a brave green, with much vitality - a timid gardener might shy away from it. Not me!
Shapes of Green...
The different shapes of green leaves in a garden are themselves a wonder, and give a garden so much subtle texture. To be very simplistic, I love the way the strappy, spiky plants contrast with the fatter leafed plants. Informative websites, like the Seed Site have lists of the proper adjectives, with shape diagrams - surely a garden designer's dream!
Scale, too, contributes so much to a green garden. Many of the natives I grow are covered in tiny green leaves, measured in millimetres. Others, like the Gunnera, are giant greens - just one of leaf is bigger than the greediest dinner plate.
Simply Green...
I love all the green foliage plants in my garden. Some, like the Bergenias and Agapanthus, give flower colour as well. Some are simply green for green's sake.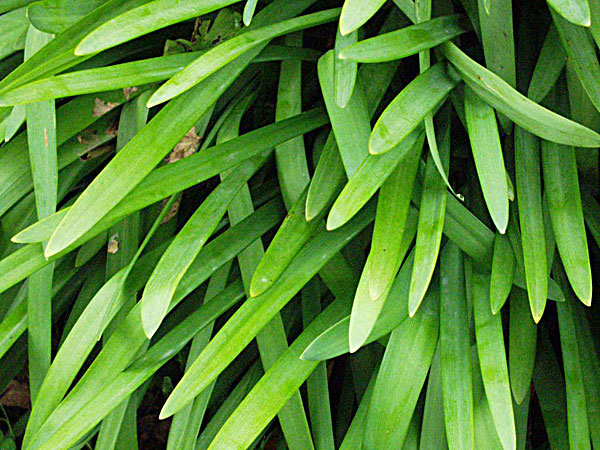 Agapanthus Leaves
Pedro Calderon de la Barca says it better than I can :
Green is the prime colour of the world, and that from which its loveliness arises. -Pedro Calderon de la Barca.