A Design Promise...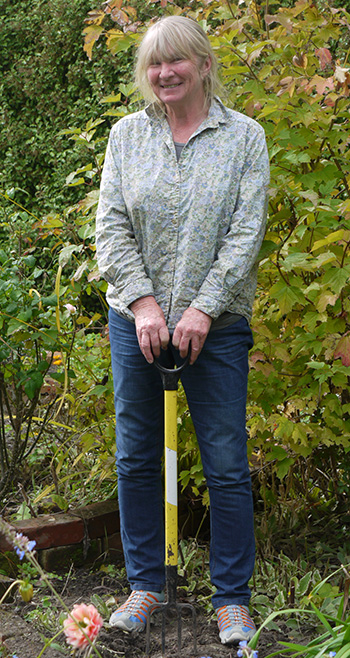 Head Gardener with Fork
Here is my promise for The Hump - a messy area of my garden, being the humpy top of an ancient sand dune, which until recently was covered in huge pine and gum trees. In the winter of 2018 the trees were felled, and The Hump became available for serious gardening...
Dear Hump,
Here is my gardening promise to you. Your big trees are almost all down now, the logs almost all cleared away. So you have become a new garden area - so exciting! But check out my new gardening maturity. I know exactly what I will do with you. Absolutely nothing. Ha!
Friends have asked what my plans are. Naturally I'm tempted to list my favourite ornamental trees - Maples, Crabapples, Dogwoods. And favourite woodland shrubs like rhododendrons. But reason, common sense, and a level of maturity never before experienced has kicked in. You get to choose. You may not want to become a woodland, anyway.
I will work from your ground up, and add layers of horse manure, leaf mould, and mulch. As your impoverished soil improves I will think about the sun. How sunny will you get? And the wind. How sheltered will your new garden be? And irrigation. Can Non-Gardening Partner please put in a new irrigation pipe, so you can be watered in the hot summers?
Perhaps a few little cosmetic improvements : I'll define the edges of you with logs, and create a few paths. Maybe I'll even scatter a few Honesty seeds around for good luck. But I promise to be patient, and sensible, and listen to you.
Yours in gardening love, Moosey