Spring Things
As spring prepares to 'spring' into garden action, lots of forgotten little treasures start popping up in my garden. This is the perfect time for 'stocktaking', after the long colour-free winter weeks.
But this happens on the Moosey website, too - as well as in the real garden. I've recently discovered old photographs on pages that I'd completely forgotten about - spring pictures taken in a London churchyard a few years ago.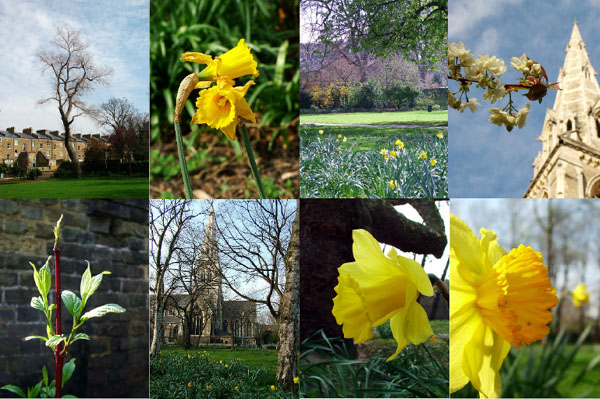 Spring in St Giles Churchyard - 1
I've found elegant bluebells, prima donna hyacinths, and beautiful daffodils, hidden in a series of pictures taken expertly by web-master son. There are even a few London squirrels to enjoy. The photographs are simply magical, so I've decided to indulge myself and republish these new-found favourites.
Spring in St Giles Churchyard - 2
If you're reading this as the days shorten and autumn beckons, take heart. After all, it will soon be time for you to buy in new spring things. If, like me, you're busy preparing for the best spring of your gardening life, you'll certainly be colour-inspired. All those candy-floss pinks, electric blues, and sunny yellows...
Simple Spring
What a wonderfully simple time of year spring is. Some gardeners say it's impossible to have a favourite season. Hmm... I'm not so sure... But we all love having something to look forward to, so I suspect the best season is usually the next season!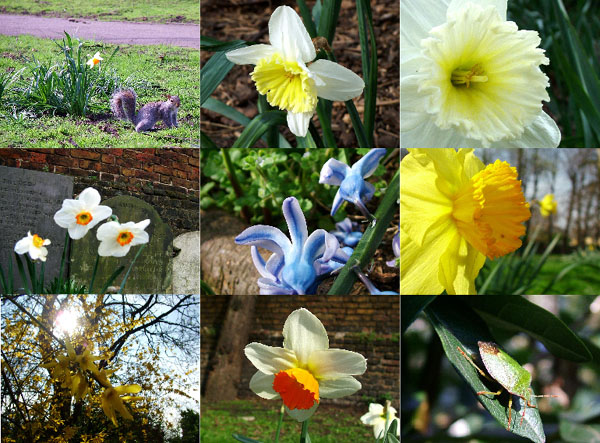 Spring in St Giles Churchyard - 3
Please enjoy these old images of new, simple, spring things. Thanks to my web-master for allowing me to recycle them (oops - I didn't actually ask him).