Autumn Leaf Photos
There must be a limit to the number of Autumn-Leaf photographs that one gardener can take - in her own garden - with less than twenty Autumn-Leaf producing trees - mustn't there?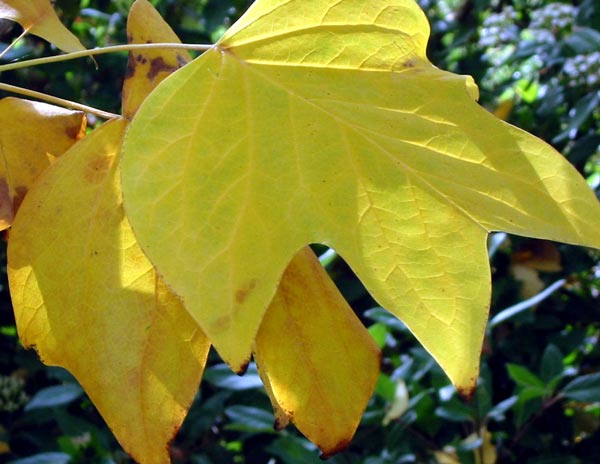 Autumn Tulip Tree
Apparently not this year, 2004, a very good year for Autumn colour, possibly the best since the Moosey garden has been in existence. Non-Gardening Partner's analysis of the situation mentions two important things:
Not Another Autumn Leaf Picture, Please!
NGP's Analysis
There's been little wind, and a couple of early frosts. Trust him to have a totally practical explanation...
Moosey's Analysis
My analysis is quite different, much more self centred in fact. This is the first Autumn that I have been a semi-retired gardener. Semi-retired gardeners have a lot more time to watch the daisies - or in this case watch the Autumn tree tones.
I've seen more, therefore I think there's been more, if you know what I mean. Simple, self-centred explanations are often better...
Autumn in the Moosey garden spans April, moving into May. Amazingly every day the colours do seem different - and every two or three days this difference is so major that new photographs must be taken immediately. Coloured leaves on the ground, off the ground, hopefully caught in fluttering transition...
The Scarlet Oaks in various parts of the garden are growing up now - and each tree has its own colour-changing agenda, though they were sourced from the same Nursery. They have definite differences in leaf colour - some have gone straight to a dark maroon, while others got red and stayed red for weeks. Micro climates? Or a quirk of their breeding and growing process?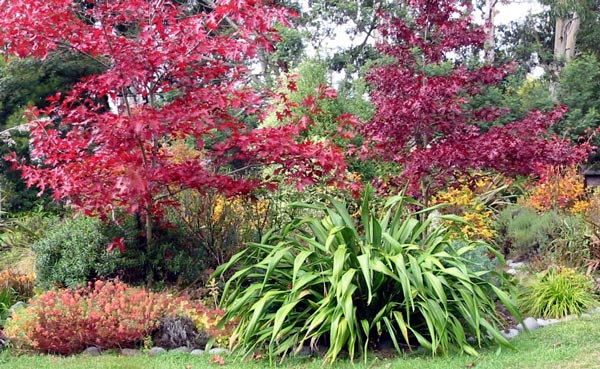 Autumn Oak Trees
There are three Cotinus shrub-trees in the Moosey garden - they are a joy to watch, as their red-gold Autumn leaves share space with the normal dusky purple. Then the Berberis shrubs in the mixed borders are fiery red - brilliantly ridiculous, burning bright. When should they be pruned? Not yet, surely!
Everywhere there are carpets of rich golds and oranges, and all parts of the garden seem to be edged in gold - Elms, Plane trees, Birches, Locust trees. Golden yellow - the colour of warmth and sunshine - seems to frame every vista.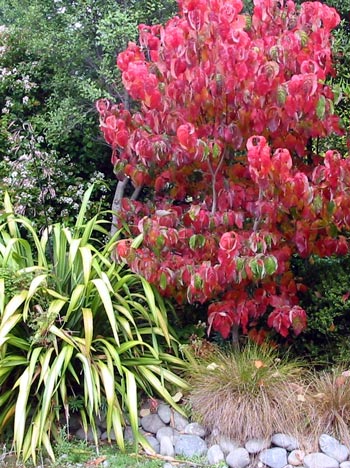 Autumn Cornus Tree
The Dogwoods (Cornuses) are all late colour starters, but when they get going they all give unique and amazing colour displays. I have two multi-coloured varieties whose Autumn colours look unreal, plus a gentle little tree over the water race whose fat leaves turn rich red.
Brave Red Maples
Suddenly the brave little red Maples who have been colourful all year have serious competition! They quickly seem to get the sulks, and drop their leaves within days.
It's true that colours are changing every day, though - I've got the photographs to prove it! And every year I take the same shots - of the same trees...
Footnote...
According to one scientific poll, photographs of Autumn Leaves can be more popular than the real thing. Pictures don't need raking up, hee hee...