Concrete Garden Cricketers
I've just rescued the oddest group of concrete garden ornaments from the local recycling store. They're not gnomes, flamingos, or frogs. Gardeners of a non-British-Empire persuasion might even have trouble identifying them. They're cricketers. Howzat?
Batsmen and Umpire
Cricket is the quirky game that England exported to all its colonies, where men in flapping cream flannel pants stand around a green field for five days. Well, in the early days of the game this was the case, before the advent of TV-shortened versions of the game. Not that the best cricketers were necessarily from the mother country - welcome to Don Bradman (Australia), Sachin Tendulkar (India) and Brian Lara (West Indies), and many others non-English, who proudly grace the World Cricket Hall of Fame.
Introducing My Concrete Cricketers
But this is a gardening website. So I'll pass over the finer points of the test match game (have you got five spare days?) and introduce my concrete cricketers. I have a white-coated umpire, two batsmen (Australians), and a bowler, wicket keeper and lone fielder, all New Zealanders. All the gentlemen are of mature vintage, some with portly tummies, some with bald heads and retro-style moustaches. The umpire's hat is pulled down over his eyes - every chance of him having to guess a 'caught behind'!
Fielder, Bowler and Wicket Keeper
At the moment my cricketers are playing out their tableau game on the back lawn, without the prerequisite cricket stumps and bails. I've put the terrified fielder at 'silly mid off', and the wicket keeper is 'standing up' to the bowler (though he's crouching down). Hee hee...
Merv Hughes?
It's possible that these chaps are caricatures of real players from the eighties. I'm sure that's the tubby Australian Merv Hughes, leaning on his bat at the non-striker's end, hoping he doesn't have to run...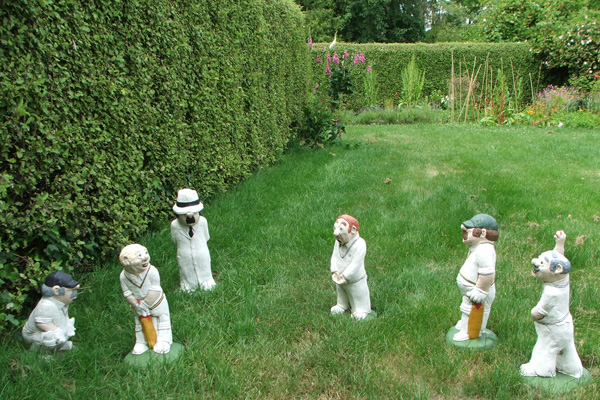 The Concrete Cricketers
Well, well, well... I've just googled the term 'concrete cricketers' and found my actual set for sale, unpainted, in England. So how did my chaps get all the way here to New Zealand, squillions of miles away? Who painted them in the colours of Australia and New Zealand, and who on earth took them to the local council dump? It's a mystery.
Howzat!
For all I know these chaps may be dead common. But not nearly as common as gnomes and shepherdesses, in the giddy world of garden ornaments. That may be a relief to some. Howzat!