Mother of the Year - 2000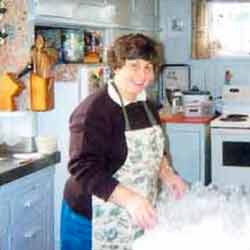 ALLY BALLY Mother of the Year 2000
One year Moosey's Country Garden handed out a Mother of the Year award. Nominations were accepted in the two weeks leading up to Mother's Day. The winner was from Christchurch, New Zealand and received nine 'legal' votes - her son voted for her over 30 times using assumed names. Here is a warm and fuzzy letter we received from her son :
My Mum by Andrew B
Its hard for me to put one mother above another, this in itself is proof of my mothers greatness, let alone the greatness of mothers in general. So why does my mother deserve to be mother of the year? I can only say its time she is duly recognised for all she has done to everyone she has met.
To meet my mother is to be tucked into bed with a hot chocolate knowing that everything is alright. That is to say she is a bunch of warm fuzzies. Not only does she care for her three children, husband, dog, cat, house, and garden she keeps a full time job as a teacher. The thing that amazes me is that she does all this with ease, so she has time to marry couples in the weekend and work on committees after teaching at school.
Just recently my mother caught a mysterious illness and was in hospital for a month. This was a great blow to her and all that knew her. As it so happened in this period of time I took over as mother of the house.
I quickly realised the work involved and also realised the effect she has had on other people. The phone didn't stop ringing with concerned calls and the door bell didn't stop ringing with flowers and food being delivered.
Quite frankly my mother is a legend and deserves to be mother of the year for being so humble about what she does. She is not only a mother to me, but a mother to everyone.
Yours sincerely Andrew Ballantyne.