Purchasing Plants - How Gardeners Shop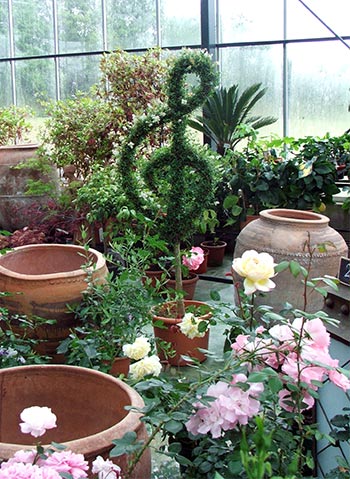 Buy Some Stylish Accessories...
There's nothing more revealing than a gardener's plant purchasing spree. Shopping behaviour is a serious reflection of character, and defines ones garden style - or lack of it!
Please Take me Home!
Some gardeners become set in a compulsive rescuing rut. They'll spend all their spare time (and money) gathering up unwanted bare-root roses from the supermarket, or grabbing anonymous rhododendrons from the nursery bargain bin. The sadder a little plant looks the more they'll just have to buy it and take it home.
An All-Comers Garden
A garden of anonymous mixtures results - an all-comers garden, all welcomed with open gardening arms, no previous garden experience necessary, no references required. The garden usually has some spectacular size and colour clashes, heaps of good-will and gratitude, but not too much blending. I speak from personal experience here.
Hey Big Spender...
Spending big money doesn't always leave the poor gardener 'happy ever after'. A seriously sourced and highly prized Magnolia can suddenly stop living. The most expensive rose ever ordered from a specialist nursery can turn hypochondriac, sulk on its expensive archway, and shrink to nothing.
Rescue some Sad Sale Plants...
It's enough to make a gardener turn to the tough side of shrubs and trees. Money spent on some exotic, expensive wonder-plant is not always money wisely spent.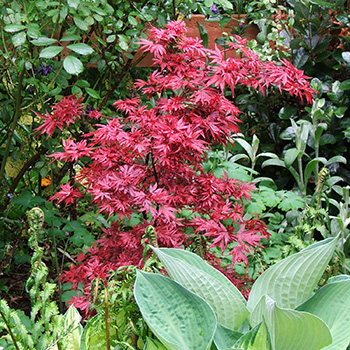 Oops. RIP Little Maple
Budget = Boring?
But garden purchases which come from sensible, thrifty decisions can result in a garden which is low-risk, or even no-risk. Sometimes, budget equals boring.
2008 - The Year of the Potato
Beware the random, free-spirited garden shopper. After behaving prudently for whole gardening seasons, they'll suddenly take enormously silly risks with their wallets. As a result of a top-shelf plant-shopping spree, household members can find themselves eating potato casseroles for weeks. This gardener blushes to remember a clutch of expensive little ornamental Japanese maples, bought with the housekeeping money, which all died last summer. Aargh! The Moosey family has good reason to forget 2008, the official Year of the Potato...
Shopping as a Reward
Lots of gardeners have systems of self-reward, and plant shopping is definitely healthier than naughty food treats. For example, when all new plants are out of their pots and installed properly in the garden, the hard-working gardener can be rewarded with a quick trip to the nursery. Thus the purchase of yet more new plants is justified, and the reward system simply rolls over for another day.
Buy Some Well-Behaved Natives...
Some gardeners like their purchases to be politically correct - they'll only buy native plants and trees. So in New Zealand, for example, their garden becomes a scruffy low-rainfall version of the lush dripping-green bush found on the famous Milford Track. The Moosey Garden suffers thus. But isn't it good to attract the native birds? On last count two native bellbirds (loooovely) share Moosey tree-space with five hundred European sparrows, two hundred English starlings, twenty-five Australian magpies, ninety British blackbirds...
Same Old, Same Old...
So is it a good thing to be a deeply analytical and intelligent garden shopper? No! You risk becoming too predictable, buying the same old things. Find a friend fast! Pick one whose personal taste you've always been suspicious of, take them to your favourite nursery, watch carefully, and learn! You'll end up with all sorts of lovelies - topiaried Bay trees you've only bought in your dreams, Lavenders you've usually ignored, Kalmias you've always wondered about...