A Good Red...
A good red? This isn't just a strictly-gardening site - pets and places do get a mention, and occasionally food, after a long day digging. But a 'good red'? There's only one vintage of good red on the menu - a good red autumn leaf!
Red Maple Leaves
Gardeners who enjoy a decent autumn (or fall) are lucky creatures. If they have good digital camera systems, and the time to follow autumn's progress, so much the better.
Wise and Lucky
And if they've deliberately chosen and planted deciduous trees for their autumn colour, they're wise as well as lucky. The fiery colours of leaf-change can warm up the nippiest autumn day.
Snake Bark Maple
Off in search of a good red for my autumn competition, the first contestants were obvious - my maple trees. I can grow these, but carefully, as they need to be sheltered from the winds. A Snake Bark Maple in the Hen House Garden looked a likely candidate - fiercely red, with orange highlights. A combination of shyness and the sun disappearing behind a cloud left less of an impression closer-up.
Pick Me!
'Pick me! Pick me!' whispered the next-door Scarlet Oaks, hoping that their name would score them highly. Again, they were beautifully red - from a distance, with the low sun highlighting their veiny leaves.
Scarlet Oaks
Dogwoods, purple Cotinus, and (for me) the slowest growing tree of all time, a Cercis Forest Pansy, were all invaded by a lunging camera and photographed. The thorny Berberis shrub bit back - ouch!
Red Flowers
I saw many red flowering plants near the house, desperately hanging on until the first frost - like the ubiquitous red dahlias, and the cheery red Pelargoniums semi-safe in their patio pots.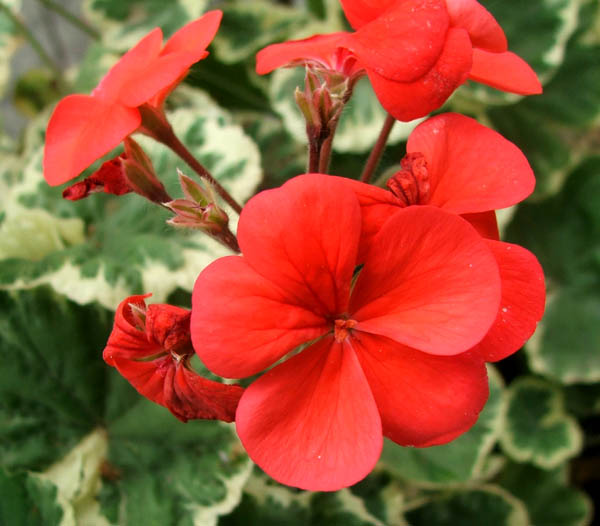 Red Pelargonium
Some Schizostylis, a water loving South African plant which has a daylily-like form, had naturalised the water race banks near Rooster Bridge. What a beautiful red! And such a surprise, a lily flowering in autumn.
Schizostylis - I Think!
Several non-thorny shrubs, too, were seriously staking their 'good red' claims - particularly the Nandinas, and a clump of Bergenia Bressingham Ruby, thoughtfully providing one spectacularly scarlet leaf for the judge to savour.
Red Bergenia Leaf
And what about rugosa rose hips and crab-apples? As well as being great reds they pass the wildlife taste-test. The latter provides great winter munching for my resident starlings and blackbirds.
Good Vintage
Honestly, there's no clear winner. Red flowers have more saturation, red leaves have greater depth and interest, and red dahlias are - ahem - brilliant if unsubtle. This year is definitely a good vintage year.
Red Sorbus Leaves
There are so many 'good reds' in my autumn garden - I must remember this next time I am 'whining' (hee hee) about raking the leaves.