Singing the Garden Blues
Blue Ajuga
The colour blue has such a bad reputation. In the world of popular music it signifies sadness, as in 'singing the blues'. Talk about the 'Garden Blues' and non-gardening friends start worrying. But, like most gardeners, they make me very, very happy!
My Favourite Colour
Blue is my favourite colour, anyway. My beautiful white cat B-Puss had blue eyes. I love gardening underneath a blue sky. And of course I love all the beautiful blue flowers which pop up in my garden.
But beware of blue! In garden colourist books it's treated with extreme seriousness. This is scary, and I keep forgetting what blue actually does in the garden. Something confusing about distance? It looks further away, or closer? I know it does something dodgy, depending on the gardener's point of view, and one should place ones Delphiniums very, very carefully...
And matching one blue with other blues can be a disaster. So gardeners can only have one type of blue flower in view at one time. Oops.
Wardrobe Blues
I know from experience that there are many different shades of blue, some on the pink side, some on the green side - and some in-between. When I last counted I had over fifteen plain blue gardening shirts in my wardrobe and no two the same... And ten pairs of blue denim gardening jeans, ditto...
Perennial Cornflower
And then I can remember arguments about how much true the garden blues actually are. I'm talking strictly colour here. Where have I read that the Himalayan poppy, blue Meconopsis, is the truest blue? And delphiniums have the most saturated blue? Hmm...
Spring Blues Simply the Best
Each season in my garden has its choice of blues, but spring has the best show. Bluebells, hyacinths, and those stunning perennial cornflowers are just a few.
Muscari
Many gardeners get the blues about the weedy nature of Forget-Me-Nots and Muscari (grape Hyacinths) - not me. These little ground covering treasures are welcome everywhere.
Forget-Me-Nots
I've finally got the message about the lack of 'true blue', busy buying yet another blue flowering rhododendron. Having the word 'blue' in the name just isn't enough of a guarantee. Yet my local rhododendron nursery has the nerve to devote a whole area to rhododendrons with so-called blue blooms.
Impostors!
I guess that the adjective 'Purply-Blueish' isn't quite regal enough when choosing a name for these aristocratic shrubs. OK, Blue Jay, Blue Wave, Bob's Blue and Blue Prince - you're all impostors! And I won't even start on the subject of blue roses. I hope I never ever see one!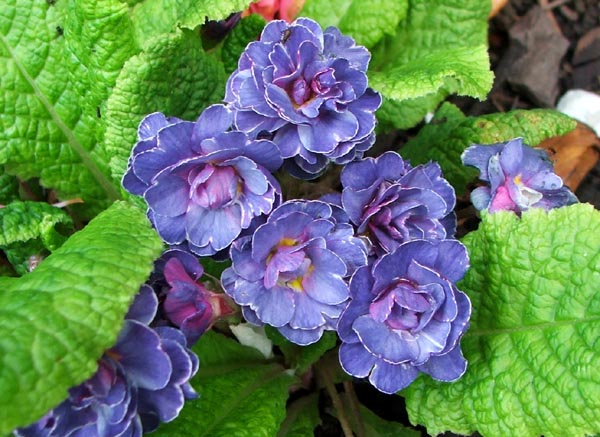 Blue Primrose
I'm loving the 'Garden Blues' this spring. A succession of overcast days has just made every blue flower leap out of the greenery to be admired and photographed. I've even appreciated the little blue forget-me-not-like flowers on a weedy plant I'd love to be able to forget!
Weedy Blue Flowers
I hope you'll enjoy my spring blues collection.