Spring Pinks
Warm Pink Camellia
Pink isn't a colour that I immediately associate with early spring. A pink face, perhaps, as the gardener works hard getting the garden ready for the warmer weeks to follow. But this year in the Moosey Garden pink flowers are early-springing up everywhere.
Cool Pinks of Winter
It all started weeks ago in winter, of course, with the cool pinks. I began noticing lots of blue-pink Hellebores (the so-called winter roses), and poked my camera up close to the beginning buds of my pink Bergenias.
Now the Camellias are blooming in the Wattle Woods - warm rose pinks, as well as the more middle-of-the-pink-road shades. My earliest Camellia, a pale baby pink, has been flowering for a few weeks now.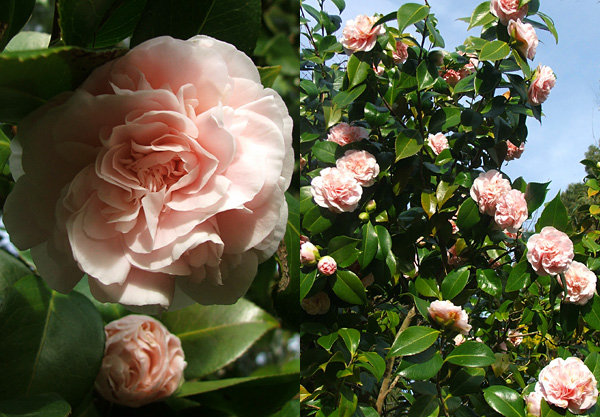 Flesh-Pink Camellias
This pale pastel is a very soft flower colour for this time of the year, and easily missed on a dull day. But on a sunny day it contrasts beautifully with the glossy green leaf colour and the pastel blue sky.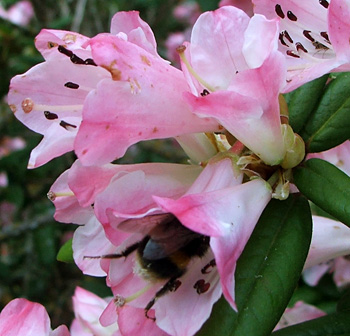 PInk Azalea and Bee
Early Pink Rhododendrons
The early pink rhododendron (which I call an azalea) in the middle of the Island Bed is almost past its best - but the bees don't agree with me! Meanwhile, at a much lower level in another garden, Graham the pretty white and pink rhododendron is flowering, though I have to bend right down to appreciate him!
I do wonder about the sense in growing such a low rhododendron in a level garden, though. Perhaps he'd look better in a hillside rockery?
Pink Hyacinths
Finally there are the ballet-tutu pink hyacinths flowering in a pot near my garage. So pretty! I've never grown hyacinths before, and I rescued these from the nursery, well past their plant-me-please date. I'm so lucky they decided to grow for me.
Cool Pink Flowers
Hope you enjoy all my pink spring flower pictures.