Diarmuid Gavin - Outer Spaces
Oh dear. It's difficult for me to describe Diarmuid Gavin's book without getting into trouble. You see, I thoroughly enjoyed it, without actually liking a single garden idea enough to copy in my own garden. Am I that traditional? Eek!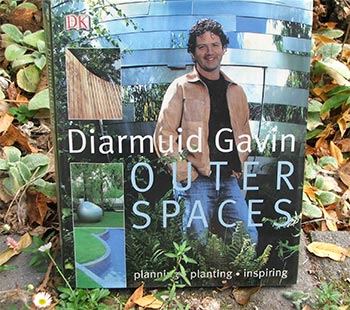 Outer Space by Diarmuid Gavin
A Groovy Garden Design Book
Blame it on personal pig-headedness - I'm suspicious enough about garden designers who concentrate on plants, let alone those who specialise in groovy shapes and structures. But what a brilliant title!
DG's book (I hope he doesn't mind me using his initials) is beautifully crafted, and his ideas are so modern and zany - they all made me giggle. He's imaginative, and artistic, and the gardens in this book all have a tremendous sense of fun.
Garden Space
But there's a continuum at work here. Imagine you are an eager gardener wanting to create some garden 'space' for your children to play in. Middle-of-the-garden-roaders might take a trailer to a store, and come home with big plastic things, brightly coloured swings and climbing frames, and the like. One type of garden-extremist will bring home piles of packing cases, old recycled pieces of wood, and provide nails and hammers.
Those at the other end would hire Diarmuid Gavin to design for them. I guess it all depends on how you prefer your garden spaceship. Chain-store? Home-made? Or designer?
Diarmuid Gavin
Sex in Wellingtons?
DG first made a boyish curly-headed impact on the Chelsea Flower Show in 2002. He was most successful, and a certain age group of gardeners had their greying female heads well and truly turned. This spunky designer uses curves, huge egg-shapes - and the odd spaceship - and his designs have a charming silliness. Not wanting to appear indelicate, he has been described as 'Sex in Wellies' - short for Wellingtons, which I call gumboots. But of course I wouldn't know anything about that!
Client Descriptions
You'll definitely enjoy leafing through the pages of this design book. I even had fun reading the client descriptions, imagining what my brief to this garden designer would ever be, and how he'd write it...
Here goes. 'My client was an enigma - mature, yet juvenile, random yet a control-freak - and her brief was brief. She wanted a garden which looked like a garden, with no spaceships...' Hee hee...