25 Beautiful Gardens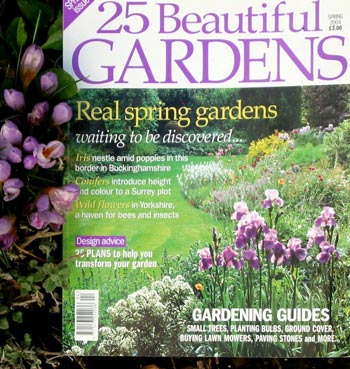 This is the perfect glossy winter garden magazine - there are lots of beautiful spring English gardens to stare at and enjoy. The colours are heart-warming, and give me hope - perhaps spring isn't actually that far away!
25 Beautiful Gardens : IPC Southbank Publishing, 2004
I've bought this magazine a few times, and have a strict rule - I am only allowed to read about one garden per day. This way I can concentrate and look deeply at the plants and designs, rather than skimming over everything too quickly.
I enjoy seeing the small photographs of the real gardeners, too. They've all done great things to make their gardens so photogenic - and they look like jolly nice (dare I say ordinary) people. I like peeping at their paths, seats, and such...
By the way, the small crocuses on the left of the magazine photograph are one of my most colourful winter plants. Roll on spring!