Fine Gardening
There is only one magazine which regularly inspires me enough, and I really recommend it. It's American, and sadly is only published every two months. I have no hesitation in saying it is my most favourite gardening magazine.
Fine Gardening Magazine
Taunton Press, USA
Don't take anything negative from the word 'fine' in this magazine's name. It's full of real down-to-earth gardening articles, written by real down-to-earth gardeners.
Fine Gardening is not just for your coffee table, although the pictures are extraordinarily beautiful. It won't patronise you with superficial journalistic tittle tattle, and you won't find any preciously cute articles here.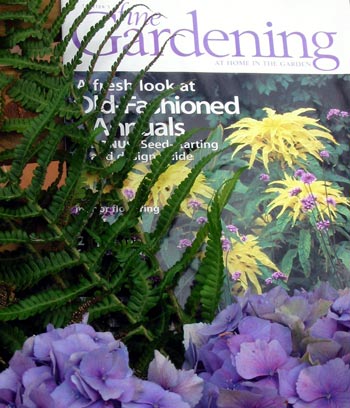 A Fine Gardening Magazine
This magazine takes you seriously as a thinking, caring, intelligent gardener. It's brilliant, no matter where in the world you garden.
Since I started subscribing to Fine Gardening, Stephen has discovered the equally good Fine Woodworking. Now we have matching subscriptions - and I'm looking forward to the wood cabinets and tables chairs he proposes to build! Not to mention the outdoor garden furniture...
Originally we both discovered these Fine magazines in our local library. It was then an easy matter to take out a subscription through the Fine Gardening website, which is every bit as good as the magazine.
You'll find this enjoyable website at : www.finegardening.com