Garden Gnome Rescue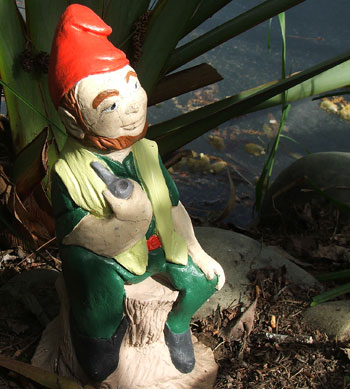 Robinson Gnome
It's springtime and something very rum is afoot in the world of garden gnomes. Over the last three days family members have rescued three discarded gnomes, each from a different charity shop. What is the world coming to?
Spring-Cleaning
I'd expect folk in full spring-cleaning mode to dispose of their rubbish, but I wouldn't have thought they'd casually flick off their garden gnomes. Silently and steadfastly these little chaps hold domestic history in their tiny hands (as well as fishing rods, garden shovels, and the like).
New Hope, New Beginnings
Spring should be a time of new hope and new beginnings, so Moosey's country garden is happy to provide the perfect retirement home for any unwanted lads.
At the time of writing, two cheerful rescuees have arrived to enjoy the simple country life. Finally after many years the original Moosey bachelor gnome will have company. To celebrate new life and renewal there may even be some new paint-on clothes.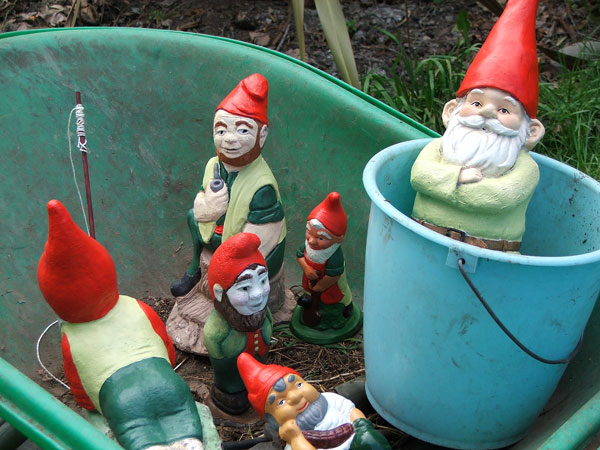 Six Garden Gnomes
And there's definitely room for more. In fact, I've thought of displaying a sign at the gates, and having a drop-off box ready. Mad? You bet! If 'Meet my mad mother' is Son of Moosey's cute way of introducing me in railway stations, I'm happy being a little barmy on my own roadside...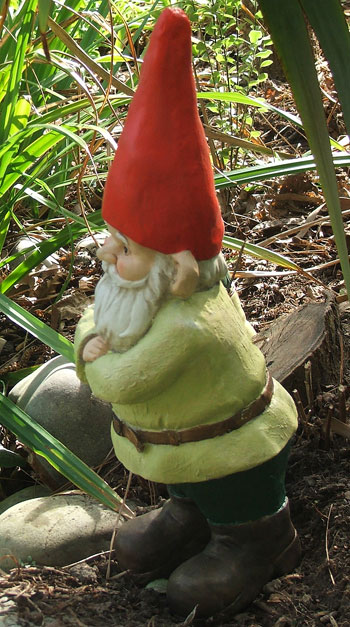 Bossman Gnome
Serious Stuff
Now to the serious stuff - I do have some house-and-garden rules. Moosey's has a No Drunks policy for garden gnomes. Inebriated offenders with bright red cheeks holding tankards of beer are not welcome. Nor are those cheeky battery-driven plastic chaps who wolf whistle from their shop shelf as the gardener wanders dreamily by.
No Mooning!
And definitely no gnomish rudeness - trousers must be up, shirts firmly tucked in. No mooning!
There's no place for dozy snoozers or bored mushroom sitters either. Moosey garden gnomes are encouraged to be industrious and take up physical hobbies - for example fishing, or garden digging.
Concrete Bodies Please
Concrete bodies are preferred, because of the strong winds (and the occasional rampaging dog) in the Moosey Garden. And finally, apologies to Sleepy, Dopey, and friends, but Disney gnome-look-alikes need not apply. You guys just don't look real enough...
Gnome Update
During the Big Birthday Fortnight, from various sources, the Moosey garden gnome count swelled to six. All the little chaps have been painted with new clothes, including red hats - red hats are definitely de rigeur for country garden gnomes. After a short naming ceremony they've been tenderly wheeled out to the pond to live happily ever after. That is as long as Rusty the dog doesn't charge through the greenery and knock any into the water...
Their names are - in order of size - Bossman (he's the biggest), Rupert (the fishergnome), Robinson (smoking a pipe), Bach (pronounced 'batch', the original Moosey bachelor gnome), Grumpus, and Tiddler (holding a garden spade). Too much information? Sorry about this.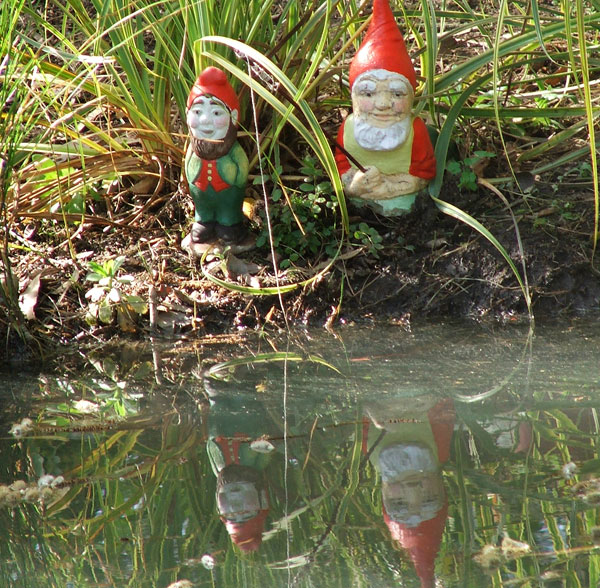 Bach and Rupert Gnomes
Moosey Gnome History
Moosey definitely has a history with garden gnomes. When younger, the children of Moosey would secretly use the concrete garden gnomes as cricket wickets. Noses, arms, hats etc. kept breaking off, and puzzled Mother Moosey never knew why her gnomes kept being moved around the garden - let alone falling to bits. One bright child suggested leprosy...