Early Cats in the Garden
I have many favourite pictures of the earliest Moosey cats in the garden. They've always tended to sit in interesting places - some silly, some sensible. Just as long as they can see what's up and going on...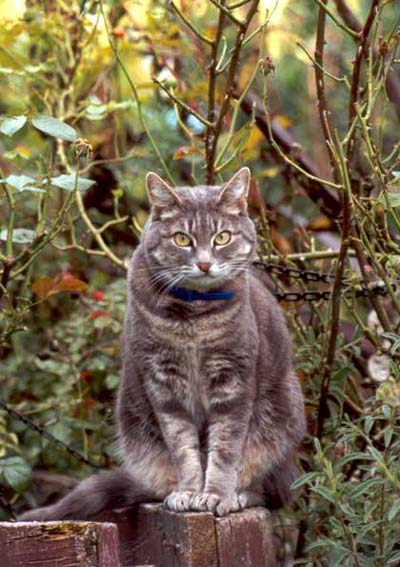 stumpy on a post
This is Stumpy the grey, sitting on a fence post, showing that perfect cat balance and poise which humans rarely achieve. It's an archive photograph - sadly Stumpy is no longer with us.
Stumpy and Sifter
In this archive photograph you'll see two cats. The tabby to the left is Sifter, and the grey to the right is Stumpy.
silent sentinels
There are no roses yet growing up the arch - this is a photograph from the Moosey Archives. Look at those silly cats, perfectly balancing each other. The Jelly Bean Border is to the left of the gate.
Little Mugsy
Mugsy the Cat was another Moosey original Moosey. She was so small she'd almost gets lost in the grass, and hated walking on it when it needed mowing.
mugsy in the grass
Mugsy has been dearly departed for a while now, and has her own memorial tree in the Hazelnut Orchard.