Washpen Falls Track
What a rugged privilege it has been to hike the Washpen Falls track, a private loop track in the foothills of Canterbury. I've already been back for a return winter visit. And I'm definitely walking the track again in summer...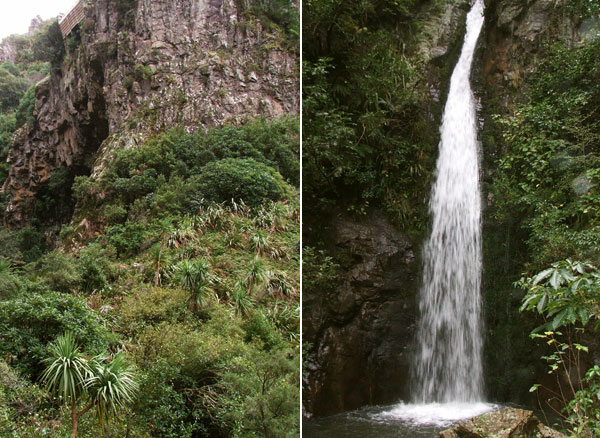 Washpen Waterfall and Cliffs
Private tramping tracks annoy some folk in New Zealand. And so I'd heard, not about the beautiful scenery and the waterfall, but about Washpen's charge - 'Of course, you have to pay'. And why on earth not? In New Zealand this may not go down so well with blustering mountain men, but older and wiser lady hikers are well used to the 'gourmet tramping' tracks - where the heavy bags are carried and cute food appears in the huts in the evenings.
Frosty Walkway
'But it doesn't take very long' was another somewhat mannish comment - as if ten dollar's worth of wonderful forest and gorge hiking should take at least ten hours. How silly!
Anyway I happily popped my money in the tin. I'm hugely in favour of friendly, helpful farm owners who provide tracks, maps, signs, and bridges, and let me wander through their land unguided.
Rugged
Washpen Falls offers a rugged back-country experience through a canyon of native bush, underneath some caves, up to the tussock tops, and back down a gorge past the waterfall. The loop track might take less than two hours, or maybe a little more (if stopping for morning tea, taking photographs, and so on). And why not stop? There's a lot to appreciate, from the green leaf shapes and colours in the forest to the sandy-coloured tussock foothills.
The trees at the beginning are home to the noisiest batch of native bellbirds I've ever heard - just beautiful. There's a washroom, seats for resting en route, great views, and a nicely challenging track - sometimes rocky, sometimes up, sometimes down...
Scary Wooden Staircase
Personal Stuff
Aargh! Some personal stuff now - I'm really frightened of 'man-made' heights. Razor-back ridges, screes, and deep gullies beneath my feet aren't ever too much of a problem. But present me with a structure at height - a platform or a stairway (or even a safe suspension bridge across a gorge) - and my mind turns to jelly. Luckily the legs keep going, but it's a struggle, and I need someone else to 'talk' me through.
I can now firmly state the following: Washpen Falls has THE scariest wooden stairways in the whole world. Well, certainly in my world of well-engineered load-bearing structures, highly maintained, capable of carrying two older-lady hikers at once, without the slightest creak or sway. Aargh!
Count the Steps?
The mind is an odd thing when under stress. The two staircases in question hugged the side of a cliff all the way down into the gorge. My friend went first, I screwed my eyes up, and stayed close, insisting on a continuous step-counting commentary. How many steps had I done? How many were there until the little turning platform? How many could she see on the next descent? How many steps had I done now? How many more (did she think) before I should open my eyes properly?
Oh dear, dear me. Soothed by her friendly voice, and the power of arithmetic, I got down without a wobble. And my heart was beating quite calmly.
View of Canterbury Plains
But enough about my little personal problem - it didn't spoil my appreciation of the wonderful scenery. The gorge is thick with native bush, the waterfall is impressive, too tall to fit my camera lens from the bridge at its base. There's a short piece of contrasting track up in the open on the tussock, with grand views of the Canterbury plains and the forest below.
An Extension on the Tussock Tops
It's possible to walk up to the top of the tussock hill to Snowy Peak and even better views, but permission is needed. On our second visit to Washpen Falls my friend and I started to do just this, but then the mist rolled in and we wisely retreated down the fence-line. Oh well - third time lucky.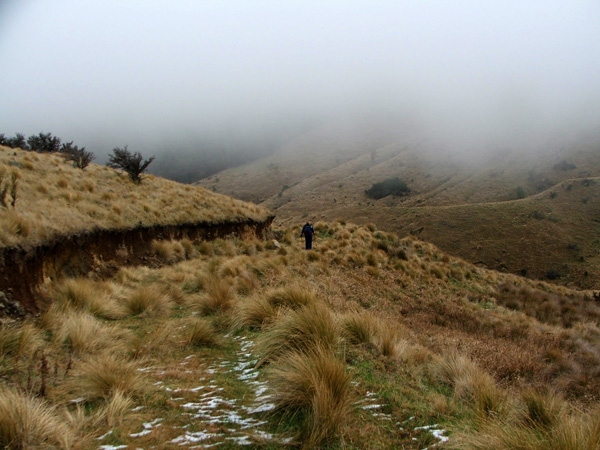 Winter Walking
The Washpen Falls track is typical of longer New Zealand bush walks, but very compact and with a great variety of vegetation. Wear jolly decent hiking boots, and take food and bad-weather gear, even though you think you're only an hour or so away from your car. Washpen Falls has a rather rugged isolated feel, best enjoyed when you're prepared. Do I sound a bit like your mother? Good...
Apologies
Apologies to any mountain men who feel I've 'short changed' them and made them sound mean. If they would just stop and compare Washpen Fall's ten dollar charge with the price of a chai latte and a friand... Oh - don't forget to read the trip notes. The history of Washpen Creek and the first farm owner's generation of elecricity is fascinating. And that waterfall is spectacular. And the wooden staircases down the cliff? No problem, really...
The Lunchspot on Snowy Peak
Update - I've now gone up to Snowy Peak three times, twice in raging wind and once on the most crystal clear, calm spring day. It's a brilliant view.
Washpen Falls Website
Here's Washpen Fall's website. Enjoy!