Rhododendron Blue Jay
Rhododendron Blue Jay in the Dog-Path Garden
A day to remember in the Moosey Garden Calendar - I've finally found and photographed a bargain bin rhododendron which has been in my garden for at least four years and which has a proper label! It's called Blue Jay.
Underneath the Golden Elm
The rhododendron Blue Jay (see how I'm showing off my plant knowledge) us planted in the moist semi-shade of the Dog-Path Garden, underneath a Golden Elm tree. There are actually two side by side, and this is the first year I have caught them flowering so well.
They flower quite late in the rhododendron season, long after their neighbours across the path in Middle garden.
You can imagine my excitement when I spied a label stuck into the soil! Usually I am forced into colour-naming my rhododendrons, and apologising profusely - it's as if I don't take these noble shrubs seriously enough (I do the same with hostas, but that's another story).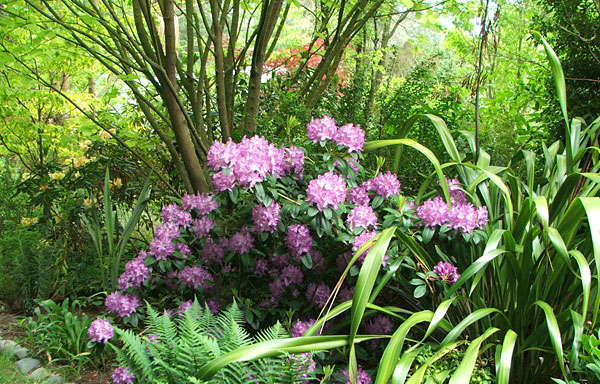 The Last of the Rhododendrons
A Plant Label!
Anyway, back to Blue Jay - this plant has beautiful blue flowers with healthy dark green leaves. The label even says so - I shall now proudly quote it.
'A ponticum hybrid. Mid-season. Pale lavender blue flowers with a distinctive blotch. Vigorous with bright green leaves. Shade tolerant. Harmful if eaten.'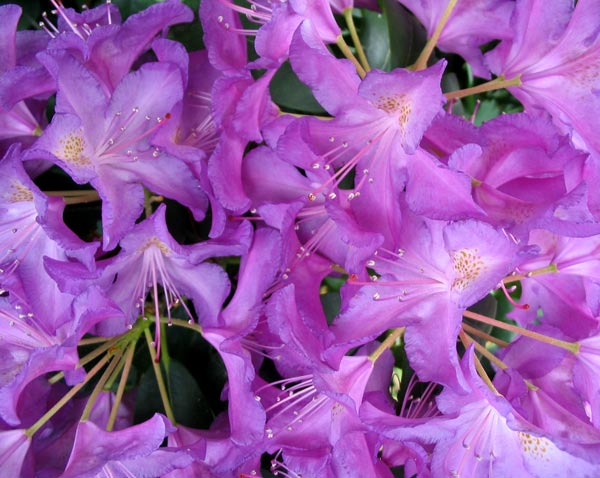 Rhododendron Blue Jay Close-Up
Ha! My first proper rhododendron catalogue entry! But a little research can be a dangerous thing. My Blue Jays don't have 'a distinctive brown dorsal blotch' which research suggests they should have. They only have their labels. Hmm...