Ivory-Cream Rose
This lovely ivory-cream rose was gifted to Mooseys from a gardening friend. I can't think why she wanted to get rid of it - the rose has shown no signs of ill-health, forming a medium-tall compact shrub with lots of flowers. Is it the Dove?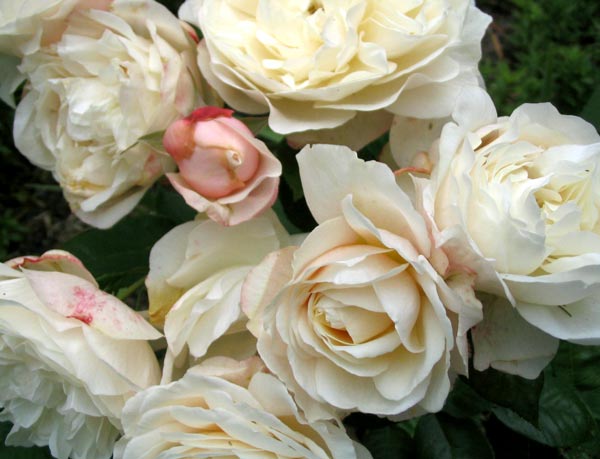 Ivory-Cream Rose Flowers
The unknown rose looks very much like a David Austin English rose. I have several other unknown David Austin roses in the garden - I love their old-fashioned look.
The unknown ivory-cream rose is planted in the Hen House garden, where many of my Rugosa roses live. There are sprawling lavender bushes and all sorts of assorted perennials in this sunny, if slightly neglected, part of the garden. The paths are always changing, and last winter many of the roses were dug up and shifted sideways. Now the garden is a tangled mess of beauty.
Creamy Rose in the Hen House Garden
I've looked through both of my David Austin rose books and have had no luck with identification. The rose would probably have been bred in the late 1980s or the 1990s - if you know its name please let me know.
Footnote
Someone has kindly written and suggested that this rose could be The Dove...