Strawberry Ice Rose
One of my roses which flowers at the back of the Willow tree garden has been incorrectly identified (by me) for years. I've been calling it Raspberry Ice. Wrong berry! It's Strawberry Ice, and I just love it.
I first saw this rose mass-planted in one bed, in a public rose garden. Then I found a Strawberry Ice in a bare root rose sale at the supermarket. It was so cheap that at once I considered it my duty to rescue and plant it.
Strawberry Ice
The strawberry versus raspberry confusion has gone unnoticed until recently, when a pair of rescued recycled roses arrived in my garden. They are short shrubs, but have those same rose-pink and white flowers. According to my research Raspberry Ice should be taller, with more of a lolly pink edge colour.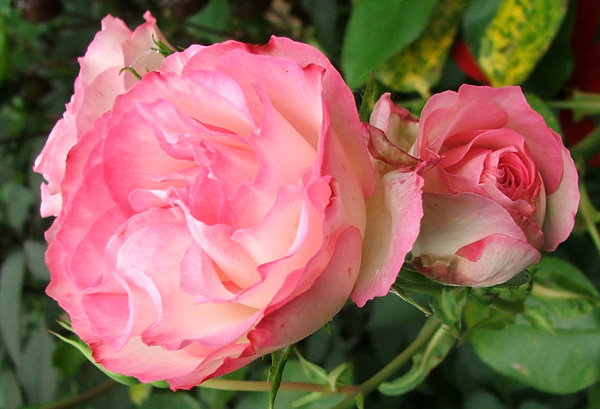 Summer Strawberry Ice Roses
A yummy food-themed rose garden would be rather nice - one where all the rose names are as scrumptious as Strawberry Ice. There's Hot Chocolate, for a start, and the Kordes bred Raspberry Ice, which I'd obviously love to grow. I'm sure if the two berry roses were side by side there'd be no mistaking them.
Oops...
It does make one cautious of relying on Google images to identify anything. You see, my wrongly labelled Raspberry rose has featured therein for over six years - plenty of time to have confused and misinformed people. Oops. Hopefully this puts the record straight.
Autumn Strawberry Ice Roses
The images above are photographs of my latest two recycled roses, taken in autumn when the colour is highly saturated. Strawberry? Oh yes, I think so...