My Glass-House
My glass-house is situated on the back lawn near the Wattle Woods, almost underneath the trees. Nearly is the burbling water race, from which it's easy to get buckets of water when needed.
Glass-House by the Water
In the early days I used the glass-house to grow tomatoes, and I had lots of healthy attendant white flies. Neem Oil would do the trick, but then I'd forget to reapply it. And there was so much watering needed - at least twice a day in mid-summer, to keep the pots moist enough.
Archive Photos of the Glass-House - 2000 and 2005
Tomatoes aside, I still use the glass-house all year round. In summer the panes of glass are white-washed over, to stop things inside from overheating. Plants like Pelargoniums, Helichrysums and Daisies have to spend the winter inside. Some of my potted succulents take shelter in here. There's no need for heating though, as the frosts aren't too severe.
My Glasshouse
Tidy?
Hands up if you always keep your glass-house tidy, no matter what the season. Hmm... Me too. And the oddest thing is that on rainy days, which of course are perfect for glass-house cleaning and tidying, I never ever feel like doing this.
In winter I often just throw the pots and containers in onto the floor and the benches. What a mess! In spring when I start to germinate trays of my own seedlings I wish I'd done that winter clean-up and throw-out!
.
Another View of the Glass-House
Below is a different view of the Moosey Glass-House, seen from standing under the yellow Banksia rose. The Apple Tree Border is to your left, home to two apple trees and a very disappointing old apricot. In the year 2005, as if for a joke, it produced ONE perfect fruit - no more have been seen since. And since this photograph was taken the head-room underneath the tree branch has lessened somewhat. Ouch!
View of the Moosey Glass-House
My glass-house seems to withstand quite strong winds (as long as I shut the door), the odd tree branch crashing down, and the occasional snow-storm. Brr....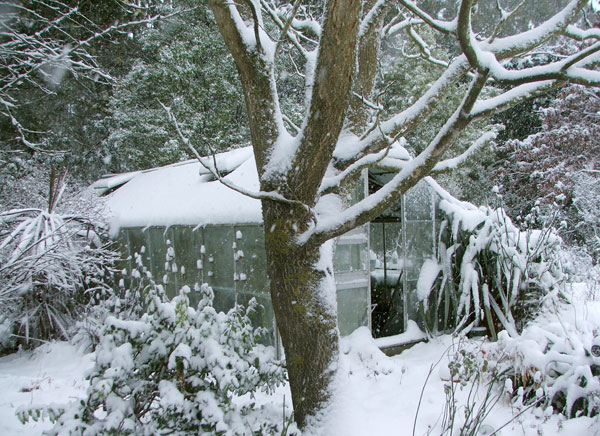 Snowy Glass-House