Tree Stump and Daffodils
Some of the remaining tree stumps in the Stumpy Garden are still visible, waiting for the surrounding garden plantings to cover them up.
Daffodils by the
Gum Tree
Stump
Organic Sculptures?
I've always considered the tree stumps organic sculptures - they host colonies of crazy fungi in the autumn, and provide a beautiful textural contrast to the daffodils in the spring. This particular tree stump also has a Honeysuckle shrub which is being encouraged to climb around and over it.
Daffodils by the Willow Tree
Tree stumps have influenced the design of all the garden beds over the water race near the largest stump, a willow. It's been easier to dig a garden around them than have them jutting up in the lawn. And what a good excuse to show yet another picture of the Moosey Spring Daffodil Show!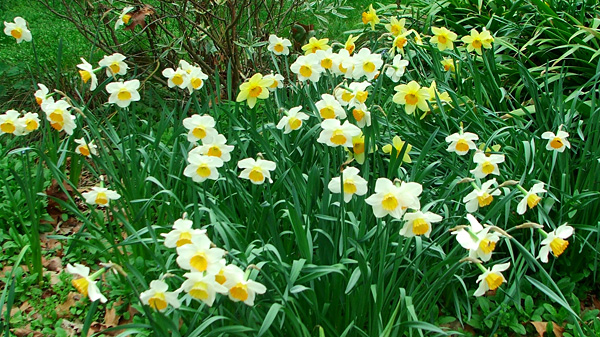 Daffodils in the Stumpy Garden