Perennials and Roses Garden
Oops. The new perennials and roses garden (by the rose pergola) took over ground which was supposed to be a potager. In it I planted many budget roses with no labels, and others either rescued or given to me by friends.
Consequently it was fun to see what colour combinations eventuated. I did feel a little guilty, though, in the vegetable growing season...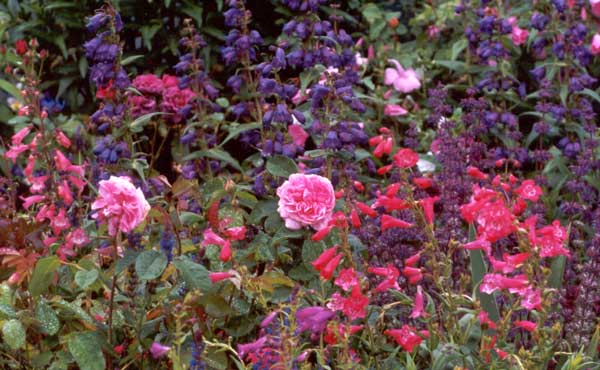 roses and penstemons
I filled the spaces with surplus perennials like Penstemons, Aquilegias, Phlox and Daylilies, creating a summer fruit salad effect, colour-wise.
Over the next few years roses came and went. I built a little brick path - so tiny that even the surest-footed gardener can get the wobbles, and edged it with clumps of Stachys and Irises. Cornflowers and other flowering annuals were introduced and encouraged to self-seed.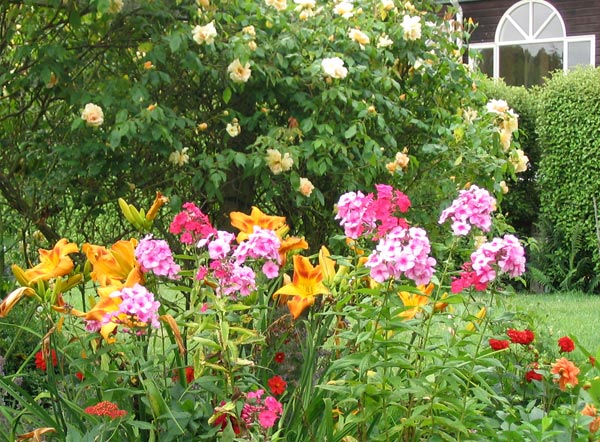 Phloxes and Daylilies
Update - 2009
This winter, Daylily and Hosta clumps were divided into smaller pieces and replanted. I also got a bit tough on the self-sown Aquilegias and red-brown tussock grasses, pulling many out. Who knows - one day some potager vegetables may reclaim this part of the garden.