Garden Potager
My vegetable garden has been in disgrace since last November. That's the month when the family got sick of lettuces and stopped eating them. In fact, November saw a series of mismanagements and dodgy decisions. I also forgot to plant the beans, and to water the heirloom tomato plants...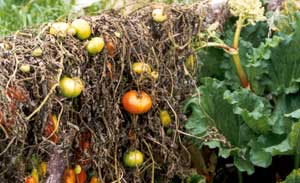 sun dried tomatoes
Vegetable-Free Cuisine?
During the summer my family continued to be vegetable-free in their cooking requests and eating desires. This disheartened the cook (me) so much that the vegetable garden was completely abandoned to the courgettes (by now transformed into marrows), the little purple pansies, and the pumpkin plant which had appeared in the nearby compost heap.
The heirloom tomatoes which I was so proud of growing from seed were allowed to continue "au naturel", stakeless. Now, seven months later, it's time to make amends. I have just made three Autumn resolutions, namely:
To be better organised
To ignore my family
To have an aesthetically pleasing vegetable garden area, which I will cheekily call a potager.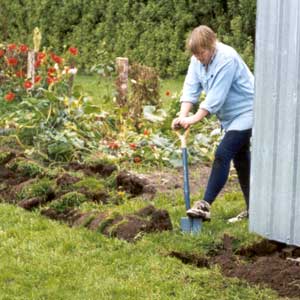 digging the potager
It won't be a problem being better organised - I will simply do a plan on graph paper and pin it inside the wood shed. I know exactly what potagers start with - brick paths and coloured lettuces, and both of these essential elements are here already. I will integrate these with broad beans, sweet peas, and carrots, in a designer frenzy. Gourmet potatoes and crazy bright purple beets will also appear, and I will experiment with oriental radishes in straight lines. I will not abandon my heirloom tomatoes, I will control them. I will become the potager queen.
A Culinary Challenge
Ignoring my family will be the greatest challenge, so I have also made some serious cooking resolutions, to come into force next November. I will find ways to put green things into every meal, and I will even stuff the marrows. Freshly pulled carrots will be served with all dips. Pasta will be banned until all the gourmet potatoes have been eaten. Lettuce will be disguised and inserted in unexpected places.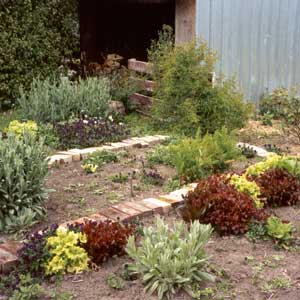 this potager has potential
And as to practical matters, I'll dig behind the wood shed, shift the compost heap, dig some more and do the paths. Partner will be encouraged to construct a pergola (which I'll pretend is for fruit, but will actually be for roses). Seeds (organically sourced) will be sown. I can't really see what can go wrong!
Poor Potager
And that was how my potager became a rose garden. The sweet peas never quite made it, nor did the purple beans. But potatoes are continually sprouting in here, and a few coloured lettuces and heirloom tomatoes have self seeded between the rose bushes, so all is not completely lost.