The Hump Garden
The Hump has been a rough but important part of my garden for years and years. It's had a rather chequered history. Ideas for development have blossomed, withered, and died. Plants have come and gone, relocated somewhere more hospitable. Paths have been cleared and edged one year, decommissioned the next.
The Middle of the Hump
It's not the Hump's fault that it comes in and out of favour and fashion with me. It's such a difficult area to work with. There's no irrigation, quite heavy shade from pine and gum trees, and poor sandy soil.
An Old Sand Dune...
It's actually an old sand dune, running almost the length of the property above the house lawn. The pine and gum trees planted along its middle are the original shelter trees. Things get messy very quickly in here, and no-one in a lazy, dreamy mood likes visiting a messy part of their garden!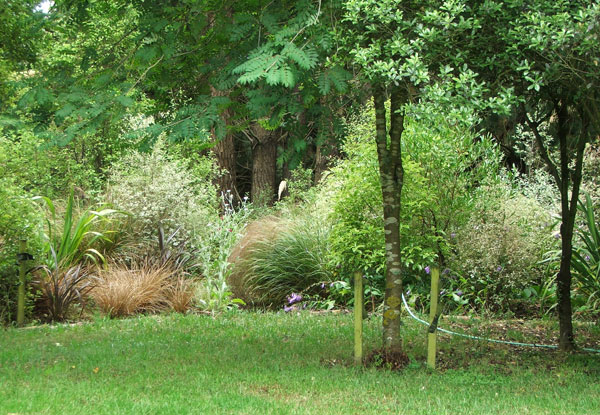 The Hump Garden in Summer
But the Hump has some very successful interior areas. At one end several big trees have fallen, letting in light. So in here I've planted a thriving Pittosporum forest, which I just adore. Such pretty leaf textures and colours - if I was a garden fairy, this would be where I'd hang-out!
There's also a grove of scruffy but much-loved green Cordylines, while Astelias and Rhododendrons (much tidier shrubs) grow nearer the driveway. The paths into the Hump at this end have always been well trodden, and they're edged with stones.
cordylines-grove
The Cordyline Grove
The other end of the Hump joins the back of the Shrubbery. I've planted some rough toughies in here, like Agapanthus for ground-cover, Aralias, Olearias, and Genistas. And a garden bench nestles in the greenery, a secret place to relax in the sun.
Genista in the Shrubbery
Again Pittosporums have been nurtured and encouraged. I love these wonderful tree-shrubs for self-seeding in difficult gardening locations.
Tea Pot in the Shrubbery
Tea Pots and Gnomes...
Then some teenage Eucalpytus trees behind the Shrubbery were felled. After the shock of being squashed by flying logs everything is re-growing nicely. The paths which join everything together are rather pretty, wiggling through Periwinkle and past garden gnomes and giant tea-pots.
But isn't periwinkle a nuisance weed? Not if it's happy to grow and flower in the Hump! Some would consider gnomes to be more annoying. Have a peep at the very last photograph on this page - you might just spot a pair of chaps lurking on a huge pine tree stump.
Oops...
Oops. Many of my Hump make-overs haven't worked. One year I created a huge network of paths leading into the Hump from the Driveway Lawn. But they were over-fussy, and I had no motivation to use them. So I pulled out all the Agapanthus I'd planted, plus the path edging logs - they were pinched from the firewood pile, anyway.
What path?
Touch wood (pine and Eucalpytus) that I've got the paths right now. Here's my latest development. The dogs and I needed some long straight routes for our earliest morning walk/run. So I've made two dog-paths along the length of the Hump, one following the row of Pines in the middle, the other following the new shelter belt below.
Success!
Success at last! All the dogs love these long straight Hump paths, especially Winnie the black and white Border Collie. She races along them, ending up underneath the hugest pine, a tree favoured by our free-loading pigeons. Plenty of early morning barking exercise!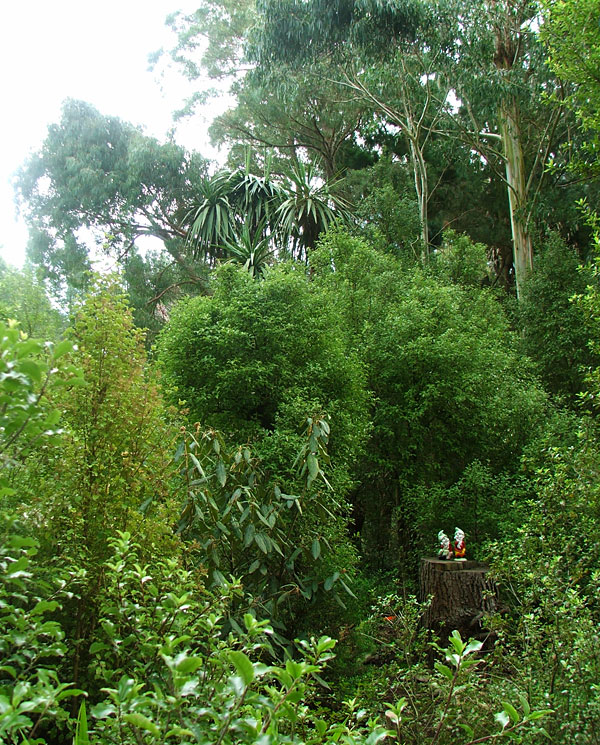 The Shrubbery in the Hump